Here at Iniwoo, we love outdoors, clean air and a good BBQ. But our one of the biggest interests is gadgets. Therefore, today we bring you an overview of one pretty cool outdoor gadget that will enhance your future campfire and picnic experiences with friends.
GoPorTable is a convenient outdoor table with a lightweight design. It is an easily transportable all-in-one charging station as well as a speaker. I could say that some people might even argue that it is a smart table. You should watch their official video presentation below.
This fun multi-purpose device was developed over the last 2 years. The creators of GoPorTable wanted to make sure it would be just perfect before the big release. The good news is that they already secured manufacturing partners and highest-quality parts for the product. Because of this, you might not need to worry about unfulfilled promises and shipping.
Do not forget that you can also use this smart table gadget at home i.e. as a coffee table. Wouldn't it be awesome to drink coffee in the morning, while the coffee table plays your favorite song and your phone is wirelessly charging in the table's drawer?
Replaceable Power Bank & Wireless Charging station

Let's get technical a bit for now and talk about its features. The GoPorTable wouldn't be interesting if it did not have any unusual characteristics compared to other tables.
These days, we all need to charge our smart devices such as phones, watches, tablets you name it wherever we are. The table comes in handy here and can substitute your power bank as it has a replaceable ~100W Power Bank that contains twelve 18650 Li-ion batteries. This power bank can charge an average smartphone about 5 times and should definitely cover you for at least the weekend.
It has a concealed storage drawer with industry standard 10W wireless charging station for your smartphone. GoPorTable also comes with 2 USB A Ports that can output up to 10W of power and USB C Port that can output up to 80W of power.
So you can charge 3 phones at once and even charge your MacBook Air or Pro using USB C port. However, in such case, the power bank might not hold that long.
Powerful Bluetooth Speakers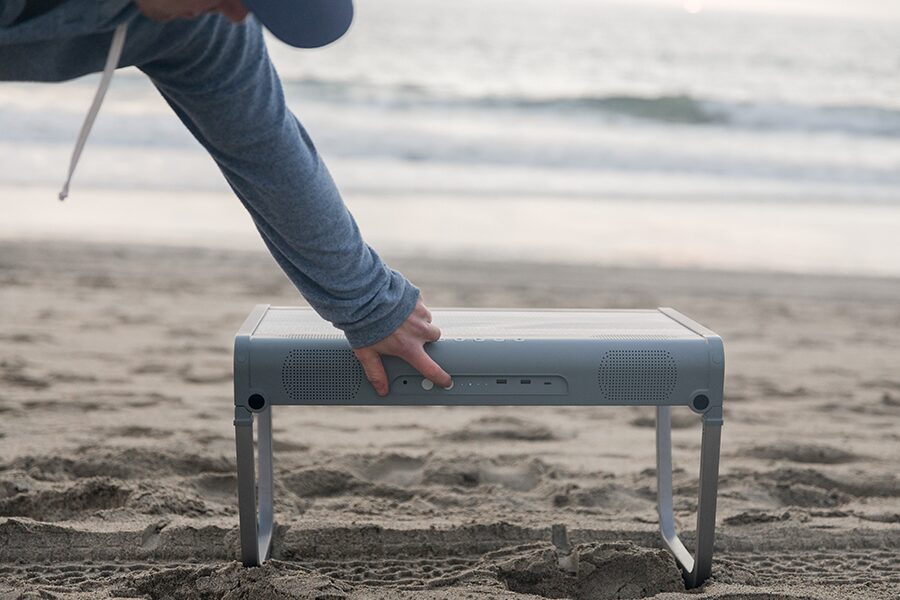 There are rarely great moments without amazing music. One of the key features of the GoPorTable is built-in stereo Bluetooth speakers with a class-D amplifier. You might think what is so special about class-D amplifiers? In theory, class-D amplifiers are 100% energy efficient, however, in practice its well over 90%. Therefore, you will not need to worry about draining the battery.
You can play the music using the AUX port, but if you do not have 3.5 mm jack in your phone do not worry. The designers have thought about it and you can stream music using Bluetooth connectivity.
Multiple Drawers and Removable Bottle Opener
The GoPorTable as two hidden drawers. One drawer contains dual cup holders and a removable bottle opener. A convenient and straightforward place to conceal one. No longer will you need to search for one somewhere deep in your backpack.
The second drawer contains 10W wireless charging station, as mentioned above, additionally, you can use it to store your other small essentials.
Portable and Sturdy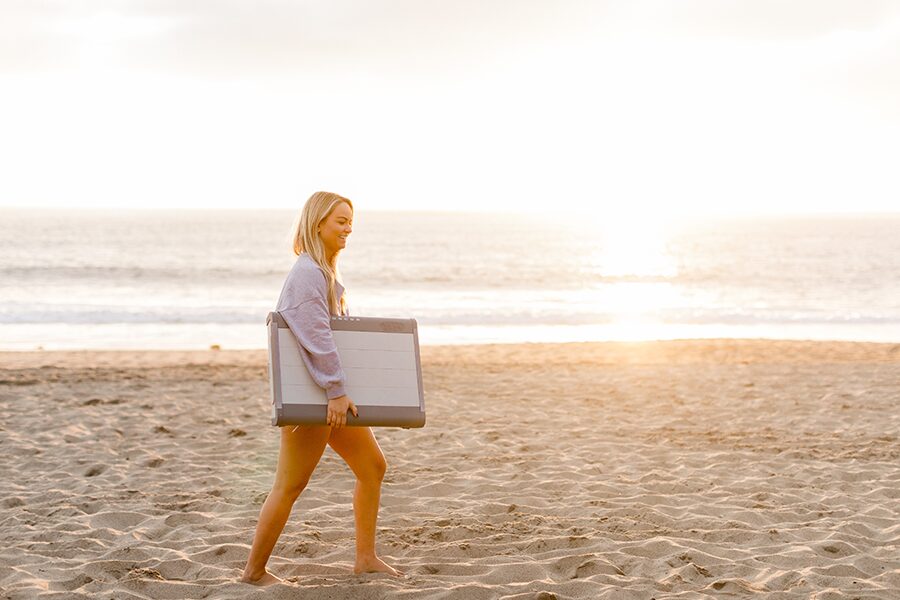 Nobody wants to spend too much time packing and setting up the camp. GoPorTable has all the essential features that you might need while outdoors and most importantly as its name says it is super portable. It has a lightweight design for easy carrying and 6000 series aluminum folding legs for longevity.
I recommend you to pre-order this amazing gadget once it is available. And I hope that the GoPorTable's team will fulfill their goal to encourage people to spend more time outside in nature and stay there longer without a need to search for a power outlet.
It will be possible to pre-order GoPorTable in March from Indiegogo. The first 100 orders will get 66% off!