On Worldwide Developers Conference 2018 (WWDC 2018), Apple talked about the upcoming updates and developments of its devices. We have already covered the approaching iOS 12 updates for iPhones and iPads later this year. During the conference, Apple has also talked about new macOS update called Mojave.
Apple Mojave is the first Mac's operating system in several years getting a theme inspired not by mountains. Mojave is inspired by the desert at night and will feature new visual changes to the software including Dark Mode.
Mojave will be a free update compatible with 2015 and newer MacBooks, 2012 and newer MacBook Air, MacBook Pro, Mac mini, and iMac models, the 2017 iMac Pro, and Mac Pro models from late 2013 and mid-2010 and mid-2012 models with Metal-capable GPUs. The testing has already been released exclusively for the developers but will be released publicly later in the summer. The release date of upcoming macOS update is likely later this fall, after the testing period. The exact date is either September or October.
Dark Mode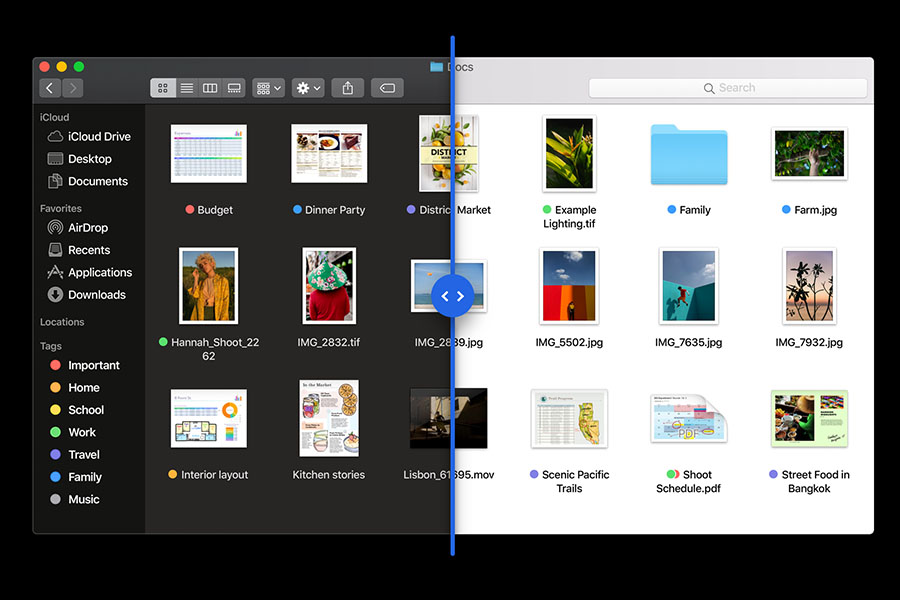 The new operating system will be focusing on the darker menu bar and dock and will offer a full systemwide Dark Mode that applies to the whole system. All native applications like Mail, Calendar, iTunes, Xcode and other will have the new dark theme. Of course, the theme will be optional, but it's a nice feature to have. Third-party apps will not feature the dark mode unless they will be redesigned.
The dark mode will be accessible by going to the General section of System Preferences and choosing the darker appearance. There will also be a new feature of choosing accent colors. These colors will help users to modify shades of toggles, arrows and other elements throughout the macOS Mojave to bring a customizable option for those wanting to find something in between of dark and light modes.
Dynamic Desktop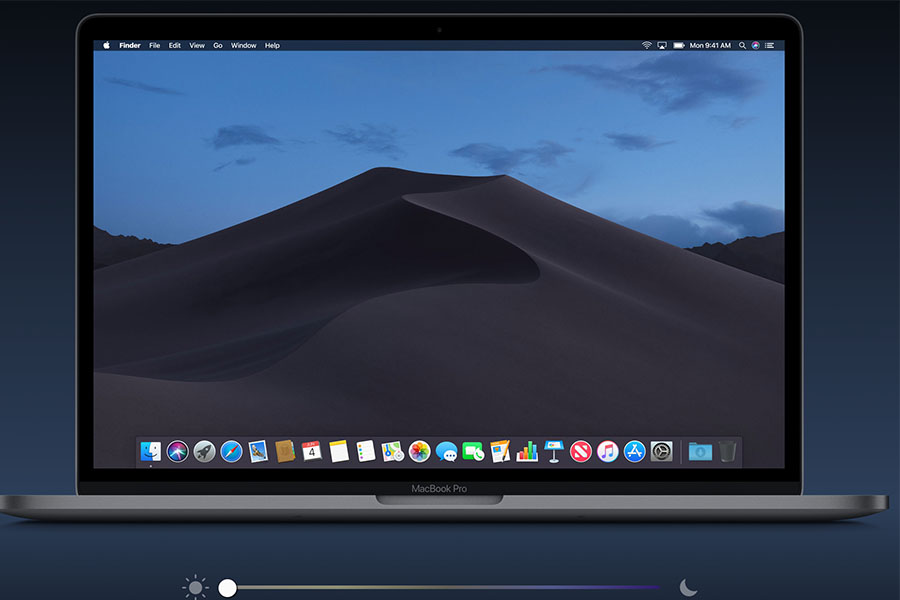 This will be a new feature introduced with macOS Mojave. The feature is designed especially for desktop wallpapers. It will allow to subtly change the wallpapers throughout the day. The change will occur in the morning, afternoon and at night, giving you a new fresh view each time. Dynamic Desktop will require Location Services to be enabled, so it could determine the local time and shift the display when needed.
Desktop Stacks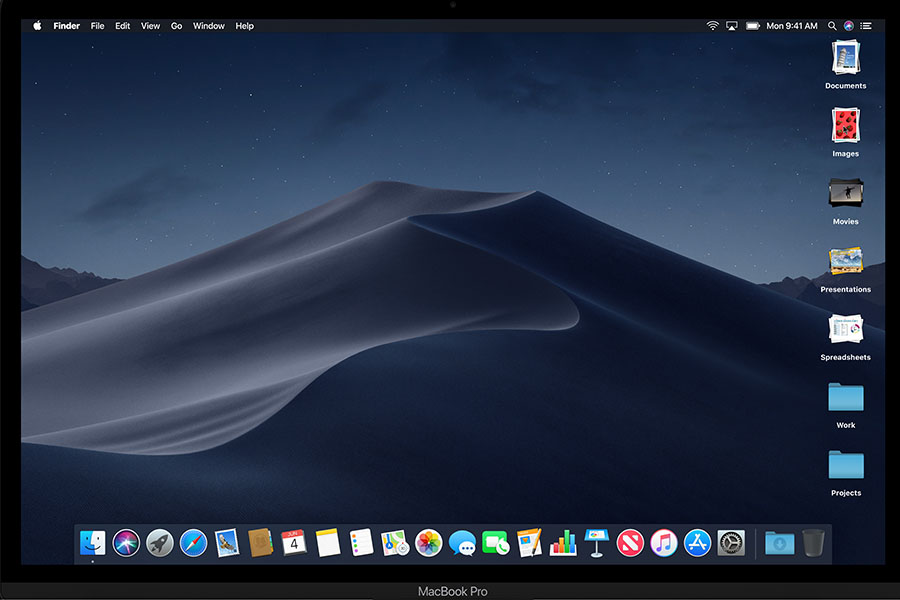 This feature will help you to organize all your desktop file by type, data or tag. The function is designed to cumulate and arrange all the files on the desktop into "Stacks" and that's where the name for the feature came. This option will allow users to reduce desktop clutters.
When stacks are created, you can click on it to scrub through its content. For example, hovering your mouse over the stack of all the photos on the desktop you will be able to see each photo inside.  This will be similar to the preview option. If you click on the stack, it will show you a complete list of all the files.
Stacks will be available through Finder by going to the View and then choosing "Use Stacks". Lastly, you will be able to modify how stacks organize your files by right-clicking on the desktop and selecting your preferences from there.
Finder update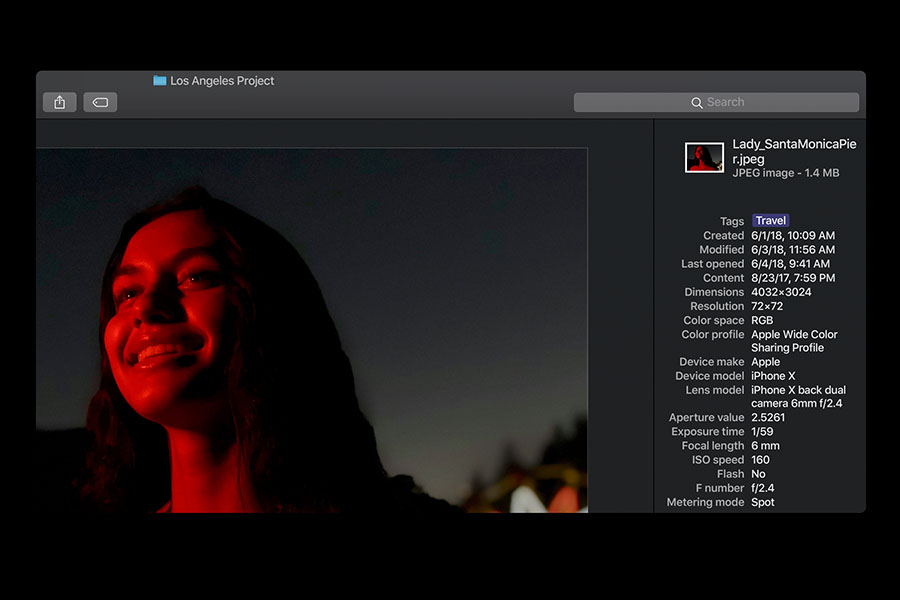 Finder is getting 4 new features on macOS Mojave. The first feature is Gallery View. This will work like a preview option for all of your files. With Gallery, files are displayed with a large preview at the top and thumbnails at the bottom, giving you an ideal view for every file.
Another new function will be the Sidebar. The sidebar will provide you with the metadata of your files. If we take photos, for example, the sidebar will show where they were taken, dimensions, resolution etc. Other files will show tags, the date created and date of last modification. Depending on the file, different relevant information will be shown.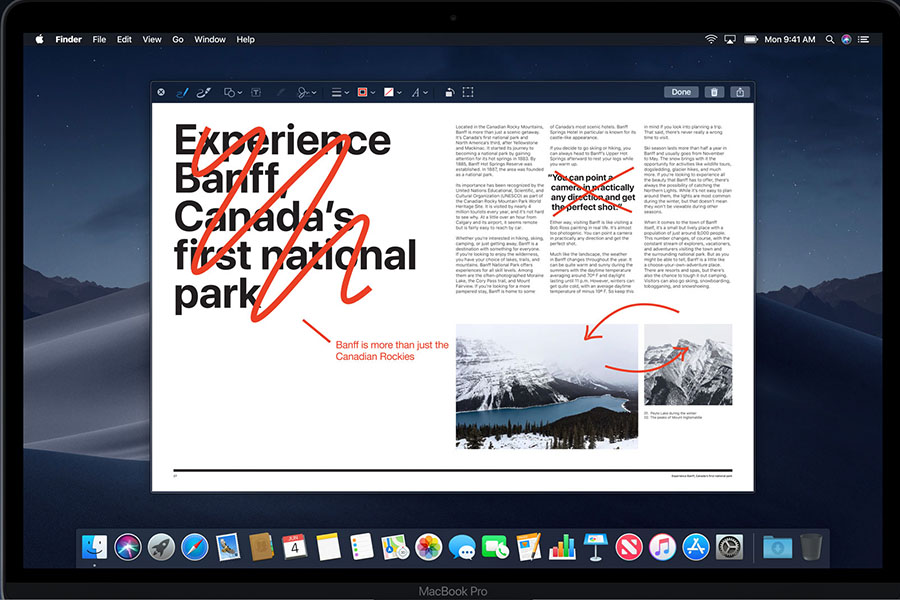 The third new feature will be Quick Actions. With it, you will be able to make quick changes to the file. Based on the file, you will be able to do different actions. For image files, you will be able to rotate the picture and enter the Markup mode. For standard files, you could put a password or create a PDF file. Most importantly, you will be able to customize your quick actions, using the new Contextual Workflow option available in the Automator app.
Lastly, the Quick Look, another new feature, will let you create quick edits when in preview mode. You enter the preview mode by pressing the space bar on the highlighted file and with macOS Mojave, the new Quick Look bar at the top of the window will appear. For different files you will be able to do different Markups, like inserting a signature, adjusting image's size, trimming an audio or a video clip, or sharing a file.
Screenshots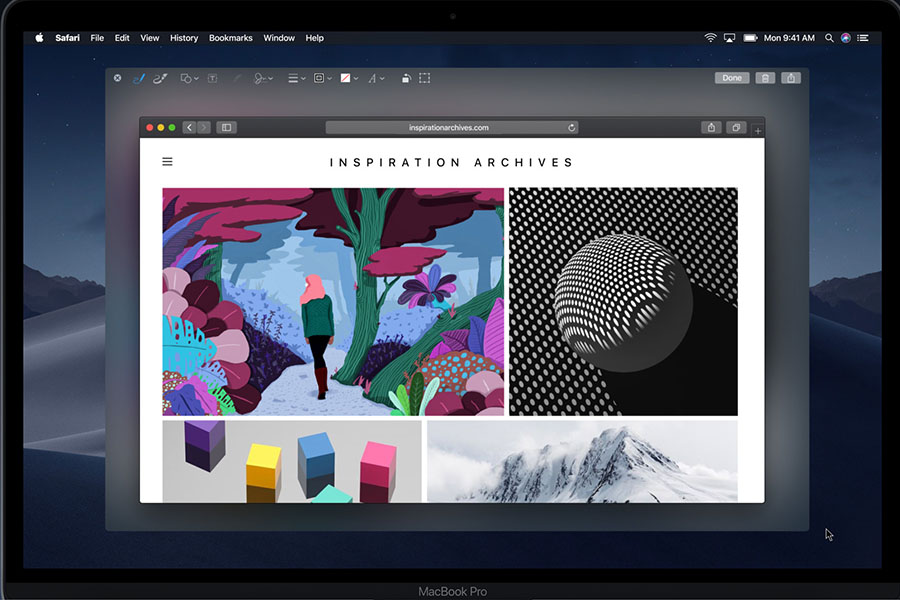 Screenshots are also tweaked in macOS Mojave. The updated version of screenshots will work similarly like in iOS. When you will take a screenshot a preview with the Markup function will appear letting you edit or use the screenshot on the go. Since taking a screenshot is already easy in macOS, with Mojave more functionality of taking pictures or recording will be at your fingertips with new easy to use menu. Moreover, with Continuity Camera, you will be able to import photos and documents scans captured with your iPhone straight into macOS.
Porting iOS apps to the Mac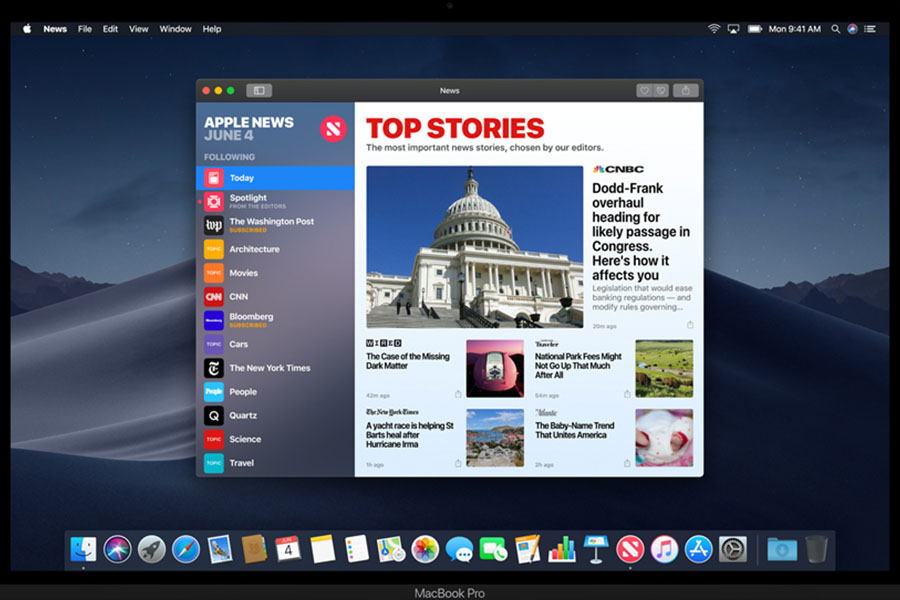 Along with the dark mode, this feature is very anticipated by the macOS community. With Mojave, Apple will bring some of the most essential iOS apps to macOS. These apps include News, Stocks, Voice Memos and Home. What is more, that with the upcoming iOS 12 FaceTime app, will let you start a conversation with 32 people. With Mojave, you will be able to do the same thing. For all the other apps, you will need to wait a bit more, most likely until 2019.
Improved security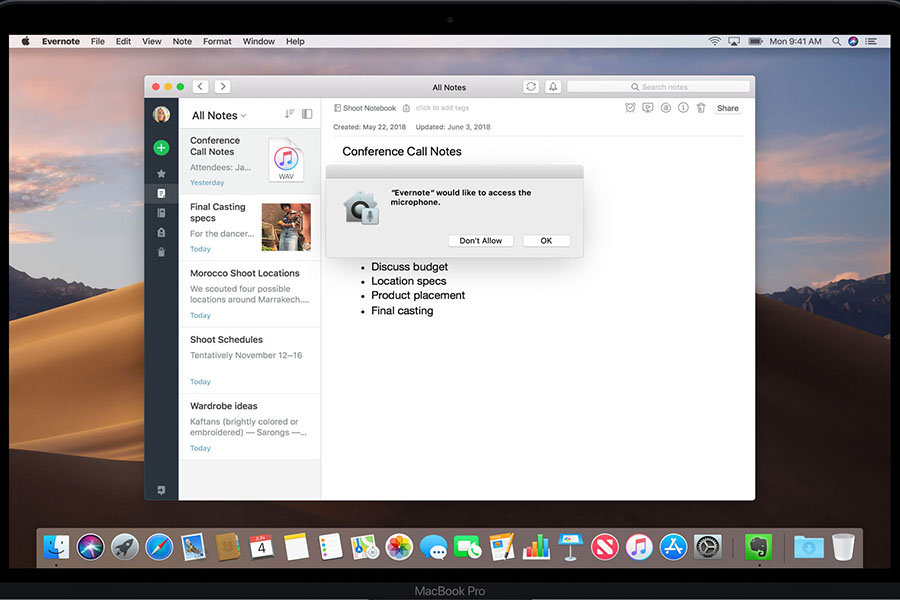 MacOS Mojave will also feature an improved security and privacy for sensitive data from the camera, microphone, mail, message history, locations and system cookies. Apple will start to ask for permissions for more features while delivering more robust protection to your privacy.
Lastly, the last security improvement regards two-factor authentication. This level of security always requires a code texted to your phone number. With macOS Mojave, Apple will detect these security codes form the Messages app and will allow you to AutoFill required code straight to the webpage.
Privacy protection in Safari
With improved system security, Safari is also getting tweaked with a security update. With Mojave, Apple will block sites from tracking you using like buttons, share buttons, and comment fields without your express permission. Overall, Apple will minimize how much sites can track you across the web.
Another improvement is saved passwords. Safari will suggest you a unique, strong password for every website when you register. The saved passwords will be saved in your iCloud Keychain passwords and synced with all your devices.
Safari will also audit your passwords to let you know if your password is too weak or is used for more than one website. Then you will be suggested to improve your security and redirected to the website to create a unique and strong password.
App store improvements
Just like App Store was redesigned with iOS 11, the same will happen with App Store in Mojave. There will be a new tab in the application called Discover. This tab will feature best Mac apps and editorial content. Inside the Discover new tabs will appear: Create, Work, Play and Develop, granting you more improved app discovery.
Product pages will also be redesigned with new locations of reviews and ratings in front and center. For app purchases, the new video preview will let you take a look at the app before buying it. Just like in iOS. Lastly, a wide variety of third-party app developers, like Microsoft and Adobe are bringing their programs to the Mac App Store.
Other updates
With Core ML 2 and Create ML app developers will be offered a new machine learning technology they can integrate into their apps. Other small updates for macOS Mojave includes improved hard drive performance, faster wake from sleep, Favicons in Safari tabs, a new login window and more.
Conclusion
For a really long time, Apple stayed at the top for innovation in their products. While Samsung and Google took the lead lately, Apple still has many tricks up there sleeve's. One of which we saw with the release of iPhone X and the functionality of Face ID. With the incoming updates of iOS and most importantly macOS, Apple is improving what they already have instead of trying to re-invent the wheel.
All things considered, Apple is doing a great job with the macOS update so let's look forward to getting our hands on it.