We have already talked about MacBook Pro competitors in the premium class laptop market. Time has come to talk about the competitors of MacBook Air, which is regarded as a laptop, best suited for the basic needs as an office worker, student or any other person who needs to get things done quickly and be able to take the laptop with him each day on a single battery charge. Well at least more or less.
There are many people out there who choose the Apple brand for their design, operating system or the brand itself. On the other hand, we all know that Apple devices don't come cheap and the processing power is not the most cutting edge. If you are in for a change and want to experience something new, here are our picks for the best MacBook Air alternative.
Lenovo 710s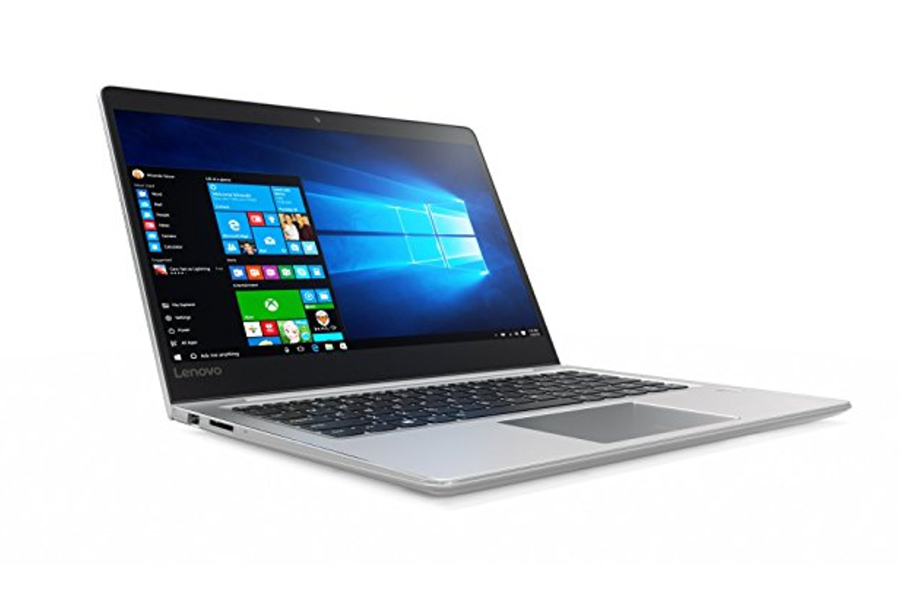 The Lenovo 710S looks and feels like a premium laptop. It has metal build, super-slim frame, quality screen, long battery life and great performance you would expect from a laptop costing at least $1,000. While in truth, this laptop only costs $800. And yes, it might not match the magical feeling of MacBook Air, but at least it's not that far away from that and still is a perfect MacBook Air alternative.
It is slim and light, weighing 1.1kg, which is 0.2kg lighter than MacBook Air. The screen is also comparable to premium class laptops. With impressively thin bezels and 307x214x13.9mm non-touch screen size with 1920×1080 resolution, you will fall in love with the screen and any other thing this laptop has to offer. Especially the fingerprint scanner.
On the sides of the laptop, you'll find a couple of USB 3.0 ports, SD card reader, micro HDMI output and a headphone jack. On the inside, you'll get an Intel Core i7-6560U processor, Intel's Iris Graphics 540, 8 GB of RAM and 256 GB PCIe SSD, which is a slower version of an actual SSD. Considering the price and the insides of the laptop it's a good choice for students or office workers, who wants to have a portable and slim device with them but have an all-in-all good device to play games.
Acer Swift 7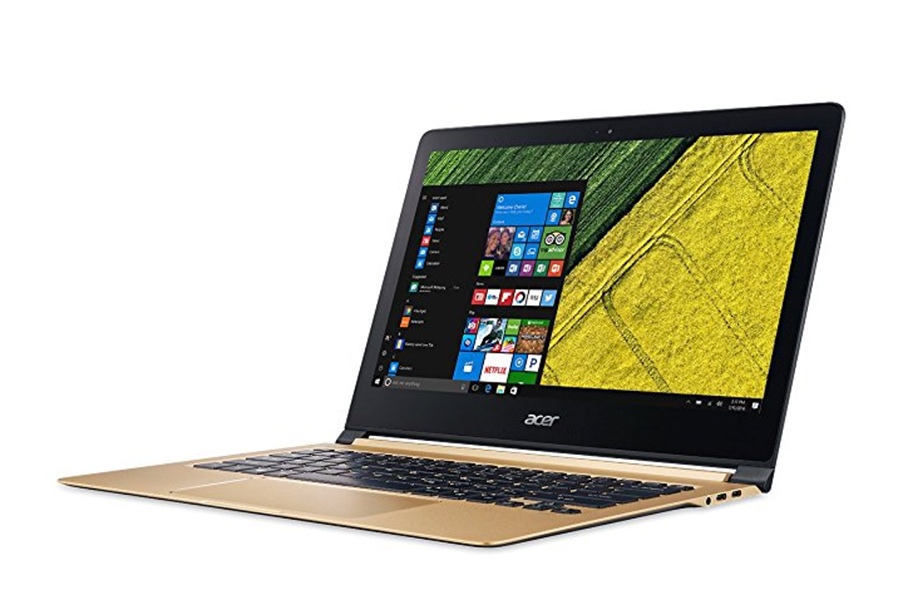 In Consumer Electronics Show (CES) of 2018, the Acer Swift 7 was titled as a "worlds' thinnest laptop". And unlike MacBook, the Acer Swift 7 has a larger 14-inch display. To become the thinnest laptop, Acer Swift 7 sacrificed clickable touchpad and used a fanless 7th generation Intel Core Y-series processor which makes this laptop fall behind in performance against similar price rivals.
Despite weaker performance and unclickable touchpad, Acer Swift 7 has some aces up its sleeve. One of which is built-in LTE, which can give you a lot more functionality. Then there's a biometric finger scanner and we all know how convenient it is to have it on your device. The battery life gets you around 9 hours of use (Swift declared that it should last 10 hours) in lightweight tasks. The laptop also features an amazing metallic design and weights 1.18kg.
On a technical note for a $999, you can get a 7th Generation Intel Core i5-7Y54 Processor 1.2GHz (Up to 3.2GHz), 8GB of RAM and 256GB SSD. The laptop also comes with 13.3″ full HD  non-touch (1920×1080) Widescreen IPS LED-backlit display and a Corning Gorilla Glass 4. On a port side, the laptop is equipped with 2 USB type-C ports and a headphone jack. Welcome to the dongle life.
Asus ZenBook UX330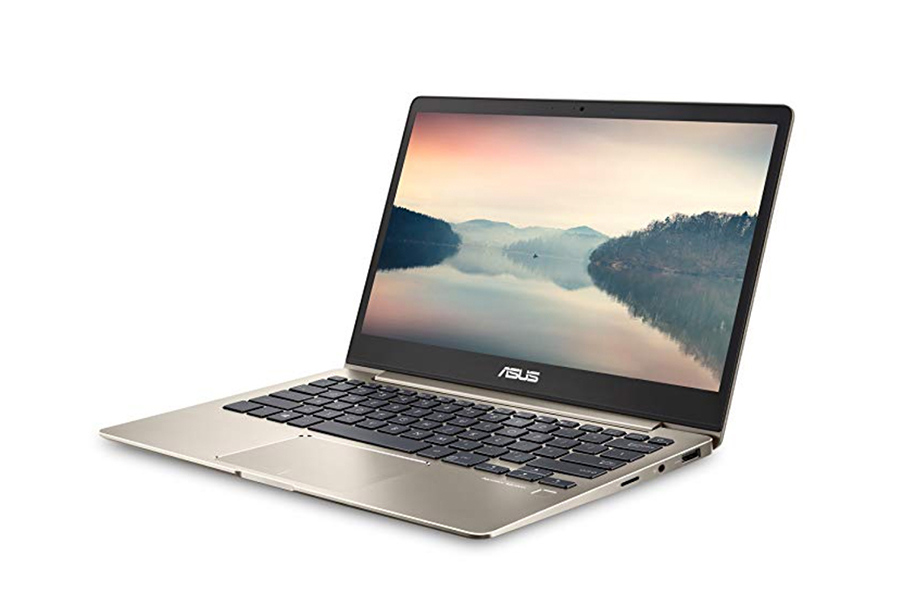 Not all ultraportable and well-performing laptops are pricey. Take Asus ZenBook UX330 for example. The ZenBook is the best choice for the office productivity or student needs as it gives a good battery life of around 8 hours. The laptop also excels in lightweight tasks and can last you almost a whole day and that's everything a daily user needs from an ultrabook. But most importantly, considering its performance it's within the reach of your pocket, rather than other laptops out there, which cost almost $200-300 more.
Like many ultrabooks in the market, ZenBook also features a metallic design which immediately creates a look of a premium laptop. Until you take a closer look and find nothing too fancy, but still a nice touch of work. The number of ports is really astonishing on the ZenBook UX330. It has 2 USB 3.0 ports, headphone jack, SD card slot, a proprietary connector for a small power plug, a micro HDMI port and finally USB type-C data port, which is only used for data transfer and not for charging.
The laptop is equipped with an 8th generation Intel's Core i5-7200U, a 2.5GHz (3.1GHz turbo) and Intel HD 620 integrated graphics, 8GB of RAM and 256GB SSD and costs only $699. The device also comes with a full HD non-touch (1920×1080) display, which delivers rich colors and wide viewing angles. Lastly, it has a fingerprint scanner. Very important note.
LG Gram 13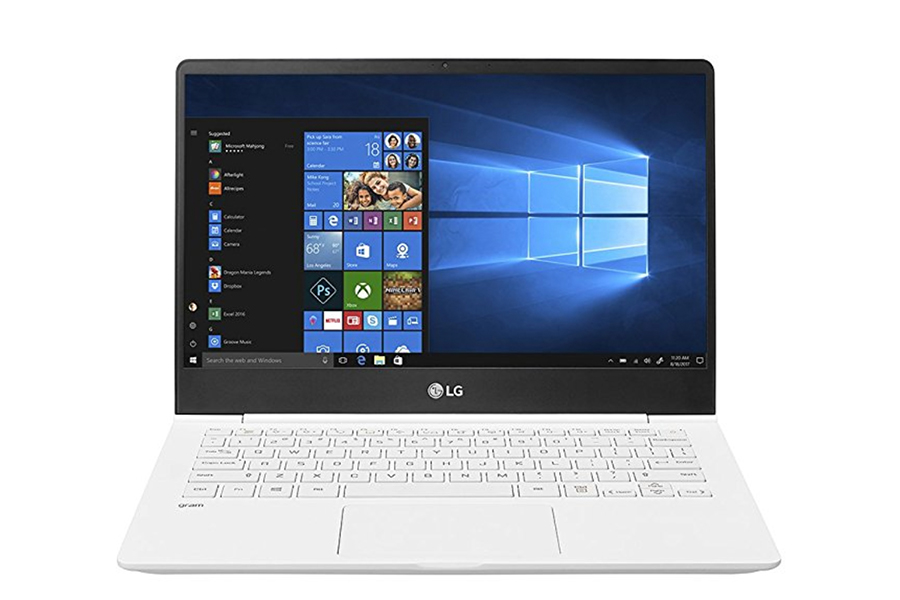 The next awesome piece of tech is LG Gram 13. There are 2 versions of this laptop coming in 13 and 15-inch model. While we've already talked about the thinnest, the most affordable and the most powerful and durable ultrabooks in comparison to MacBook Air. Now comes the part for the lightest. The Gram 13 weights just 965 grams and it's one of the lightest laptops out there. It goes without a question that it's a great and portable travel companion.
The design of the laptop might not look that premium like with other laptops built with metallic cover. Actually, the Gram is covered with magnesium alloy, which is similar to Microsoft Surface devices. In the end, the laptop looks as good as any other premium laptop out there. Most importantly, the laptop has a fingerprint scanner. Yay!
The base model comes with an 8th generation Intel Core i5-8250U processor, 8GB of RAM, a 256GB SSD and a 13-inch 1080p display, costing under $1000. It also gets you 2 USB 3.0 ports, SD card slot, proprietary charging port, USB type-C port, HDMI port, and a headphone jack. Most importantly the 72Wh battery will make sure, you'll be able to watch videos for around 12h or doing light weighted tasks for around 10 hours.
HP Envy 360x
At this point, we covered a few laptops for different needs. Did we miss anything? We did and that is a convertible ultrabook. All of the laptop base models we talked, don't come with a touchscreen or a 360 design, but the HP Envy 360x does. While this laptop is not the most powerful convertible, it will work like a charm for all those light weighted tasks and do even more with heavy tasks and gaming.
The laptop comes with a one USB type-C port, 2 USB 3.0 ports, HDMI connector, SD card slot, and a headphone jack. It might be a bit too heavy for an ultrabook, weighing just over 2kg. On the other hand, you get quite a powerful device which is still in a price range of a MacBook Air.
While the base model comes with rather low specs and costing $600, you can juice up the device for $300 extra to get a better configuration version of the model, which we recommend. A model for around $900 comes with 8th generation Intel Core 8th Generation Quad Core i7-8550U Processor (boost up to 4.00 GHz), 12 GB of RAM, 1TB HDD with a 128GB SSD secondary storage. For display, you'll get a 15.6-inch full HD 1080p touch-enabled. Getting you around 10h of use. Considering the specs this is quite a powerful device plus it's a convertible, but unfortunately doesn't have a fingerprint scanner.
Dell XPS 13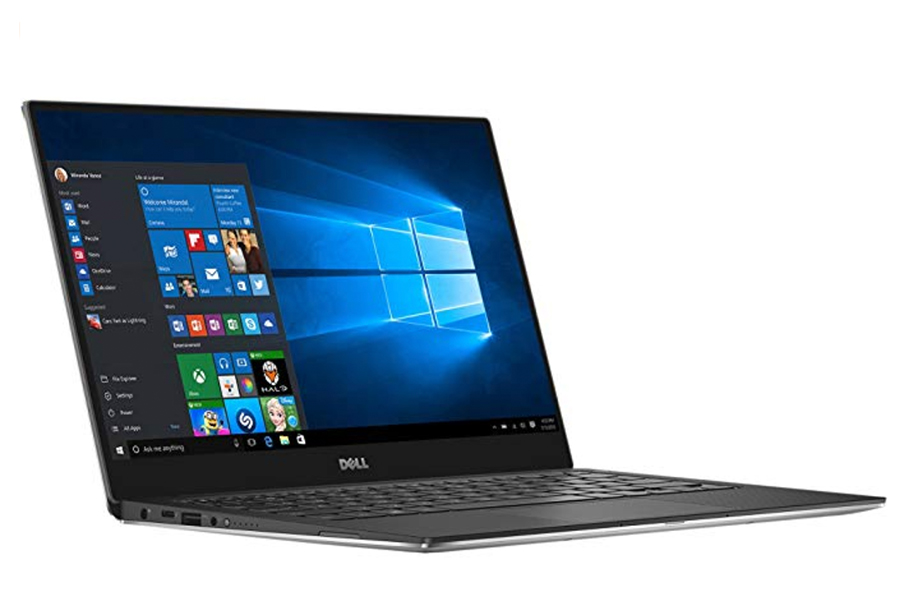 Finally, we just simply can't end the list without Dell XPS 13. We have covered this laptop in our article about MacBook Pro competitors, but the base model can easily compete with the MacBook Air as well. Overall, throughout the year Dell XPS 13, has been praised, for its spec, quality and the price and probably should be named the laptop of the year, at least for now.
While it might not look very fancy at first sight, you'll fall in love after opening the lid and seeing the almost bezel-less screen. Moreover, the laptop weighs only 1.21kg. Dell XPS 13 features one of the best battery life performance in the laptop market, giving you up to 13 hours of use for browsing or working on Microsoft Office programs.
The base model for a $1000 gets you an 8th generation Intel Core i5-8250U processor, 8 GB of RAM, 128GB SSD and a brilliant 1080p non-touch display. For connectivity part, you'll get a 2 USB 3.0 ports, SD card slot, headphone jack, proprietary charging port, and a USB type-C thunderbolt 3 port, which can be used for data transfer and charging. Sadly, the only thing is missing here is the fingerprint scanner.
Final Thoughts
There are and will always be a lot of laptops that are MacBook Air alternative. In the end, it all depends on how you'll use your device. If need a laptop just for basic stuff, you can't go wrong with any of the devices listed here or out there in the market.
Note, that the price of the items listed in the article might change in time and can even increase depending on your location because of the shipping cost.
If you think we missed something, let us know and we'll include it in the article. Moreover, if you have any ideas or suggestions always feel free to email us via the contact form.