In the age of digital technologies, we have more possibilities than ever before. We can connect with people around the world, learn from the best educators in the comfort of our home, entertain ourselves, buy products or services from anywhere, get information about almost everything. All these opportunities we have now can be used for many things especially making money online.
Currently, there are many ways how one can earn money online, but one industry has been booming throughout the years, e-commerce to be more precise. The reason behind it is that e-commerce has a simple logic which can be easily comprehended. Moreover, there are lots of success stories, where people simply bought products cheaper and then sold it for a higher price.
Additionally, the vast selection of digital tools made the process of creating a website, finding suppliers and driving sales a lot easier. On the other hand, there are already many businesses in this industry which made the e-commerce market relatively competitive. That's why one needs a great deal of online marketing knowledge, creativity, and reliable tools to become successful in e-commerce.
Struggles of E-commerce
In general, there are two models of e-commerce. The first type of model is when the traffic of potential customers is being automatically driven by a high authority website, like eBay or Amazon. Using this model means that you're selling on the same website like everyone else. The second model is having a personal website to sell the products, which leads to a higher profit, but needs a lot of work to get the traffic for the sales. Moreover, there are two methods of selling. The first is dropshipping where every time you make a sale, you simply tell your supplier to send the product to the customer.  The second is retail when you buy products from the supplier upfront, stock it in your warehouse and when the product is sold you do all the packaging as well as shipping to the customer.
When thinking about your e-commerce model and the method of selling items, there are many things to consider. A website that is dedicated only to your store provides you with a lot of flexibility and a potential to earn more. Furthermore, a platform like Shopify can help you to build your store within minutes, while different Shopify plugins can help you with other tasks like SEO, email marketing etc. Basically, the number one task for you will be online marketing when you own your website. Despite that there is only one task, it's still hard because it needs time, effort, stubbornness and knowledge of how to do the right at the right time. Just like in every other industry or a job.
But like we mentioned, the market of e-commerce has gotten pretty competitive, that's why people need to figure new strategies, new ideas and use new tools to become more efficient, more creative and produce more value to the customer. To get that competitive advantage you don't necessarily need to spend thousands on new courses or test hundreds of different strategies. Sometimes all that it needs is to look closely at the process of selling and search for parts that could be improved.
Something that is Often Missed
When you start searching for parts to improve, there are two possible approaches – the first is to look for what's already working fine and try to search for ideas on how to make it work even better or look for struggles like finding the right supplier and try to get rid of such thing.
We can give you an idea of a thing that you might improve. That is something that a lot of people miss because it's neither a struggle nor an already working part of the process. That is updating or changing the store's data and not so many people give enough attention to that. Mainly, because of the time, it takes to change the information on every product when you have big partners or many products. However, it is a very crucial task that shouldn't be omitted since false information might confuse your customers which means lower conversion rates. Due to that, it is necessary to find efficient ways to update your Shopify data without wasting a lot of your time.
Additionally, updating your store's information is crucial at times of special occasions like Black Friday, Christmas, Easters, Back to School day etc. If you want to make your online shop successful, you need to adjust your online store to those specific days and making that isn't an easy task. Usually, if you have a big store with at least 500 products, updating your product information might take hours or even a few days! It's not only changing the prices or making the discounts but updating meta fields, descriptions, and collections at the same time.
The e-commerce market is rather competitive, so you need something to differentiate yourself from the others. The possibility of updating or changing products' data quickly can help you to be more responsive and more reliable to customers than your competitors. While this strategy of differentiating yourself from others might not look that much from first sight, doing things efficiently can help you to save time that can be spent in areas that matter the most like brainstorming marketing strategies and performing superb customer support.
Bulk Editing Applications on Shopify
Inside Shopify's app store, there aren't many tools for bulk editing. In total, there are 57 of apps that could fall in this category, and only 4 of them have more than 100 reviews while others have almost no reviews. From the first look, we can deduce that not so many people are using this type of productivity tool, which means that you can exploit it to your advantage. Also, there aren't so many tools that are worth our attention.
One Shopify tool named Excelify caught our eye. This Shopify app has 104 reviews and a 5-star rating and from our research, we can tell that it offers the biggest amount of functionalities in bulk editing compared to other apps and possibly has the best value for money. We say this because it has an endless free plan.
It is a Shopify import and export app that lets you update your store's data by using Excel spreadsheets. This can be used to import/export large amounts data from and into your Shopify store including products, variants, prices, collections, meta tags, pictures, prices and everything else, saving you hours of manual work. Moreover, the same can be said for migrating from one store to another or duplicating your store.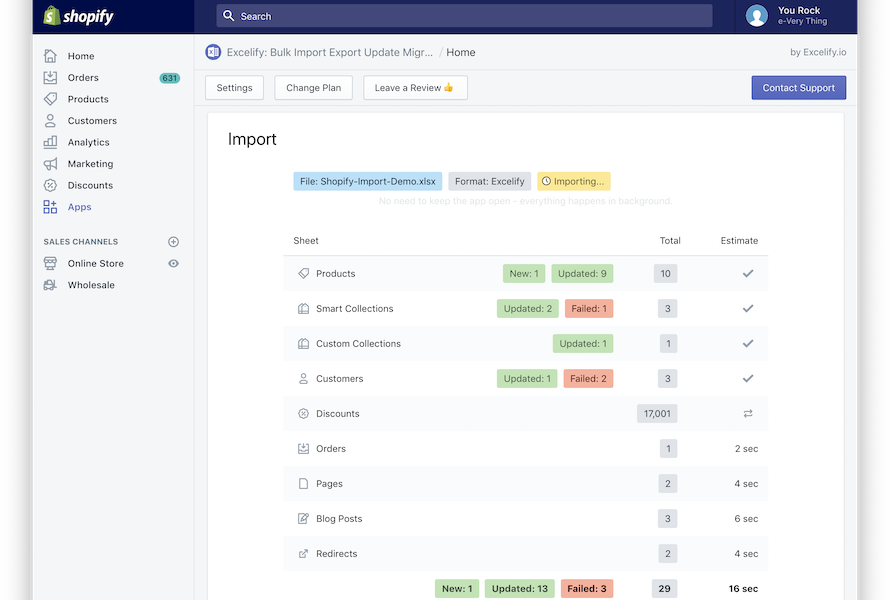 Additionally, You might also use it to list your products on Google Shopping and Amazon. Everything just with one press of a button, when you have everything prepared in your Excel or Google spreadsheet. That's why you can even hire an assistant to do all the data work online, so you would only need to do is to upload it to your store. To make it even better you can schedule and auto-repeat such tasks so you can forget worrying about the outdated product information. Excelify has a free version with no time limit that lets you get a feeling of the app. If you need to you can upgrade it to a $20, $50 or $200 per month versions.
Bulk Editing with Excelify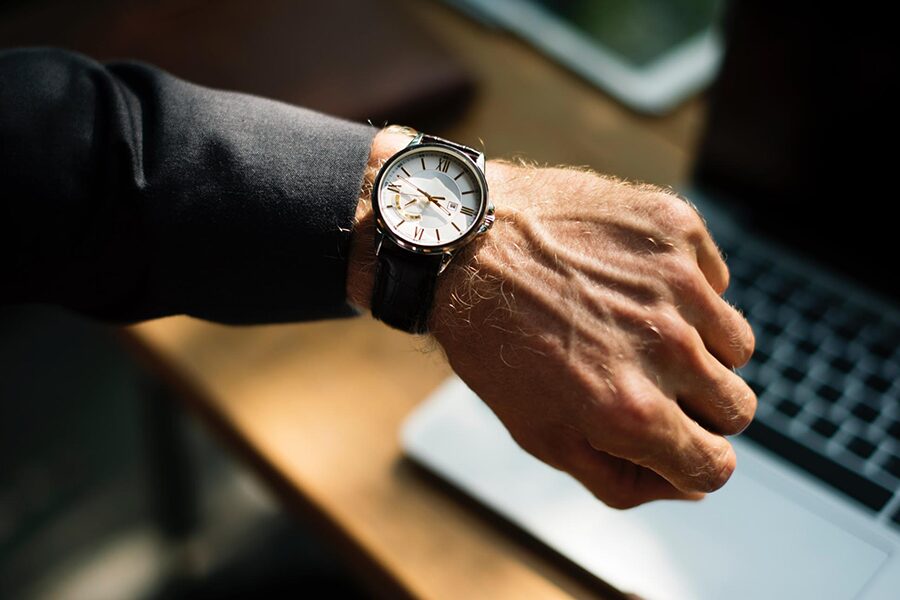 In general, this tool allows you to update your whole store fields in bulk and it's a lifesaver for the people who have a lot of products. That being said, people who are just starting with Shopify usually doesn't have such a number of products. However, once the shop is starting to scale up the number of products increases quickly. The more products there are, the more time it consumes to update information on your store.
Let's take Christmas period for example when people typically spend a fortune on gifts. For this occasion, you would need to strategize what discounts to make, what special offers to make or new products to introduce. Maybe you'll be making new product images for the best-selling items just for this instance? Imagine having 400 or even more products, how much time do you think it would take for you to update the data of your store products? It would probably take hours or even a few days of trivial work to get everything prepared. But Excelify allows you to prepare everything in advance and update it that information in the store within few minutes. Amazing, right? Moreover, the same can be used to update your product listings on other platforms like Google Shopping and Amazon.
But that's not it, Excelify's power of data export and import has a lot more to offer. One of which is the practicality of writing information such as metafields in a spreadsheet and have a visual understanding of how everything looks from one place. Much easier than scanning throughout different products in the Shopify store, just so you could take a look at the data. Most importantly, in the age where data is everything for a successful business, having good tools to work with it is a must. Superb data management tools have quick integration with other tools or platforms, Excelify does so too – you can use to update information by URL, Google Drive, Google Sheets, Dropbox, Excel or FTP/SFTP.
Technically speaking here's a short list of what you can do with the app:
Update SEO fields for Products, Collections, Pages, Blogs
Import and export Blogs, Blog Posts, Blog Comments
Update Product price
Update Image Alt Texts
Update Collection product positions
Update Product variants by SKU, by Barcode, by Option values
Update inventory, also by location
Import several images from the same row, separated by ; (semicolon)
Migrate data from Magento
Update Cost Per Item
Reorder product variants
Send out Customer activations in bulk
And many other things.
Creating an Excel File
By now you must have an understanding of how everything works with Excelify. You start by opening an Excel spreadsheet or Google sheet and start writing or import your information for the products. But what then? Lucky for you, there's a free Excelify template you can use and start importing your information on top. When you open the file, it will look like the picture below.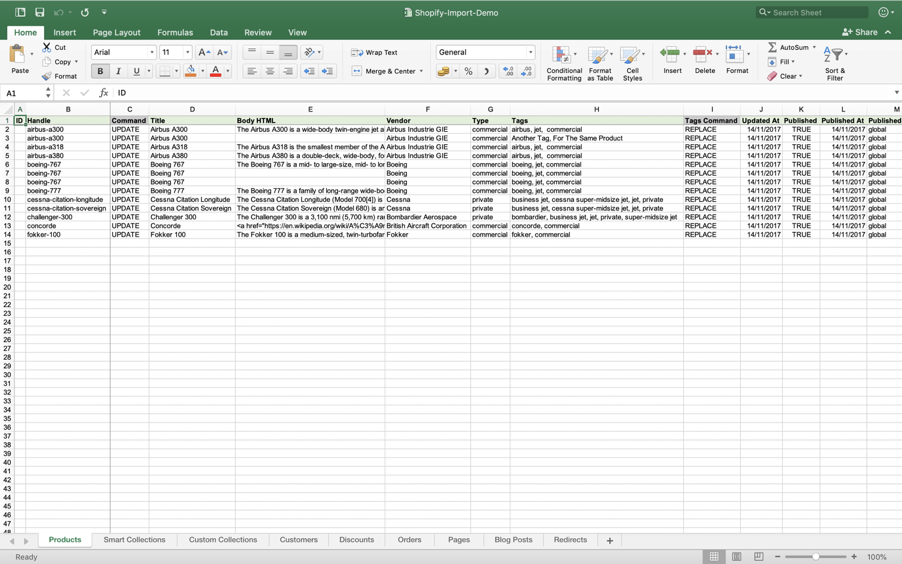 One data file holds several types of Shopify data. This data includes products, smart collections, custom collections, customers, discounts, orders, pages, blog posts, redirects and is stored within different spreadsheets as shown in the picture. You do not need to edit and import every sheet, you can import just one that you changed data in. Moreover, the names of the sheets must be precise as that, otherwise, the app won't recognize it.
In each sheet, the data is arranged in rows and columns and consist of the same data fields like on Shopify store. That's why, people new to Shopify bulk update should start with the template, rather than writing everything themselves. When entering data to the spreadsheet, you can choose which columns you would like to update and which you want to leave alone. If you want to update only the price of the products, you should only keep the "Variant SKU" to identify the product variant, and the Variant Price column while deleting the rest of the columns so the app would understand that you just want to update prices. Moreover, you can have as many columns as you like, only those that app can recognize will be used. You can identify the Product to update also by its ID or Handle, and then identify its variant by Variant ID, Variant SKU, Variant Barcode, or even the Options.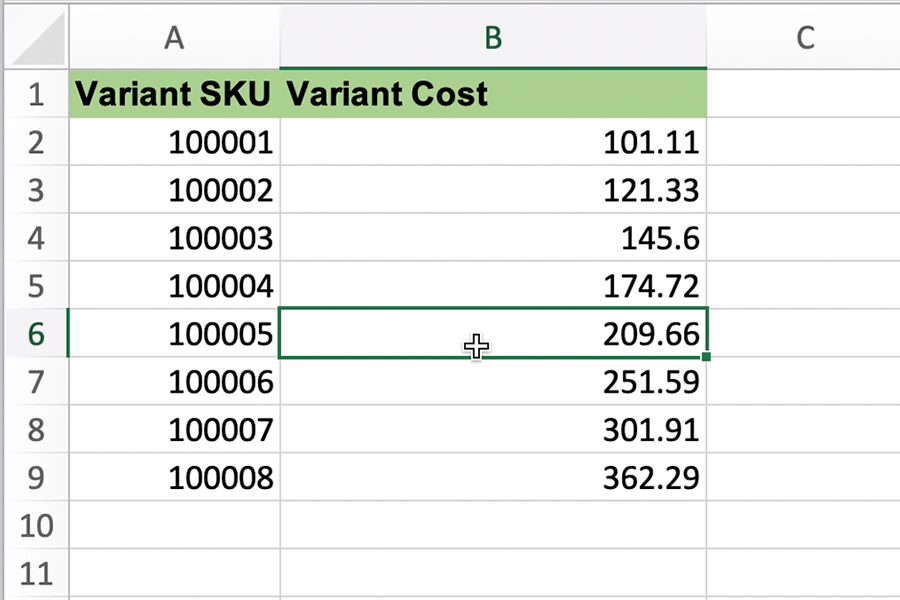 Rows in the file resemble different products, while the values are text, numbers or sometimes TRUE of FALSE. Now you must be thinking, how you should write information for a product that has several pictures or several variants? What to do? For pictures, you can use ";" between picture links, but if you need to create several variants you would need to make a second row of the same item. It should be with the same ID value, or the same Handle value, or the same Title. The ID is Shopify's unique number that is generated for each product you upload, using the same ID will make things a lot quicker to update each time.
It might look too confusing from the first glance of the template, but actually, the template just demonstrates the whole list of possible data fields it can use when imported to Shopify. From the start, you might not need to use all of the columns and there will be no need to use all of the functions. Moreover, if you ever feel you'd need more information, the people behind the app got your back with lots of Excelify tutorials on YouTube and on Excelify website. It might seem to you that it is hard to learn to use this tool, but if you have a basic knowledge of Excel or any other spreadsheet you will quickly grasp it and you would not believe how much time it saved for me.
Price Plans
There are 4 plans in total and yes, there's a free plan for an unlimited time. The free plan is almost like a demo, to get the hand of the functionality of the Excelify. The free plan doesn't allow to import a lot of information with each file, making it less effective if you have a big store. Nevertheless, for a small, niche store it might be just fine. Another plan is called the basic and gives more than enough for a big Shopify store and costs only $20 a month which makes it a good deal considering the low price for a big increase in efficiency with updating store's data.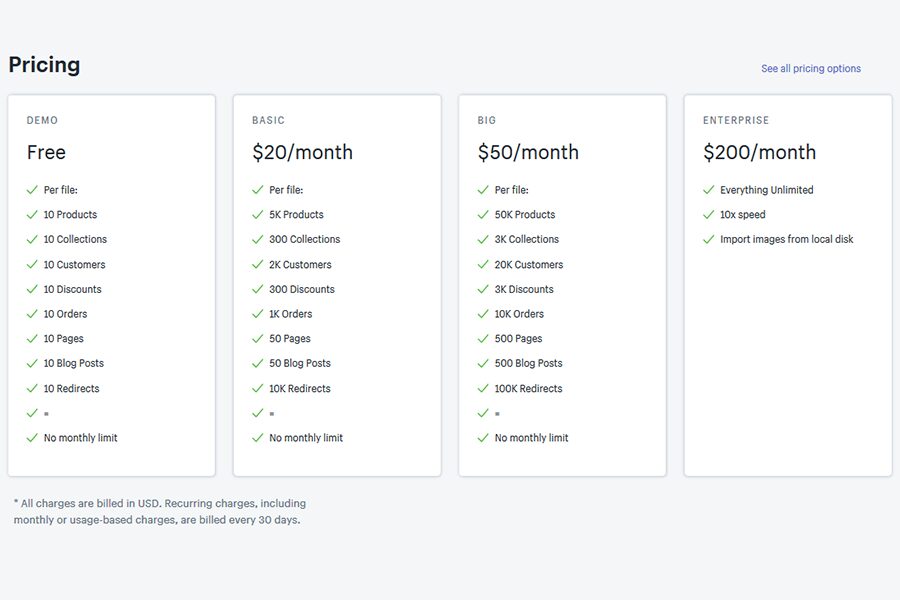 Additionally, if you want to save even more of your time, upgrading to Big and Enterprise plans might be a practical idea, because you'll get more extra features. With those plans, you'll be able to upload even more products, pages, and other information. Enterprise plan allows an unlimited amount of data import/export. But the most important feature is the improvement in upload time by 5x or 10x, which will save more of your time when you're working with big data sets. While for smaller business the basic plan is more than enough, we recommend getting the big plan, because $50 a month is not that much when you start to think about how valuable time is.
Final Thoughts
Excelify is rather a new player in the game, but it's not hard to see why it might be the next multi-million Shopify plugin like Oberlo. It helps to reduce the amount spent on updating and changing information on Shopify store to only a few clicks. On the other hand, that doesn't mean that you won't need to spend time at all, you will need at the most, to do the changes in the spreadsheet file before the upload. Of course, if you do not have a virtual assistant to do that for you. While some time will be needed, it still allows you to do it a lot quicker than going to each product of your store and change everything manually.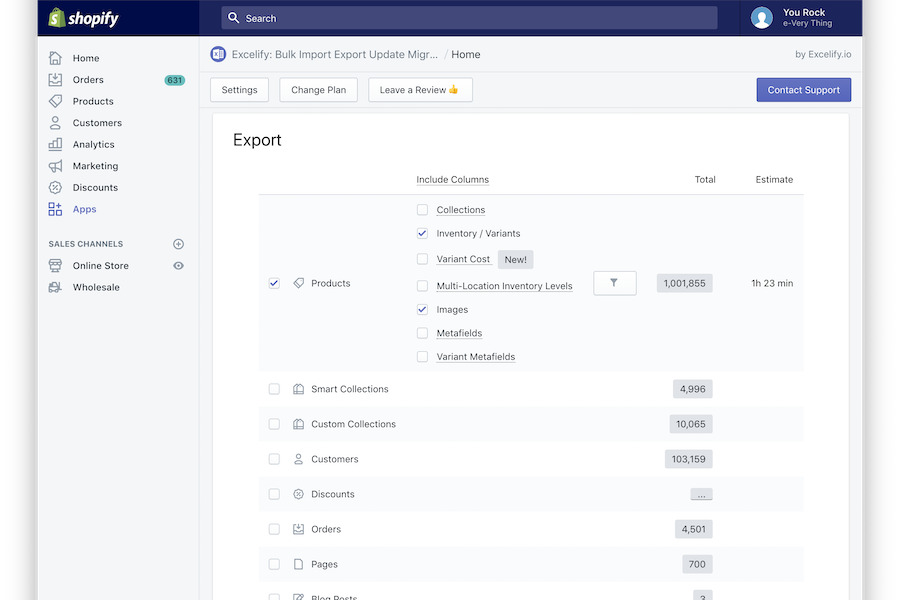 The plugin, as we wrote, does even more than just simply importing new data to the store. You can make use of this app even when you are just starting as it allows to quickly import data from legacy e-commerce systems or by importing data from your suppliers. So this makes creating and scaling process of your store quick and easy. However, it might take some time, to get used to the way information is read within the spreadsheet file in the app itself, but once you get a hang of it, it becomes easy and intuitive to do.
Overall, considering the price and the functionality of the app, we can say, that this app will be a lot more popular in the near future because it offers the highest quality and greatest number of functions in the market. This is the best time to use it to your advantage unless you don't have a need for more productivity and some superiority against your competitors. If you are hesitating we recommend just to try the free version. We can guarantee that even with a free version you will be more productive and have more time for increasing your conversion rate!