I can imagine that many of us would like to make $12k in one month on Shopify while still working full-time. If Justin Wong did this by dropshipping, I believe that many others can follow and do the same. However, first of all, we need to have a well-made Shopify store and there are various ways on how you could optimize your store to increase your conversion rate.
One way would be to do everything manually but if you do not have any programming experience it can be pretty hard. Another way would be to use Shopify plugins that not only does not require any coding experience but also makes the use of your time much more efficient. Although, It might be overwhelming to know what Shopify apps to install when there is more than 2300 of them.
Do not worry, we are here to help you to choose the right ones. We collected a list of the best Shopify apps to increase sales long-term and create amazing Shopify store that lasts.
Filter Menu by Power Tools
There are various possible methods on how you can boost your Shopify store's performance. One possible way would be to enhance your customer experience by implementing product filters to your store. These filter menus would make skimming through your product listings easier which might lead to more conversions.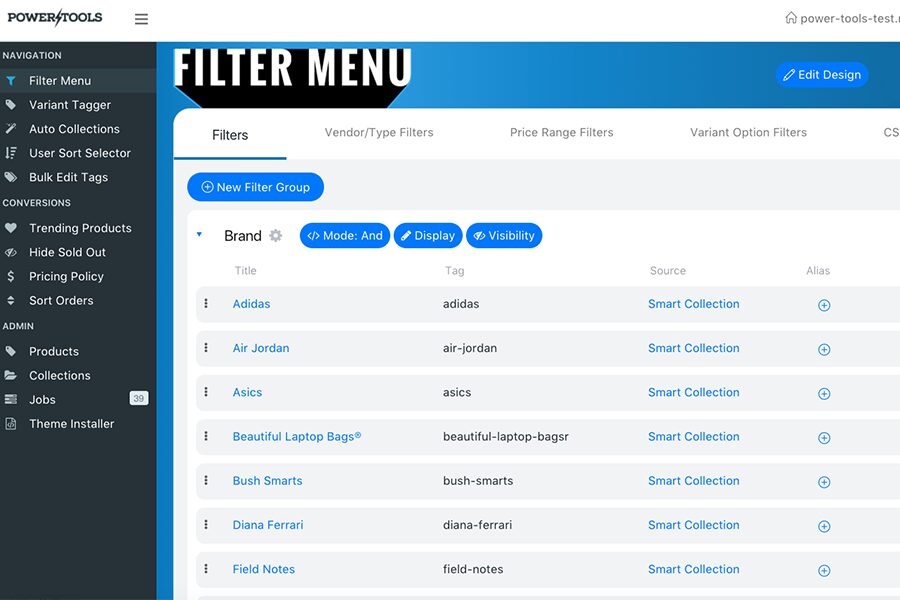 Filter Menu by Power Tools is probably the easiest to install and use Shopify collection filter. The app will not only improve your store navigation instantly but also provide you with Hands-Free Filter Maintenance which will save you a lot of time. The design of the Filter Menu is based on the most popular retailers online such as Amazon and eBay. Therefore, I can guarantee that you will be one step closer to offering your customers the highest-quality shopping experience possible.
By the way, Power Tools provides you with the 14-day free trial which is more than enough to see it in action and understand why you need it. In that period you might generate an increased amount of sales which can cover your subscription fee.
Ampify Me
First, to understand why you need such a plugin as Ampify Me, you need to know what Accelerated Mobile Pages are. Let me explain it, the goal of AMP is to optimize websites for smartphones that the loading time of those sites on mobile browsers would be dramatically reduced. There are e-commerce websites that increased their conversion rates by 15-20% and reduced mobile loading speed four times using AMP alone. Some publishers increased their revenue 4.5 times by implementing AMP strategy.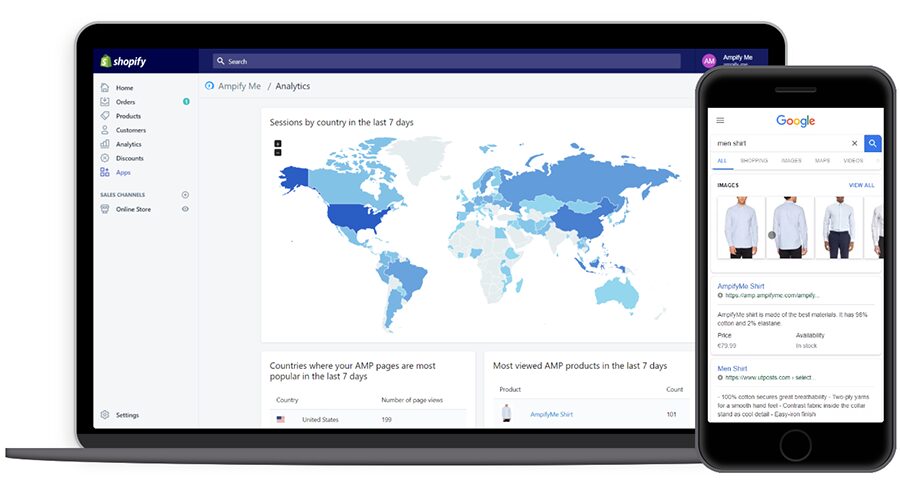 If you want to reach similar results with your Shopify store, you can achieve it by using Ampify Me. It is one of the best Shopify plugins for you to have if you want your e-commerce business website to generate more conversions from mobile devices. The plugin will start working the moment you install it. Thus, your page will get all the benefits of Accelerated Mobile Pages instantly.
Your site's SEO will be improved as Google shows AMP optimized pages at the top as a slider and your online store will load on smartphones almost without any latency. The biggest companies in the e-commerce industry such as eBay, AliExpress, and Eventbrite are using AMP to increase their traffic and revenue. So, they must be up to something good that is why I recommend implementing AMP to your store.
SEO Images All-In-One SEO
Majority of websites these days get their traffic from search engines such as Google, Bing or DuckDuckGo. So, it is important that your store would be search engine optimized (SEO)  that not only means that you will rank higher and get more traffic from search websites but consequently you might increase the numbers of your sales which mean bigger profits.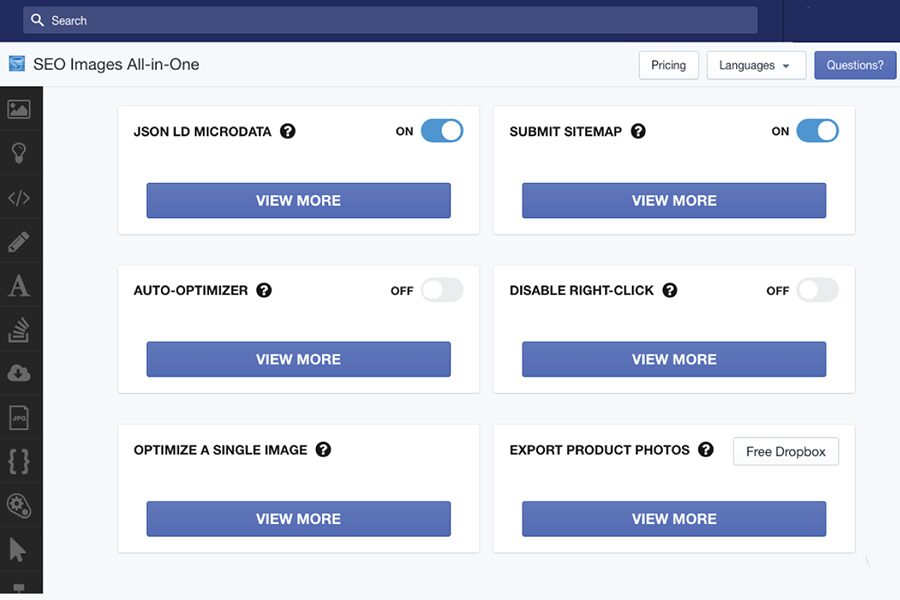 There are various SEO plugins on Shopify but we recommend SEO Images All-In-One. This SEO app might be one of the most advanced tools in Shopify to boost your search engine rankings and optimize page loading time. With a single click of a button, this tool can automatically tag your product images with SEO keywords as well as bulk upgrade your site's meta titles.
Furthermore, it provides various on-site photo optimization features and can instantly compress all of your site's data that might have been slowing your website down. There many more features that you will make use of. Keep in mind that most of the features are free.
ThemeWatch – Theme Backup Tool
When you are operating an online store it is really important to keep your shop's looks updated. However, sometimes theme updates can cause design element distortion or theme might suddenly become unusable. If you are not ready for such things and do not have a backup of your store, it can lead to big losses on sales as it might take a lot of time to identify and fix the issues.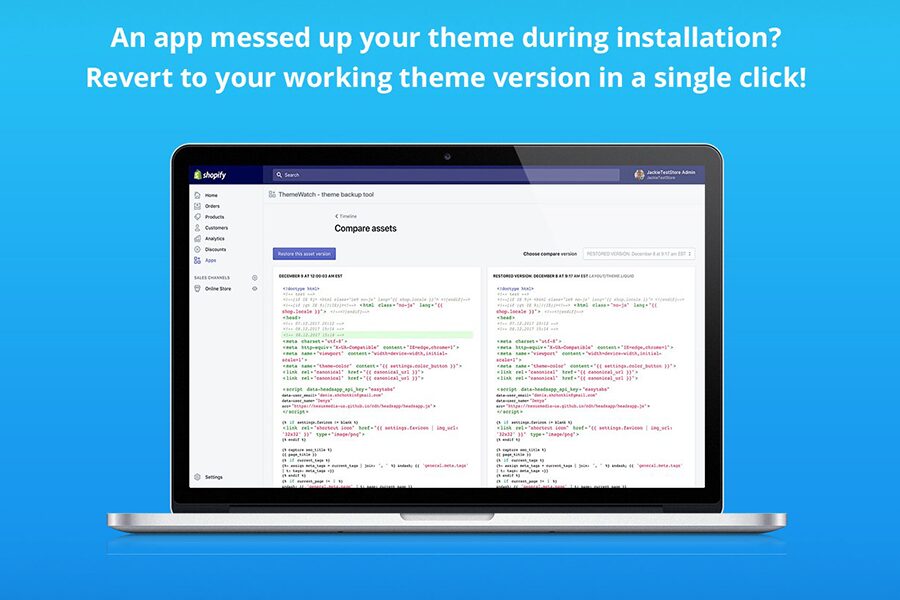 If you want to always be ready for such misfortunes, you should consider trying ThemeWatch – theme changes tracker and backup solution. ThemeWatch is a plugin which will keep your store and its theme safe. It automatically tracks changes of your theme, performs automatic daily backups as well as allows to back up your theme manually.
Moreover, the app also tracks the differences in certain assets and lets you compare the backup version with your live version to see what precisely has changed in your store's theme. ThemeWatch is free to install.
Shop Protector
Your store is vulnerable to bot attacks, often malicious but at times just annoying with a wave of form spam submissions. It's important to stay protected at all times.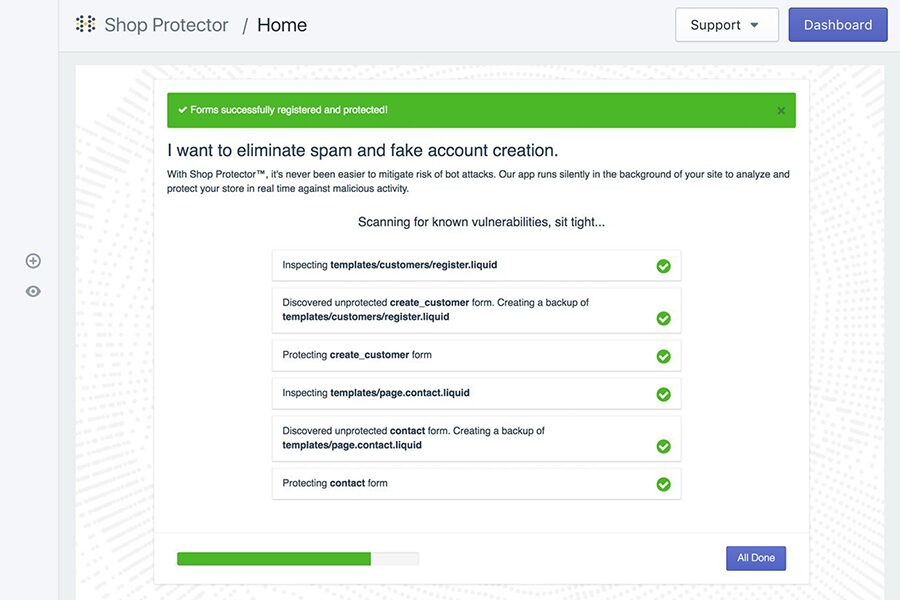 There is an app that can save you from bad things happening to your store. Shop Protector is a Shopify plugin that will guard your shop from fraudulent activities such as multiple fake account creations, contact form and newsletter sign-up spam.
Additionally, for Shopify Plus merchants there is Shop Protector Plus which offers all of the form spam and fake account creation protection but also protects from bot-based checkouts and abandoned checkouts all of which occur regularly with larger merchants but especially during flash sale events.
Swap Photo Editor
You probably stumbled upon a problem with watermarked images and unclear photo backgrounds when you were importing products to your Shopify store. Sadly enough, A lot of suppliers do not provide resellers with watermark and background free product images. You might try to hire a professional product photographer. However, I believe that not many of us would like to do that.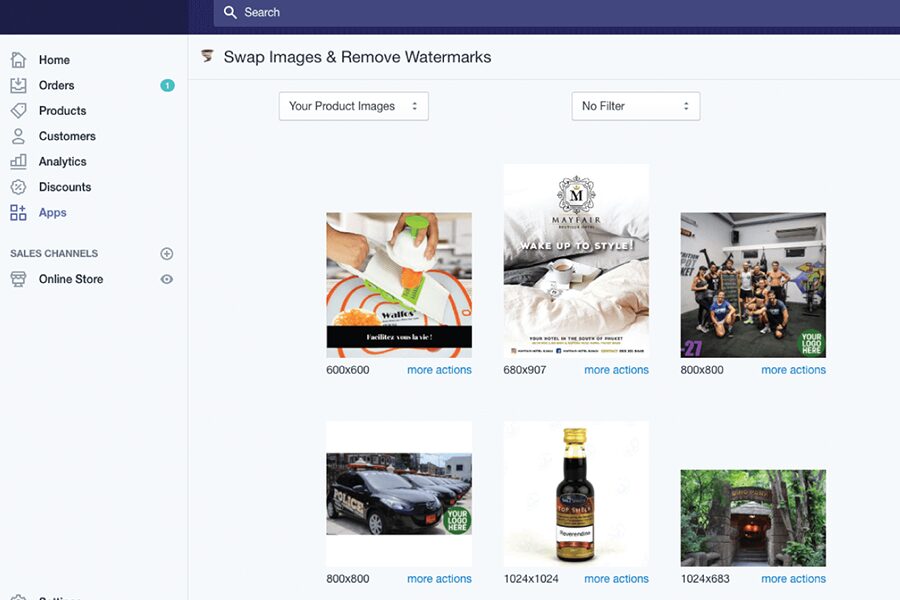 Luckily for us, there is a Shopify plugin called Swap Photo Editor which automatically removes watermarks and background in the pictures saving our precious time. It has a friendly interface with inbuilt advanced photo editor so you could do everything manually if you wish for.
The app can also process images in-bulk giving you immediate results. You can try it for free to see how this plugin works. If you find yourself in a struggle, there is a video tutorial that will teach you how to use it.
Delirious Profit
When you have a Shopify store it is really important to keep track of your profits and margins. It might be overwhelming to keep track of everything that is happening in your store, especially if it generates lots of sales. Because of that, you might make an innocent mistake in your tax declaration statement which can get you fined and nobody would like to receive a fine. So the best way to solve this problem would be to automate your profit and margin calculation.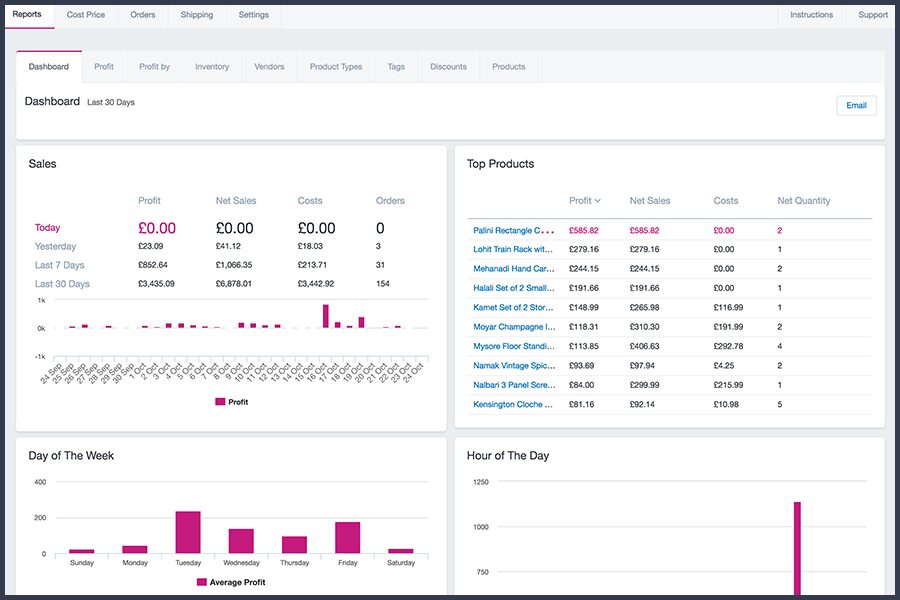 To automate your various reports, you should try Delirious Profit. It is one of the easiest ways to calculate your profit and margins on Shopify. This app will allow you to focus more on increasing your conversion rate as you will not need to use spreadsheets anymore. It has an intuitive dashboard that lets you see your store's profits in various ways, top-selling products, and cost of your whole inventory.
To make it even easier it automatically adds all the costs of goods sold, actual shipping costs, transaction fees, and expenses so you will be able to track every penny that comes in and comes out from your store. By the away, Delirious Profit can show you live how your discount promotion is performing If you are still not sure, there is a 7-day free trial that will help you to make up your mind.
Finally
Probably these are the best shopify apps 2018 and they will help you to build successful Shopify store that will last. Most of them are free or have a free trial so you will be able to check them without spending a dime. We wish you all the possible luck with your Shopify store!
If you think that we did not include an essential plugin or missed to mention anything, you can always inform us. Please feel free to email us via our contact form.