Today, I am going to talk about a monitor that I love using. It was a pleasure to do a review on BenQ SW271.
If you are a professional photographer, a video editor or you just work a lot with graphics and you are searching for a new monitor, you might look at the BenQ SW271. No matter the fact that this monitor is a high-end product and does not come cheap, it is still a great bargain and probably one of the best monitors you can buy in that price range.
The BenQ SW271 comes with great connectivity, has a stunning 27-inch 4K UHD resolution with HDR and industry-leading eye-care technology.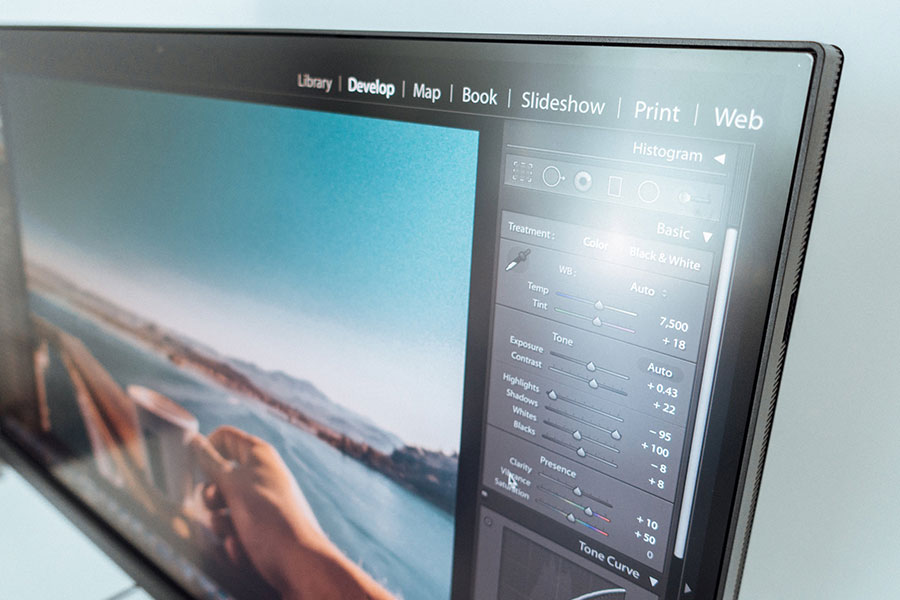 Highlights
The monitor comes with a 10-bit color display which shows more than one billion colors. However, consumer grade graphics card cannot put out the real 10-bit color, and you only get 8-bit of it. Thus, keep it in mind that you can use that feature only with professional graphics cards.
BenQ SW271 has great connectivity and comes with 2 HDMI (v2.0) ports, 1 DisplayPort (V1.4), 1 USB Type-C, USB 3.0 Hub 2 downstream and 1 Upstream. Sadly, the USB Type-C does not come with charging possibility.
The screen is astonishing with 99% Adobe RGB, 100% sRGB color gamut, and with 4K IPS technology. The stand offers all the functionality and adjustments that you can possibly think of, and it comes with a shading hood that can be used in either portrait or landscape orientations.
Design
BenQ SW271 has a clean and minimal look to it, bezels are thin, and menu buttons on the front does not look too bad.
At the back of the monitor, you can find all the connectivity ports including 3.5 audio out and SD card reader in the side. The SD card reader might have been at the front of the monitor or closer to the side which would be a more comfortable position.
In the rear, there is a hole which is made for routing your cables, and at the top, there is a handle that makes it more comfortable to move it around. However, the monitor's weight is about 23.15 lbs, so it is not that light to carry around.
Although the monitor has an anti-glare screen, you will still get a shading hood in the box which is easily attached and detached. The shading hood will reduce the glare even more and will ensure outstanding color accuracy for your great work. The hood on the outside has a nice matte dark grey finish, but inside, there is a small reflective plastic finish which sometimes might be a little distracting. Also, it has a little hole at the top which allows you to pass through your monitor calibration tool.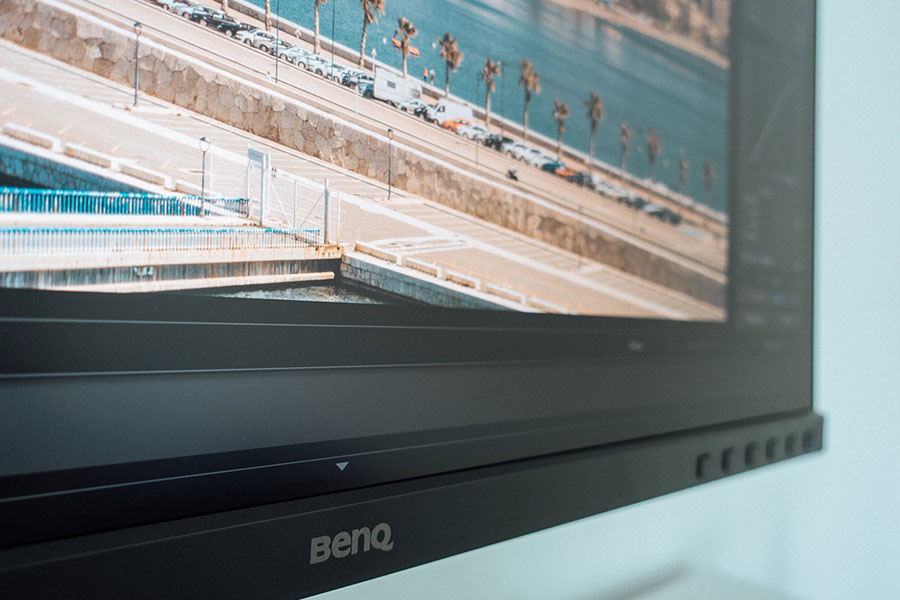 Ease of Use
The monitor comes in a large box, and in the box, you will get everything you need to set it up and get it running as well as an individual calibration report straight from the factory. It has a built-in power supply and because of that, you will not need any adapters and it will help ensure that your desk is not too cramped.
Notably, the ergonomics of the screen is wonderful. You can easily adjust the height, tilt and turn it about 45 degrees. Also, you can use it in the landscape as well as portrait mode as I mentioned before. Therefore, you will be able to adjust it to fit your needs easily.
One of the features that I liked is Hotkey Puck. Despite the fact that the menu buttons are in the front and pretty comfortable to use, the monitor comes with a USB menu wheel which allows an easy switch between Adobe RGB, sRGB and Black & White modes without any effort. In fact, the buttons are highly customizable and they allow the mapping of other modes or settings onto the keys which makes it really convenient.
Features
GamutDuo. This allows you to look at the same picture or video simultaneously in different color spaces for a side-by-side comparison.
USB-C Connectivity. BenQ SW271 uses a latest USB-C port which enables you to transmit all your data and video using only one cable. It smoothly displays brilliant 4K content, and the transfer rate is up to 5Gbps.
Hardware Calibration Software. By using Palette Master Element and a calibrator, you can easily tune and maintain the best color performance of the monitor.
4K UHD Video Display with HDR. This amazing display will ensure amazing clearness of the details and textures for visually intensive work experience.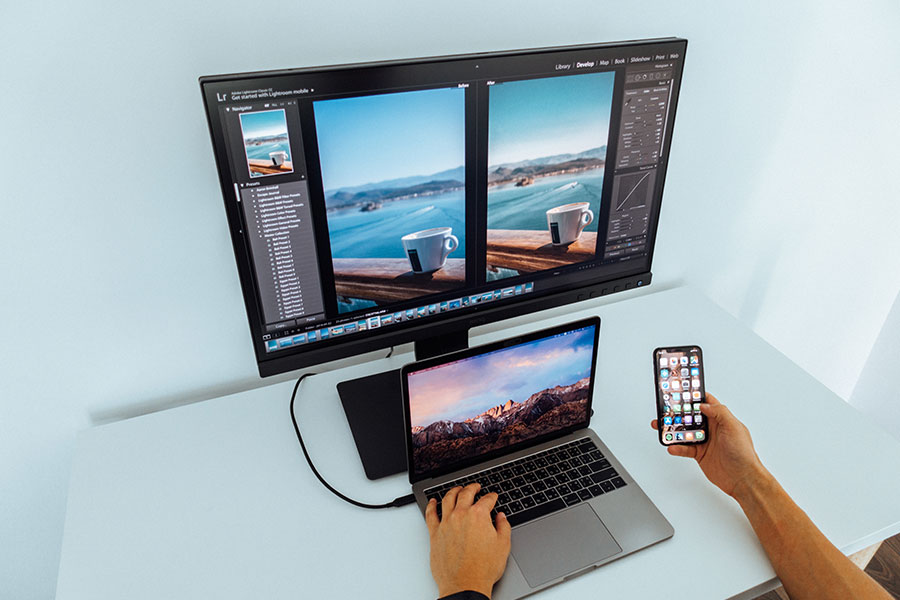 Display
The display is excellent. It has thin bezels, anti-glare finish and looks somewhat minimalistic which is great.
The pixel density of the monitor is 163 pixels per inch which is not as much as high-end laptop displays these days, but after several minutes of usage, you will get used to that, and it is not a problem. The viewing angle of the display is impressive, about 178 degrees on both sides. Furthermore, the refresh rate is only 60 Hz. Thus, it is not the best option for gamers. However, Gran Turismo and other games that are compatible with HDR look more than amazing.
The RGB color accuracy is increased by the 14-bit 3D LUT (Look Up Table). As a result, the colors are reproduced faultlessly. Moreover, it has Delta E rating ≤2 in both Adobe RGB and sRGB color spaces. It provides you with the most accurate view of the original image. Also, this device has a Technicolor color certification and comes with 99% Adobe RGB and 100% sRGB color space.
Price
BenQ 27 inch 4K PhotoVue Photographer Monitor (SW271) costs $1,099. You can get it on Amazon or any other BenQ retailer. I believe that it is one of the best monitors that you can get for this price, and it might even lift your work to a whole new level.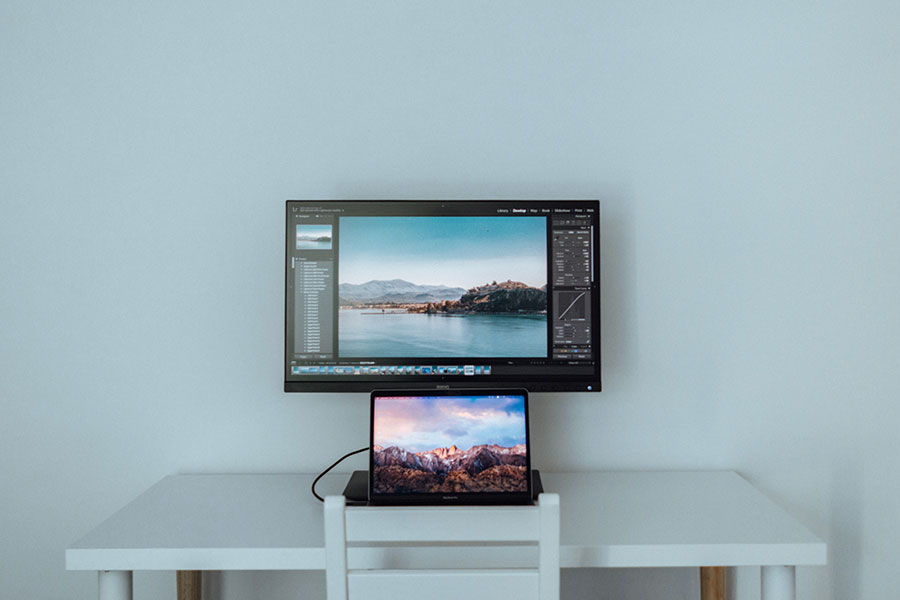 Verdict
Pros
        

USB-C connectivity

        

Highly adjustable stand

        

4K UHD display with IPS technology

        

10-bit Color display support

        

HDR support

        

14-Bit 3D LUT and Delta E ≤ 2

        

Hardware calibration with the Palette Master Calibration software

        

Thin bezel design

        

Horizontal and vertical shading hood

        

Technicolor certification

        

Customizable Hotkey Puck
Cons
        

Built-in speakers' quality not so good

        

Calibration with the Palette Master Calibration software fails sometimes

        

There is no charging option with USB-C

        

Reflective surface inside the shading hood

        

No settings in the HDR mode
Conclusion
The BenQ SW271 is a great monitor that has a nice clean design, comfortable to use and the build quality is superb. Furthermore, it has such features which will certainly increase your productivity and even save your eyes from soaring.