You probably have a website of some kind which needs all the possible features to sustain your business. These days, versatile, well-developed website is one of the most important things to become successful. Thus, using the finest tools can make the process of website building faster and increase your chances of success.
Today, I am going to review one beast of a WordPress plugin – CaptainForm. This WordPress form builder plugin has all the possible functionalities you can need to create sleek, modern and professional forms for your website.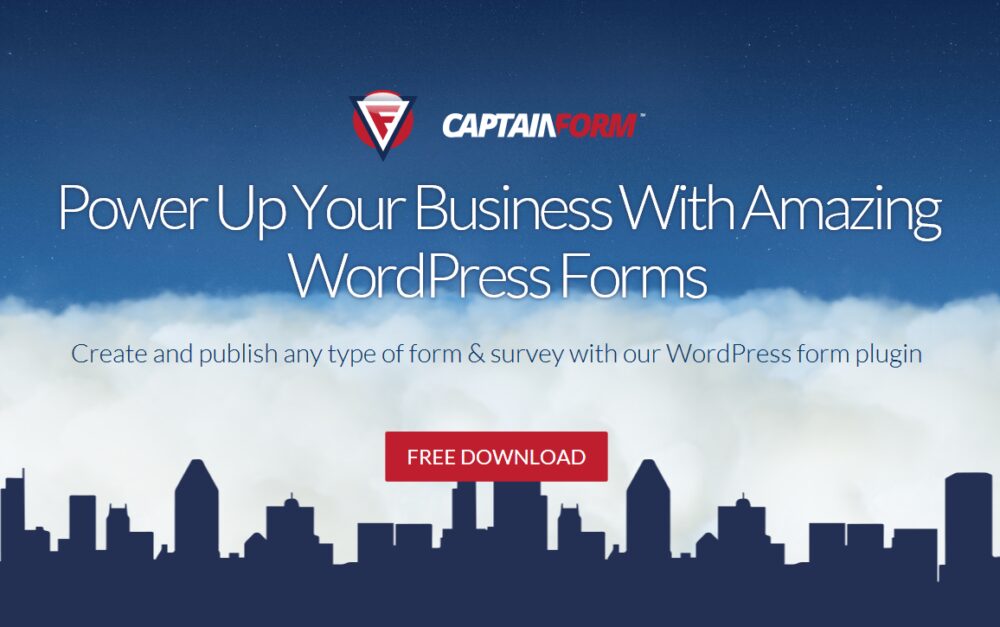 The plugin has a user-friendly interface with drag & drop form builder. You do not need to download any add-ons and all the features all built-in. It is possible to create all sorts of form like things: contact, feedback, request forms, surveys, newsletter subscription widgets and many more.
Navigation
Do We Really Need Another Form Plugin for WordPress?
I would say that yes, we do. Every plugin has its different functionalities and approach to the user interface. Some of the plugins are done the wrong way and some of them the right way. Also, many form plugins do not offer a lot of functionalities. Thus, one needs to have several plugins for different form tasks.
CaptainForm is certainly done in the right way and you will not need to download any other form, newsletter, survey plugin because it covers all the things you might need in your day-to-day business work. You can check the plugin's demo here.
Features
Intuitive Editor
The CaptainForm editor is easy to use. You can open it and use it directly from your WordPress dashboard. Right from the start, you are recommended to watch a quick tour video which will teach you about all the functionalities of the plugin.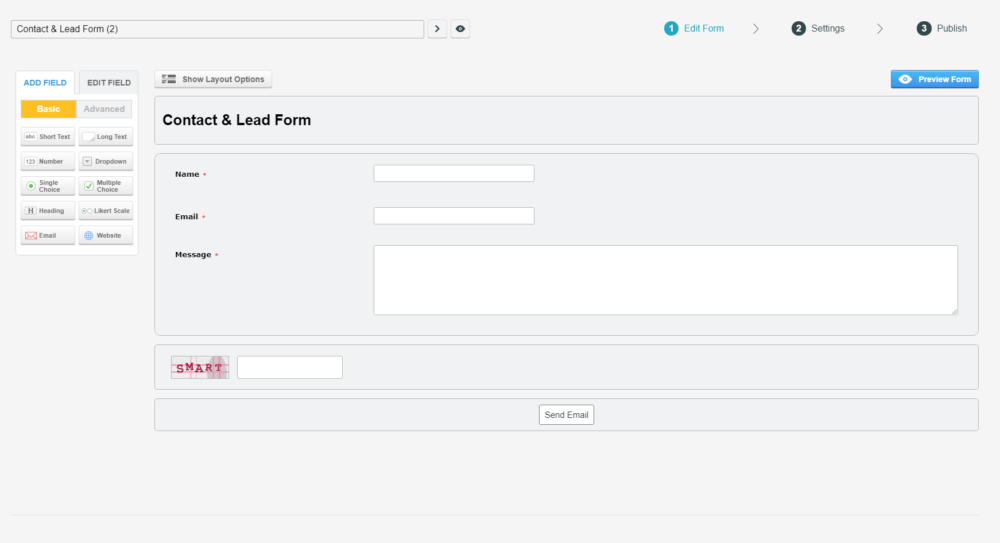 At the beginning of creating a new form, you will be able to choose pre-made form templates for a faster workflow. After choosing one of more than 30 templates, you can easily edit them to fit your needs using in-built drag and drop editor which has tons of options. Everything in the form is editable.
Also, CaptainForm has an auto-response option where you can add your message which will be sent to the person who filled the form. You can add payment options such as PayPal, WorldPay or Stripe.
Easy Data Management
The form is not the only thing you need to worry about. It is important to have the data which collected from the form to presented clearly. CaptainForm is not only a powerful form builder but also has a comfortable data management functions.
After you get form results, it is easy to check the data and make answer reports. You will not need to make any calculations or Excel work, because the plugin will make charts, calculation reports for you. You will be able to save the data as a PDF file and share it with your co-workers.
Advanced security
Not every form has some kind of security. And I know how frustrating it is when you get your form spammed with false data. CaptainForm does not make such mistakes and has some security options to offer which will save us from spam.
This form plugin offers SSL encryption, password protection, country filter or CAPTCHA. This security options should save you from any spammer or intruder.
Integration of 3rd Party Applications
The plugin has built-in 3rd party applications and payment options. The form builder can be used to send collected data automatically to applications such as Dropbox, Google Drive, Google Calendar and many more. Also, one can create forms for Newsletter services like MailChimp.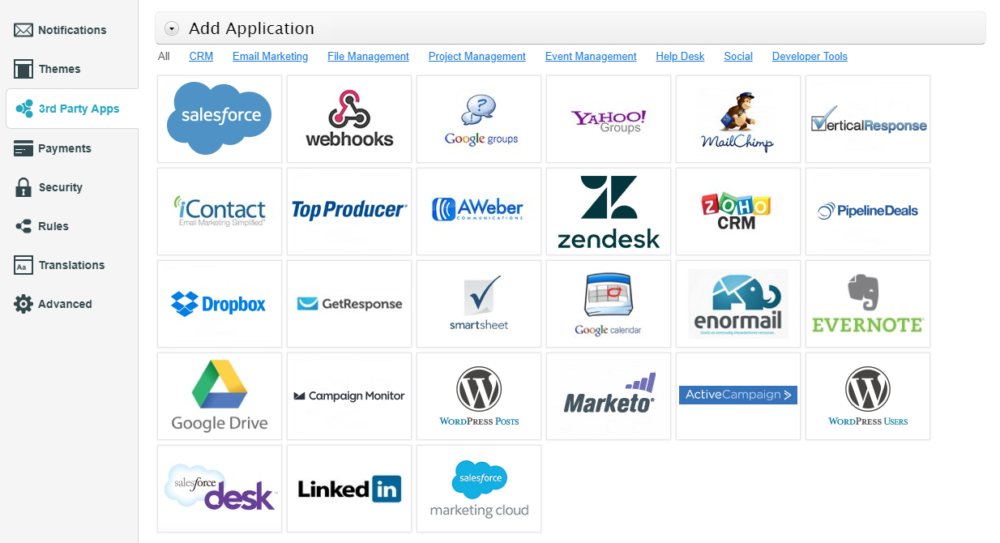 One of the best functions for me is that you can create order forms and collect payments through the most popular payment gateways such as PayPal, Payflow, Stripe, Braintree and many more.
Installing the Plugin
You can download the plugin from their website or via the WordPress plugin section and set it up by yourself through FTP. However, there is a much easier way.

You can install it natively through your WordPress admin panel by going plugin > Add New and in the search bar write "CaptainForm". After that press "install now" then "activate". Now, you are equipped with the ultimate form builder plugin.
Creating a Form
Setting up a form is a straightforward job. After installing the plugin you press Add New right below the My Forms in the dashboard's CaptainForm menu. Right away you will a have a chance to choose a form template.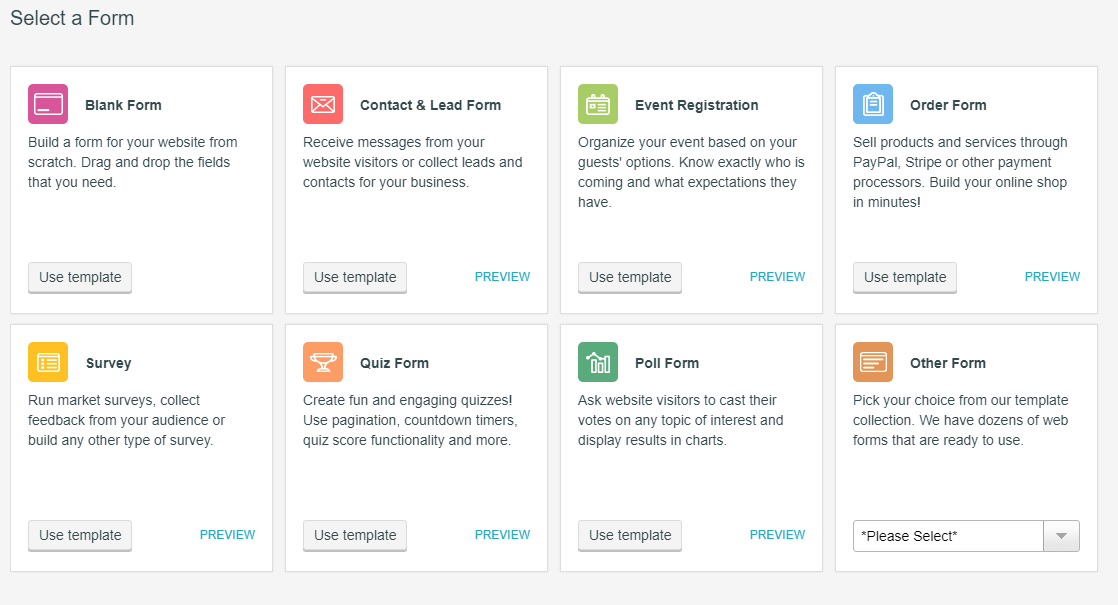 You will see 8 choices Blank Form, Contact & Lead Form, Event Registration, Order Form, Survey, Quiz Form, Poll Form and Other Form. The last option contains another list of form templates that are more specific.
By clicking on the bottom right side of every template where there is a word "Preview". You can see how the pre-made template would look on your website. When you found the most suitable template for you press "Use template" and you will be redirected to the form editing page.
In this page, you will be able to edit the text, fonts, buttons, colors and everything else. In the second page, you can add 3rd party applications, payments, change security settings, themes, add translations and turn on notification settings. There is a lot of functionality options that you can use. However, some of them require paid membership.
Possible Settings
Discounts
This option will enable you to issue as many discount possibilities as you wish. For example, you created a feedback form and you want to encourage your customers to fill. Now, after the completion of the form, you can give a 10% discount at your shop.
Accept Payments
Enable payments with popular payment gateways to pay for services, goods. This option is also good for people who want to accept donations or raise money for their projects.
Themes
It allows changing the color scheme of the form as well as change logo, text's color, highlight things. Also, you can create a new blank theme from the scratch or use a custom CSS theme for your form.
Notifications
This allows enabling email notifications of the form submissions. Moreover, here you can turn on the email autoresponder with your wanted text.
Advanced Settings
Here you can find some useful advanced features. You can choose to accept partial submission or allow respondents to save their submission and resume it later, add an external JS file which will be represented in your form. This menu even allows to turn on Quiz option and set a countdown timer.
4 Ways of Publishing Your Form
When you have your form prepared, you have to somehow publish the form that people could answer it. There are 4 possible ways of doing it.
Shortcode – you can get the shortcode of the form and paste it on any of your blog post or page.
Widget – you can add it as a side, footer widget into your theme and let people answer it from there.
Function Call – by copying a code you can paste it in any theme file. This option requires some PHP knowledge.
Pop-up – you can publish it as a pop-up on your homepage directly from form builder editor. This is especially good for getting those Newsletter subscriptions you always wanted.
Support and Plugin Documentation
The CaptainForm plugin is well documented and comes with great tutorials. For the documentation, you can check their Knowledge Base section.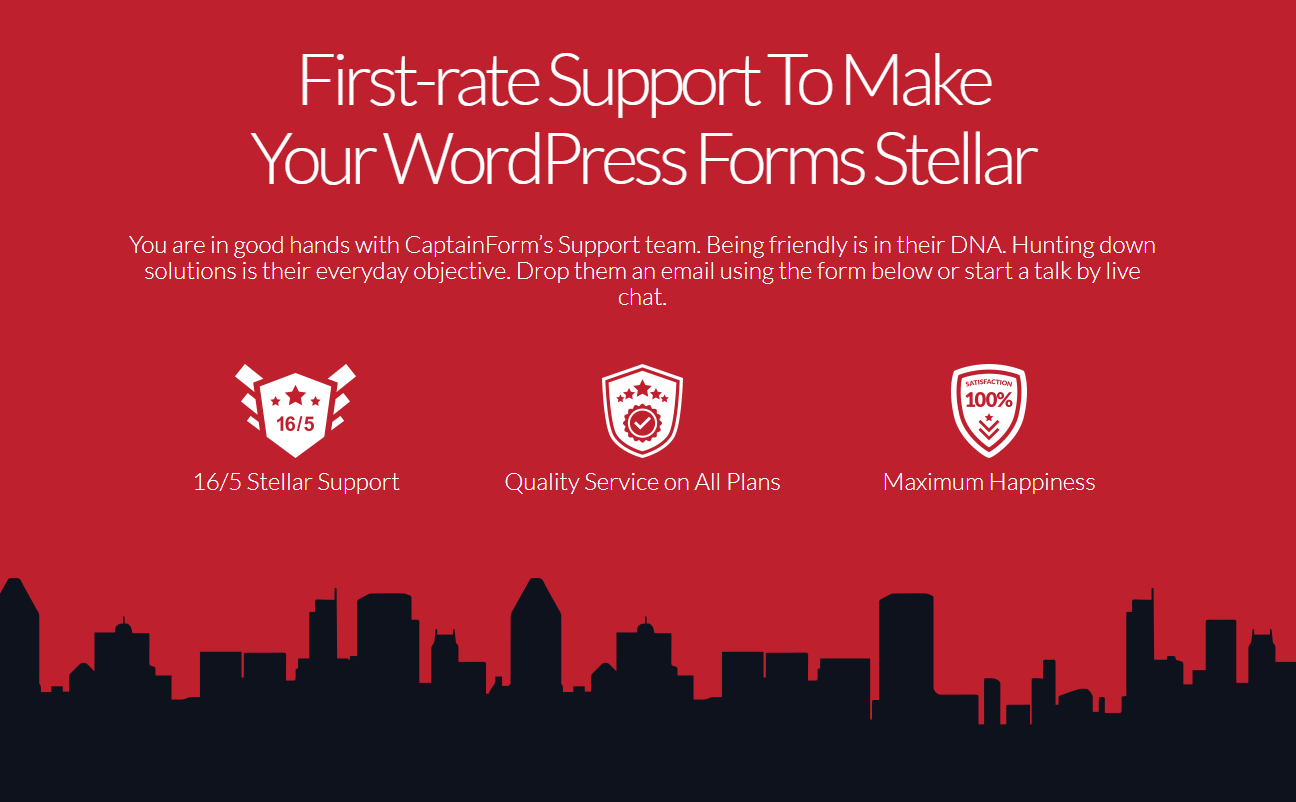 If you do not find any solution in their documents, you can always contact their support via live chat or email. Their support team is more than willing to help you.
Pricing
There are four plans in total that you can choose from. The price of the plans ranges from $0 to $195 per year. If you do not like the product or do not find a use for it, you get a 30 days money back guarantee. You can check all the features of the plans here.
Regular Plan
This plan will always be free. However, it comes with some limitations. You cannot create more than 3 forms and 15 fields. It allows only 500 secured entries per month and gives you only 100 MB of storage.
Apprentice Plan
This plan costs $35 per year and provides you with more functionality. It allows creating unlimited forms, fields, 5000 secured entries per month. Also, gives you 1 site license, 500 MB of storage and 5 native add-ons.
Master Plan
This plan costs $95 per year. It gives all the unlimited forms and fields, 3 sites license, 20,000 secured entries per month, 2 GB of storage and 14 native add-ons.
Hero Plan
This is the last and the most expensive plan which costs $195 per year. This comes with 100,000 secured entries, 10 GB storage, 27 native add-ons, Multisite support, payment integration and much more.
Advantages and Disadvantages of the CaptainForm Plugin
Pros:
User-friendly

Drag & Drop

interface
30 Form templates
Advanced security options like SSL encryption, CAPTCHA
Stellar support
Payment integration
3rd Party application integration
Cons:
Payment integration only possible in Hero Plan
No password protection in Regular Plan
Verdict
CaptainForm WordPress plugin for form building is a great plugin that covers all of the possible areas it needed to. This plugin as I mentioned before is made the right way and almost every person with a website can find a use case for it.
Sadly, some advanced functionalities come only in a paid version. But we need to understand that great, quality products do not come free. Also, those prices of the plans are rather cheap as you pay only once a year and you get highly functional form plugin.
Overall, I recommend this plugin because the creating process is simple as well as publishing it does not require any advanced knowledge of WordPress.