As I have mentioned before in previous review article, it is really important to have the finest and most comfortable tools to build your business's website and collect data for it.
Therefore, I am continuing it by reviewing another great tool for your business which can be used by anyone and you do not need a WordPress site or any kind of website for it.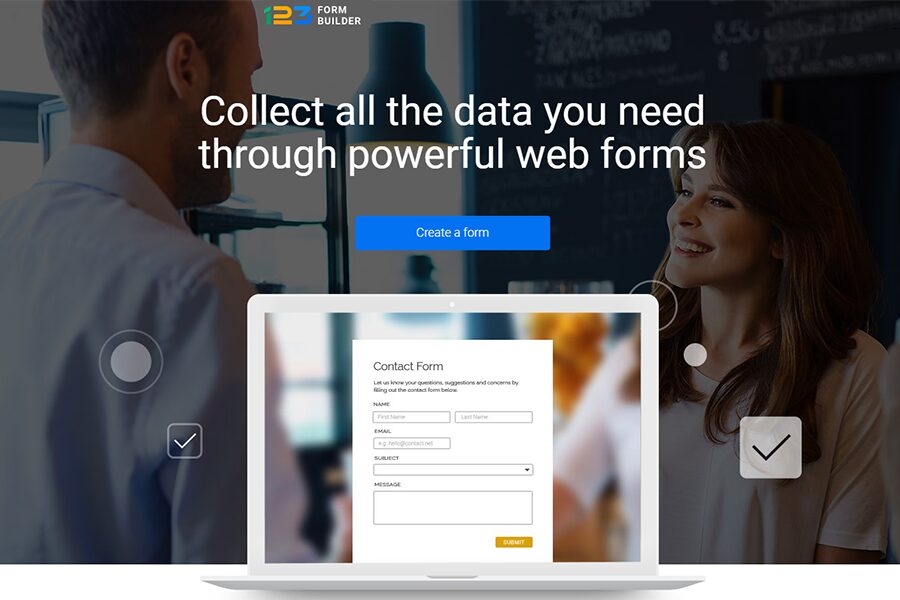 Today, I am going to review an online form building tool for everyone – 123FormBuilder. This online form builder allows to build any type of online form and collect data with ease. It has easy to understand drag and drop interface which enables to build forms in real-time.
Main Features
Easy to Use Drag and Drop Interface

This tool has user-friendly drag & drop interface which will make your form building experience more fluent and enjoyable.
Advanced Form Security Options
This online form builder tool comes with a lot of security options which will certainly help you to save your form from fake data. It has Antispam protection as well as Smart CAPTCHA. If you have a country specific business, it gives you country filter and IP limitations. Also, it has SSL encryption, data encryption, and password protection if you need to keep it private.
Multi-platform Support
You can create a form and share it directly via website link and you do not need to pay for hosting or anything. You can embed your form in any website with a shortcode. However, it supports multiple platforms where you can add through CMS's plugin directory. The tool supports WordPress, Joomla, WIX, Shopify, Facebook, Blogger and much more.
In-built Graphical Representations of Data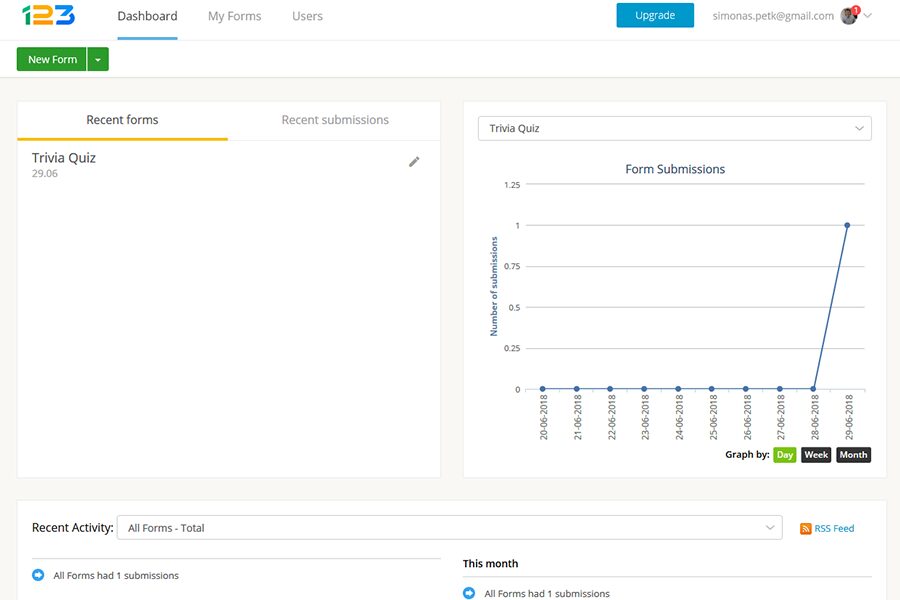 This tool allows to easily track online form's performance through their generated in-depth analytics. You will get public charts and reports where your respondents will be able to check the number of answers and how the majority of people answered to that specific form, survey or Quiz. The submissions and graphs can be exported to CSV/Excel. Now, you can be sure that you will collect the most accurate data.
Accept Payments
Paid plans for this tool, provide you with payment integration. This option allows to create order forms and collect money from various payment providers such as PayPal, Stripe, Braintree, PayFast etc. Also, you will be able to use multiple payment gateways on a form.
3rd Party App Integration
The tool enables to integrate 3rd party apps into your form. In the free version of the tool, you will only get NationBuilder integration, WIX contacts integration and Adobe FormsCentral import tool. However, in the paid version you will be able to integrate Google Drive, MailChimp, Dropbox and many other 3d party apps into your form.
Web Form Template Library

123FormBuilder tool provides you with more than 800 form templates for various types of forms. Also, you will be able to choose from over 40 free form templates. I can bet that you will find one template that will fit your needs and you will not need to build the form by yourself. You can find forms there from the simple contact form to pricing survey forms.
Translation and Multilanguage Forms
This feature will allow you to create forms in multiple languages. It is especially good if you have an international online store. It will enable you to translate your forms and operate your business in international waters.
Pricing
There are 4 pricing plans in total, I think that everyone should find the most applicable to them with no problem. The cheapest one is free but, as always, it comes with some limitations and the most expensive plan which is made for corporate businesses starts at $84.99. All plans include a 30-day money back guarantee. You can check all the details here.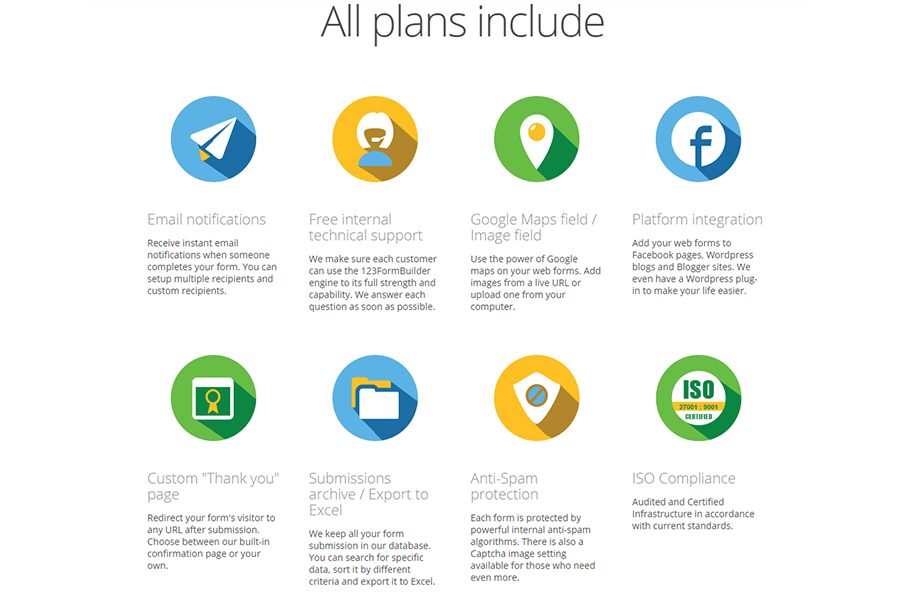 Basic Plan
Basic Plan is free for all and always. It gives you 10 fields per form and allows to have 5 forms in total. Also, it handles only 100 submissions per month, does not provide any storage for uploads and requires a backlink.
Gold Plan
Gold Plan costs $24.99 per month or $249.9 per year. It enables to use unlimited fields in a form, however, only allows having 20 forms at a time. It can handle 5,000 form submissions monthly, gives 500 MB storage for uploads, does not require a backlink to 123FormBuilder and provides with Live Chat Support.
Platinum Plan
Platinum Plan costs $44.99 per month or $449.9 per year. It provides with unlimited fields in a form as well as allows to have an unlimited number of forms at a time. It can handle 20,000 per month, provides with 2 GB of storage for uploads and gives all the features mentioned before such as SSL encryption and payment integration.
Corporate Solutions
This is the most expensive plan which starts at $84.99 price per month. This is the most flexible plan which branches to 3 different corporate plans. It provides with custom form domain, ISO certifications, Dynamic Form Builder and much more. They promise that by buying this plan you will not need to develop anything because their team will develop everything for you.
Final Thoughts
All things considered, it is a great online tool which can help to propel your business. The free version should be enough to create a contact form, small survey or feedback form for your customers. Although the other plans do not come cheap you can definitely profit from them.
If you have a blog or something in the entertainment sector you can create your own merch and sell it using their online order forms. This simple but rather powerful online form builder is a tool you might consider starting to use or recommend to your friend.