There are many Apple users worldwide. They chose this production for their practical use and their built quality. Apple manages to bring use simplicity and productivity with their machines. Moreover, phones, tablets, and computers are always appealing to the eye. You just want to touch them. Unfortunately, these products alone mean nothing without the magical operating system. iOS on iPhones is often determined to be the easiest to use, fastest and the most practical. MacOS is the same. What makes this operating system so innovative is the annual update. With the update each year Apple tries and manages to create new useful features and improve overall use.
This year Apple finally unveiled their upcoming iOS 12 update secrets. Before the yearly Apple's conference, there were many rumors about upcoming updates. Most of the Apple users knew the current problems with their devices and many of them pinpointed problems that should be fixed. Luckily, Apple was fully aware of those problems and their audience's desires. For years, Apple was leading the innovations for the smartphone industry, lately, Samsung took that position. Nevertheless, Apple decided not to copy or create new features on the operating system, but to fix and improve current features. iOS 12 is all about improving those features that we all use and love, with extra new features which dictate the way Apple wants to go in the future.
iOS 12 Release Date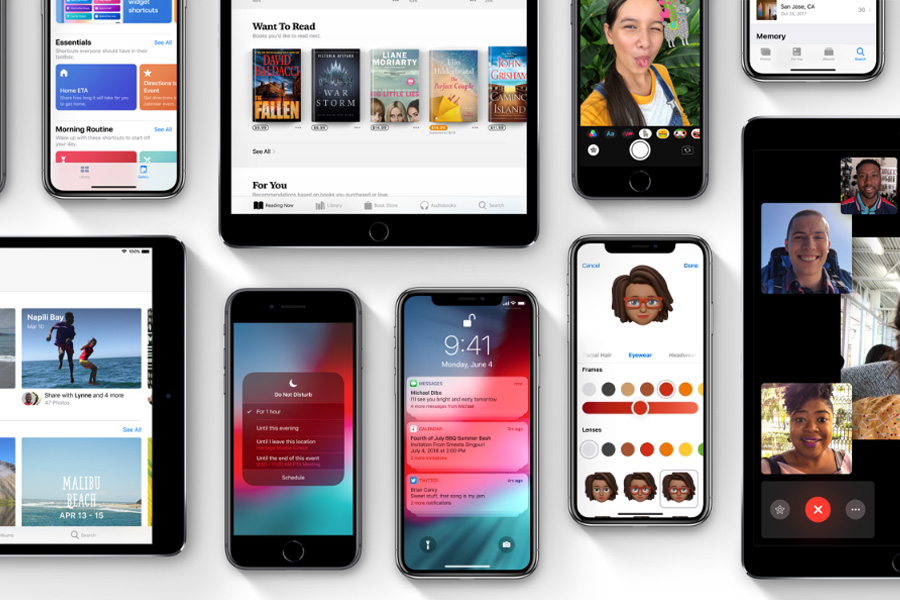 iOS 12 bet has been launched on 4th of June already. Yet it was only possible to access it for paid Apple Developers. iOS 12 is likely to open the door for public testing on the 26th of June, based on the previous iOS 11 public testing. Most likely in September, we will see the notification bubble in our software update section.
If you're not registered as Apple Developer, which costs $99 for the annual membership, you'll be able to join the beta testing only later during the summer. Most likely that will be the end of June. For those wanting to take part in beta testing when it opens publicly, we would suggest you be careful. iOS 12 beta is an unfinished software, which might cause problems for your device. If you don't have a second iPhone to spare for the testing beta, a better way should be to wait September when it launches officially.
iOS 12 For Old Apple Products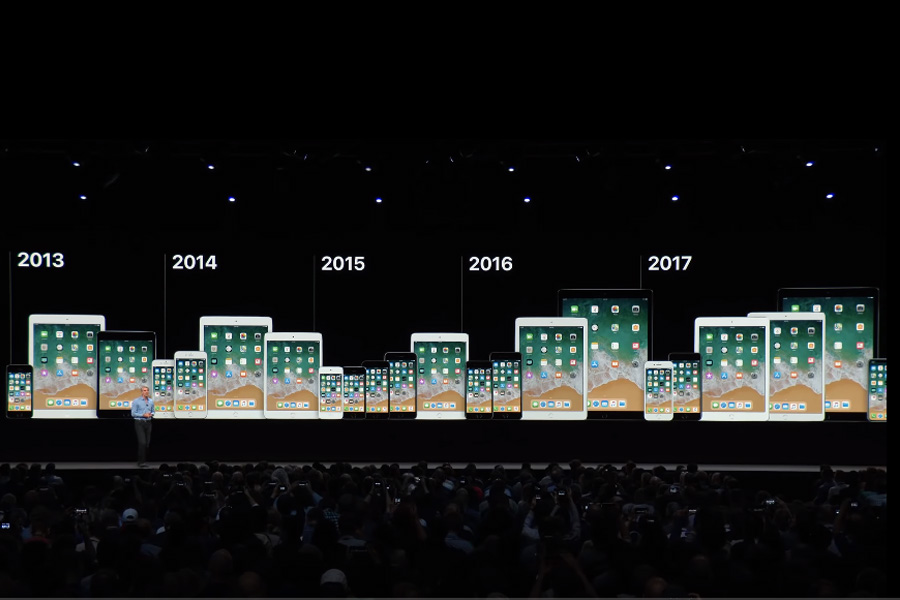 So there were rumors about Apple's updates. It was said that the updates are always fixated on newest Apple's models and the older models were always left behind. Old models tended to become laggy and slow after the update. That's why with iOS 12, this problem will be solved. It is said by Apple, that older iPhones will be 40% to 70% faster at certain tasks.
On the official page about upcoming iOS 12, Apple tested iPhone 6 PLUS and said that the phone launched apps 40% faster, opened camera app 70% faster and displayed keyboard 50% faster. The oldest devices compatible with the iOS 12 are iPhone 5S for phones, iPad mini 2 for tablets and iPods touch 6th generation.
ARKit 2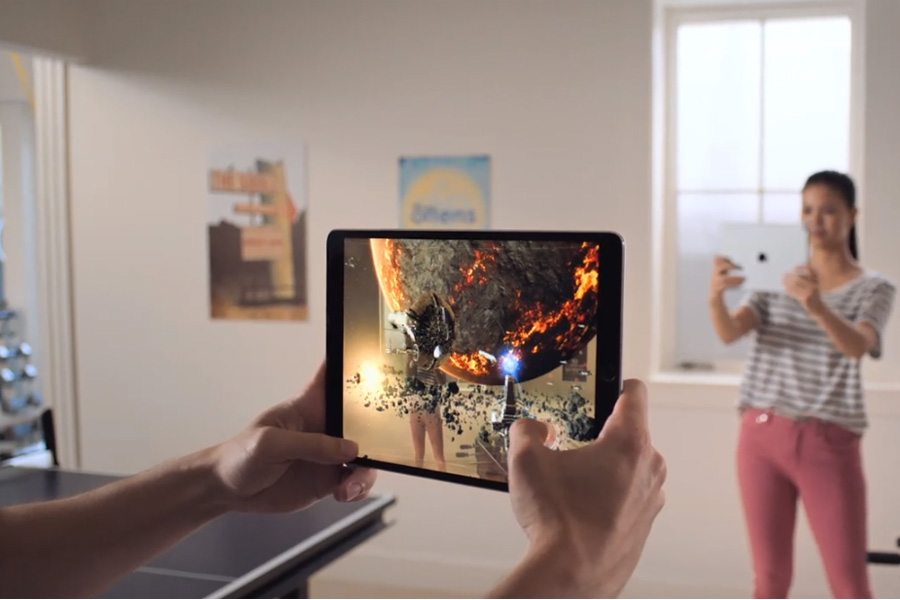 One of major iOS 12 update is its direction for augment and virtual reality. We have seen it already introduced with Apple's iPhone X emoji's. ARKit 2 and iOS 12, in general, are creating a pathway for Apple to become a leader in augmented reality. This feature will allow users to share their augmented reality experience with others. LEGO, Fender, Adobe, and Pixar are all working on AR with Apple already, so we might get a lot of great content from these partners.
ARKit will become a multi-user virtual environment, for gaming and other collaborative experiences. LEGO, for example, pledged that their "creative play possibilities" will be something like building up an augmented reality town. Just like in The Sims. With hundreds of millions Apple users, ARKit 2 will be the broadest AR platform in the world.
AR Measure App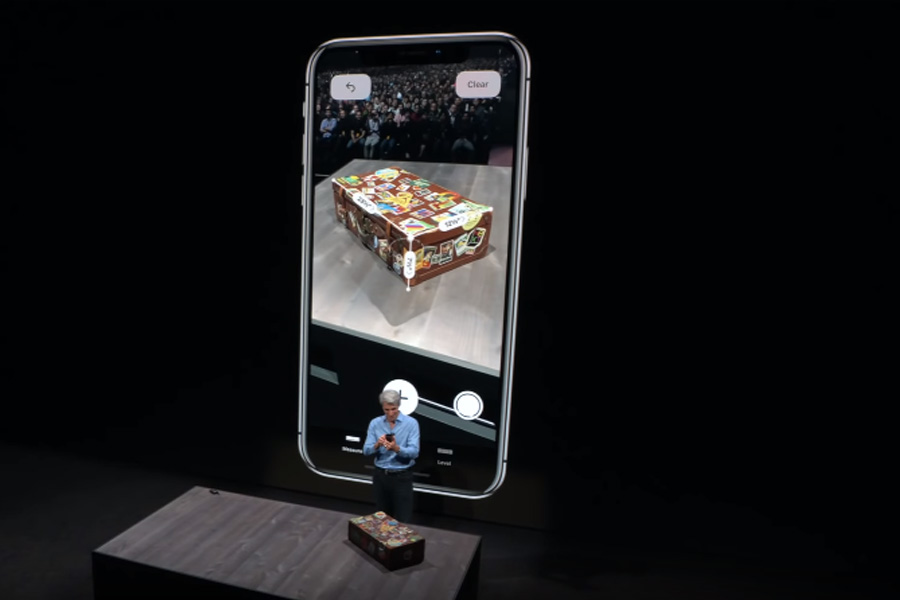 Another upcoming iOS 12 feature is also AR related. Apple will introduce augmented reality measuring app. It will allow you to use iPhone's and iPad's advanced sensors for measuring objects in front of you. Simply tapping and dragging along the edges of the object on your screen will show you all kinds of information.
New iPad Gestures
Another upcoming feature is regarding iPads. For those who own both iPad and iPhone X, it might get frustrating a bit to use different commands on the devices. That's why iOS 12 will introduce same executing gestures on iPad like on iPhone X. It is also rumored, that this update will serve as an opening to the iPad Pro 2018, which might be installed with Apple's True Depth camera.
Siri Shortcuts
The battle between different virtual assistance has started. On the top stays Google Assistant, with a lot of mobility between different tasks and follow-ups. Siri, on the other hand, is not that capable. But that should change with iOS 12. You will be able to create commands, for your Siri to do a certain action. So for example, if you have a shortcut prepared to call your Tile tracker when you tell Siri "I lost my keys", she will know what to do and fulfill the task. With iOS 12, Siri will have so many shortcuts, that there will even be a separate shortcut app.
Siri Translator
Those who use Siri's help in a foreign country for translations and communication with locals might get frustrated to see that a specific language is not yet supported. With iOS 12 over 40 language pairs will be installed giving you more aid for your international travels. There are also high hopes from the people on the web for Apple to improve Siri to a point where she could translate the foreign language to English. It's hard to tell if it will happen with iOS 12, but it will eventually.
Another Siri improvement is motorsports integration. It will allow you to ask Siri for Formula One and NASCAR information. Food knowledge will also be improved. Asking for nutrition of specific product will result in USDA database, calories, vitamins etc. Lastly Siri will be able to find your saved passwords, hopefully, this will save and won't cause any privacy problems.
Using Your iPhone Less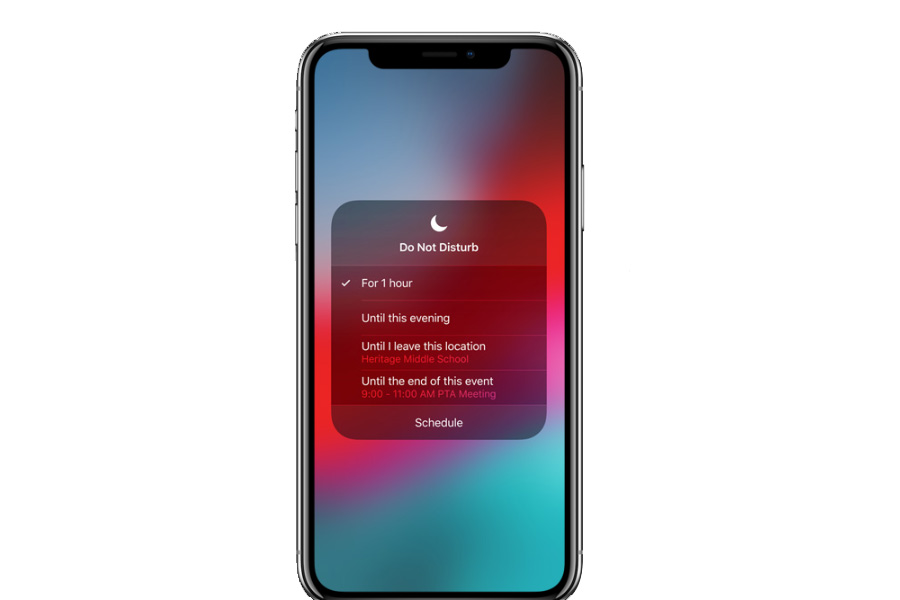 First of all, "Do Not Disturb" is getting some improvements. During bedtime, this mode will silence notifications and their sounds until you wake up and pick your phone in the morning. Since there are some specific things that should get through "Do Not Disturb" mode, you will also be able to let particular apps to send you notifications. You will also be able to turn the mode for a specific time, when you leave a certain location, or when you are at the meeting.
Sometimes you get stuck in that group messenger spam for a while, other times, discord, news or other app attacks you with notifications. To deal with this you will be able to control notifications of every app from the lock screen.  Another neat option is quiet delivery, where some notification can be delivered silently without alerts to Notification Center. Siri will also be helpful by understanding which notifications are important to you. Those which are rarely read or/and not that important will be delivered to the notification center.
Lastly, Screen time will allow you to track how much time you spend on your phone or tablet and which app you use the most. You will also be able to see how much time you spend scrolling Facebook or Instagram each day, week or month. For productivity purposes and for parents, Apple created app limits. These limits will let you create a limit how much time you can spend on the app. This will be helpful for parents who want to control their children addiction for phone/tablet games and other apps.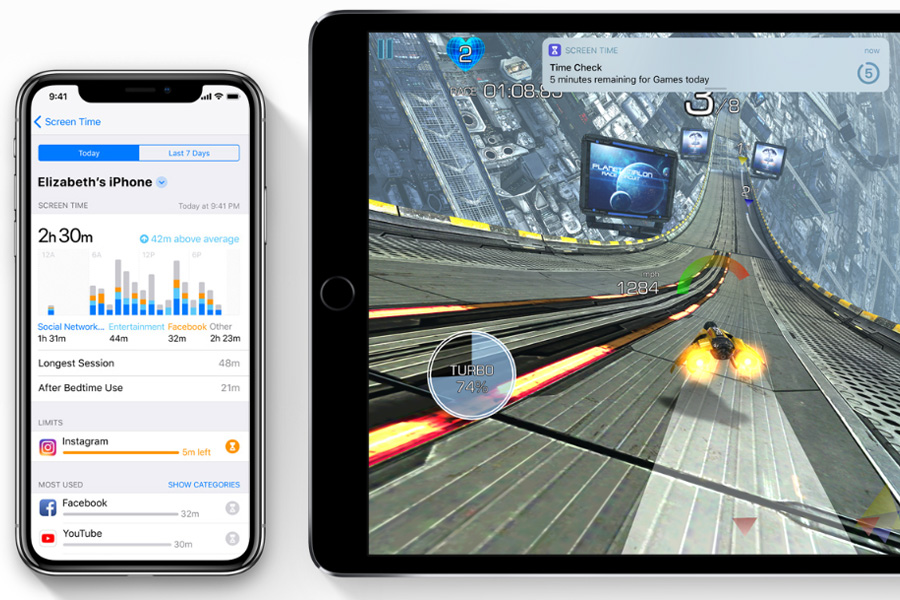 Camera App
Although at WWDC 2018, Apple didn't say anything about big camera changes, default camera is still getting tweaked. Few of the updates are The Portrait Lighting mode on newer phones with the dual-lens camera. It was said that updated app will be able more effectively separate a person from the background scene. This will make photos taken with the portrait lighting mode crisper around the ages. Another good new feature will be automatically inbuilt QR reader in the camera app.
Photos App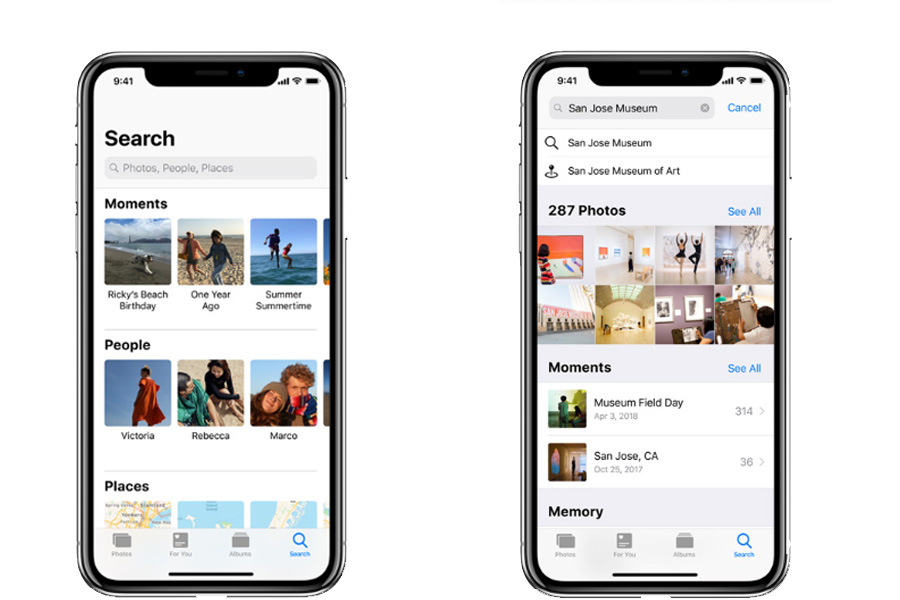 Just like Google Photos, Apple Photos on iOS 12 will be able to identify photos by events or indexes. The newly upgraded app will let you search your photos by events, friends, places and relative dates. You will also be able to use multiple search terms at once, to find that specific photo without scrolling and searching manually for minutes.
The new tab in Photos app called "For you" will be introduced. This tab will show you personalized suggestions and give you tips how to improve your photos. There will also be a smart sharing possibility, allowing you to share at full-resolution and suggesting who to share these photos with. Lastly "Share back" suggestion will let you send photos to your friend on iMessage's and poke them to send photos they took of you.
Grouped Notifications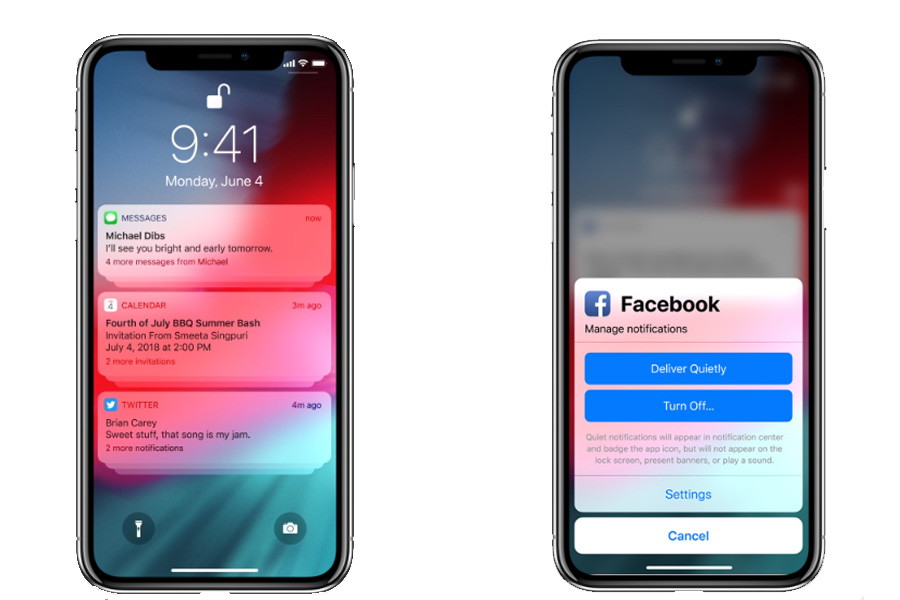 Instant Tuning feature is something everybody was talking about before official iOS 12 presentations. Apple users longed grouped notifications for a long time. Good news, this feature is coming with the upcoming update and it's probably the most anticipated one. With this update, you will be able to see grouped information at a glance.
Group FaceTime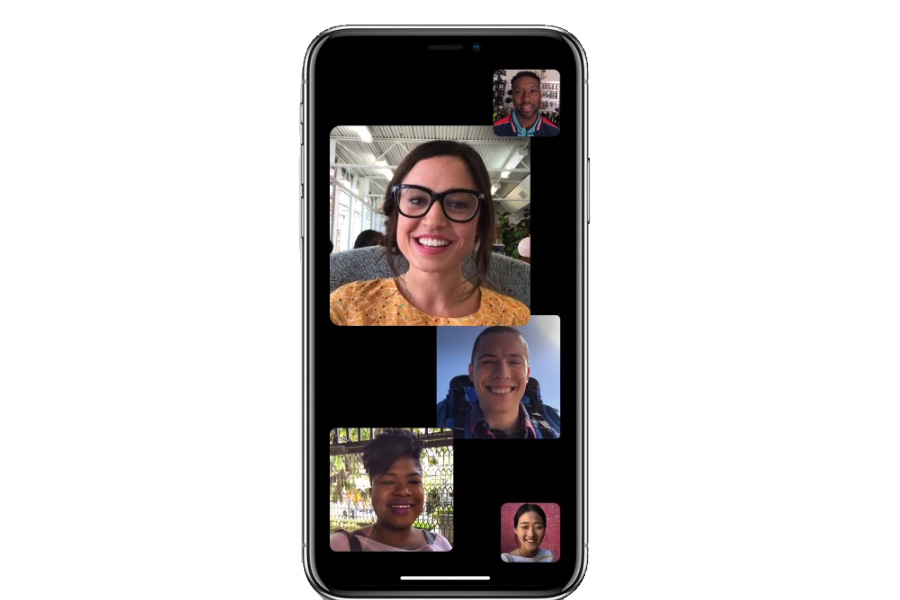 This update was also talked a lot across the net and like grouped notification is highly anticipated. Apple users said that FaceTime is lacking group calls and Apple listened. With iOS 12 you will be able to add up to 32 people to the FaceTime and go to chat on Messages app with the same group. Animoji will also be integrated, but to use that function you'll need to get your hands on iPhone X first.
Other Updates
In iOS 12 Animoji is getting more masks and tongue and wink detections. Like personal avatars introduced with Samsung S9, you will also be able to create them with the new update. Memoji is a customizable avatar that looks like you. Although to use all these functions, you'll need iPhone X. Apple News is getting improvement with new Browse tab and a better sidebar navigation. There are many other improvements you can find in the WWDC 2018 Apple's keynote.