Use the right tools for any design project with our list of color online programs that's efficient and fast to provide solutions that works for graphic artists, web designers and anyone who needs inspiration for their color scheme. Selecting and deriving that perfect color palette should also be convenient and fun. We have listed a diversified list of online color tools that have the best interfaces to interact with.
1. ColoRotate
If you are looking for a fun and quick way to create stunning color schemes for your graphic designs then this 3 dimension interactive interface is the may be the best tool for you. As you open the ColoRotate web app you'll be greeted with a giant spinning 3D radish-shaped spectrum of colors with dots on. It has multiple ways to view your app where multidimensional nature of colors and the relationships between colors are featured.
Aside from its unique interface, the ColoRotate app allows precision adjustments. The precise view allows the user to control the hue or tint with its eight parameter joystick control in multiple color spaces such as RGB, CMYK or HLS. This gets users more accurate changes to individual or even whole palette colors.
Another great thing about ColoRotate is it can connect to Photoshop so artists you can tweak your images effortlessly. The web-based color generator is also available for iPad.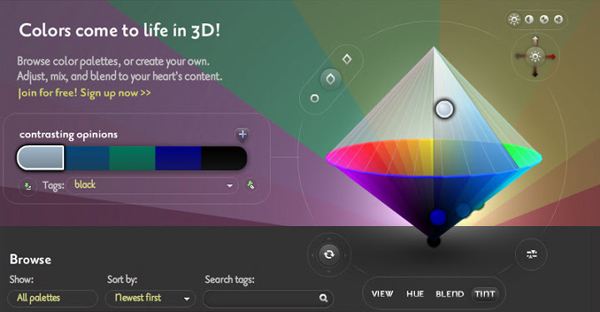 2. ColorJack
This popular color scheme generator is useful for finding a fast color scheme for your project. Colorjack is a color scheme generator with a visualizer that has colors from 27 libraries which includes the popular Crayola. For people with some view limitation, ColorJack's Color Sphere allows the user to select the right color scheme supporting 18 formulas and 9 color blindness simulations.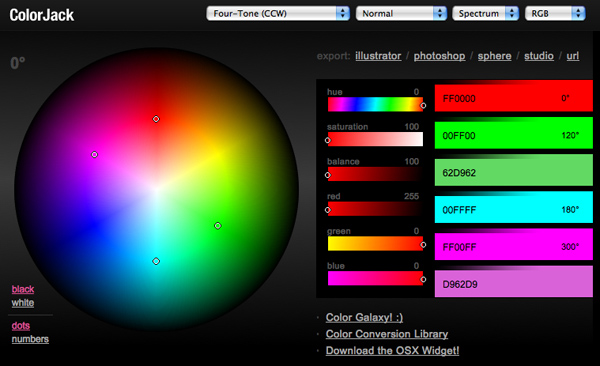 For a straightforward color tool ColorJack is a good choice plus you can export your color schemes with a format that's compatible with Photoshop and other popular programs used by graphic designers.
3. Kuler
Adobe's Kuler is the best tool for designers who want to share their color schemes with fellow color enthusiasts. The social network color theme service allows the user to create, explore and rate color themes and download them for Adobe Creative Suite 2 or 3. Aside from themes provided by the Adobe community there are also pre-defined themes available from the program plus you can extract colors from images or from a base color. There are 5 colors that can be extracted from a color source and each color can be adjusted through the color wheel and sliders for red, blue and green. You can assign titles or tags on color schemes when saving so it easily searched and viewed in the database.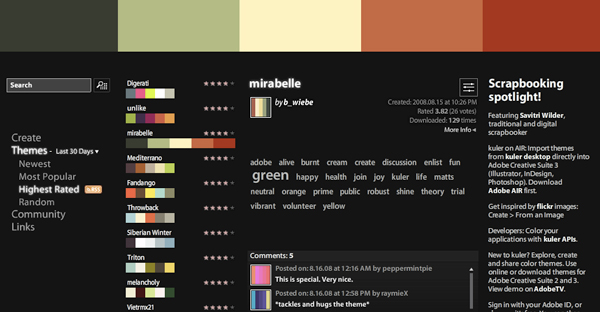 4. Color Scheme Designer
With a clean and elegant interface, Color Scheme Designer is a popular choice by graphic artists and photographers. Equally functional as it is easy on the eyes. You can create color schemes, get randomized color schemes, and apply rules to make specific color schemes. It also works well with many different drawing formats in real-time.
Simply rotate and adjust the color wheel to select your base color to quickly generate values. As a color tool app you can sketch your colors through a simple dropdown menu and an RGB slider making color scheming pretty straightforward and fast. A ubiquitous color picker makes navigation even more convenient. The colorblind simulation is a plus that will ensure usability for all types of users. It can simulate how people with vision deficiencies see your palette.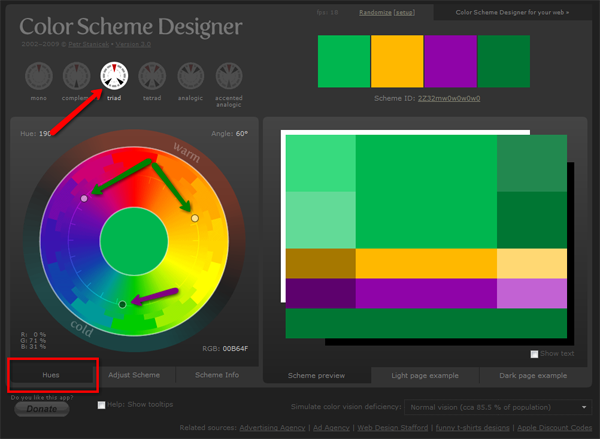 5. Color Wizard
The main concept of Color Wizard is that the user enters a color, then the Color Wizard automatically returns matching colors derived from the base color previously selected. Aside from generating the said five color palette, the program also suggest a set of hue, saturation and shade variations for your base color. Color schemes are actually derived from the base color's complementary, split complementary, analogous colors and other variations. If you are looking for other color scheme inspirations you'll find the randomize function a great tool in generating color palettes that you might have not thought of. The colors are in hex code values.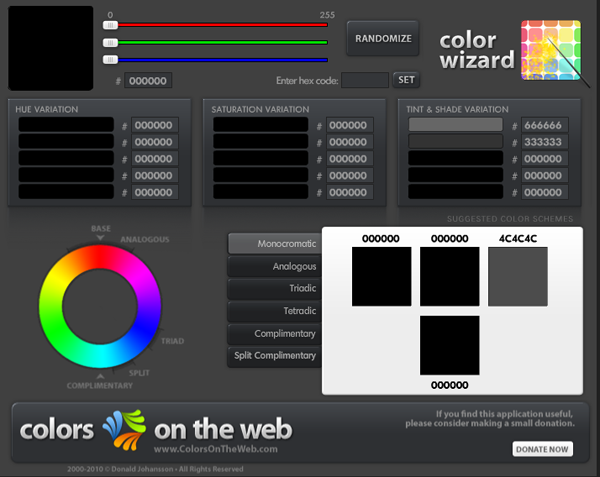 6. COLORlovers
Similar to Kuler, this color scheme designer tool uses a social network theme for color enthusiasts and artists to discuss create and share their color schemes and patterns keeping up with the latest trends on web colors. An estimated 300,000 designers and color-minded individuals are now enjoying this online interface with 6.2 million colors in 2.6 million color palettes on its database so there's always a fresh inspiration to every project. The modern UI style interface makes easy and fast navigation on the program.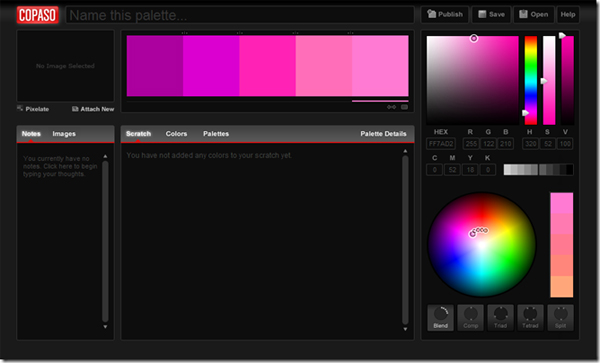 7. Color Explorer
The web based and app color tool boasts functionality as it has many useful tools for working with color schemes. Color Explorer has a comprehensive interface that covers the standard tools while incorporating more complex adjustment tools for managing and evaluating color palettes. Using scientific and theoretical models the eight color-matching algorithms are great in exploring new color schemes. Users can also explore the color libraries, conversion and analysis for an elaborate color scheming.