With 800 million active users, Instagram is one of the biggest social media platforms out there. The reason for its success is probably the content, which is eaten in instant with the eyes of Z generation. We get to see amazing photos of people traveling around the world, find some inspiration, something to laugh from and a lot more.
While there are lots of users who are simply browsing for something beautiful and "like" worthy, there are those who want their content to be widely seen by others. There are many tips on how you can be a successful Instagramer, but here are 16 Instagram growth hacks for you to try. You can also see if buying followers for an instant boost could help you. You can use a site like upleap.com.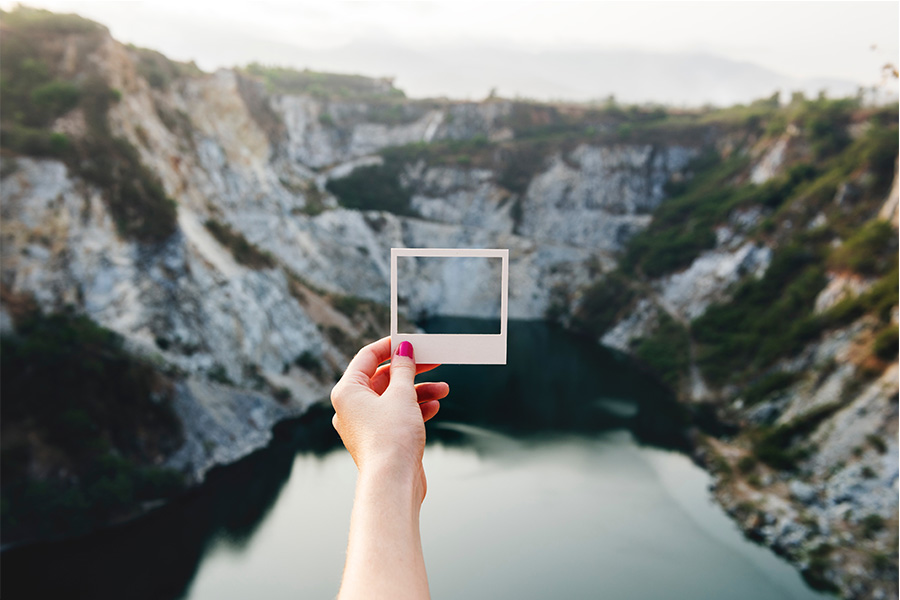 Pick Your Focus
First things first, you should pick your niche of focus. Dogs, food, travel, nature, city etc. whichever you choose need to be centered on only one theme. To find this focus, try thinking about what differs you from others, what you can or would love to do differently.
Also, think about your hobbies or talents, that you can use to showcase. Don't try to pick something that's trending, simply look for something that makes you most happy and stick with it. It will define who you are.
See All the Posts You've Liked
If you're looking for inspiration or simply things to report, you can use posts you've liked. This idea is great for checking what has already inspired and made you click that like button.
To look for pictures you have liked, go to your profile. Tap the gear icon on iOS or the three dots on Android to go to Options. From there simply tap Posts You've Liked.
Schedule Instagram Posts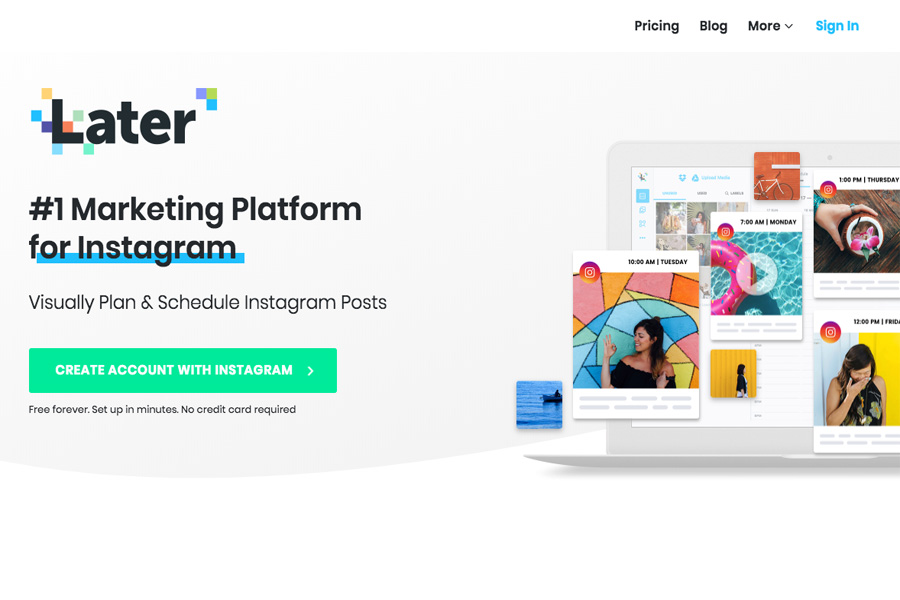 Posting each day and spending the time to plan the post before it might be challenging. It takes time. One way to automate your activity is to use scheduling and automated posting online tools. You can prepare all the posts in advance for the whole week and so much more with these tools. There are a bunch of them out there, but we recommend Later or Grum.
Bookmark Pictures You Like
Another nice way to save your inspirations and photos for repost or other goals is to save them in your bookmark folder. In this folder, only you can see what's inside. Use this for planning your posts, getting ideas and inspiration.
To save posts to, simply tap the bookmark icon underneath the post you want to save and select existing or new collection where you want the picture to be saved in.
Hide Hashtags
Sometimes you write a beautiful caption for your picture, but the hashtags ruin the mood. Luckily, there's a way to fix this. Little you might know, but hashtags also work when they are placed in the comments. You can use this to your advantage to make your posts crisper.
Everliker Chrome Extension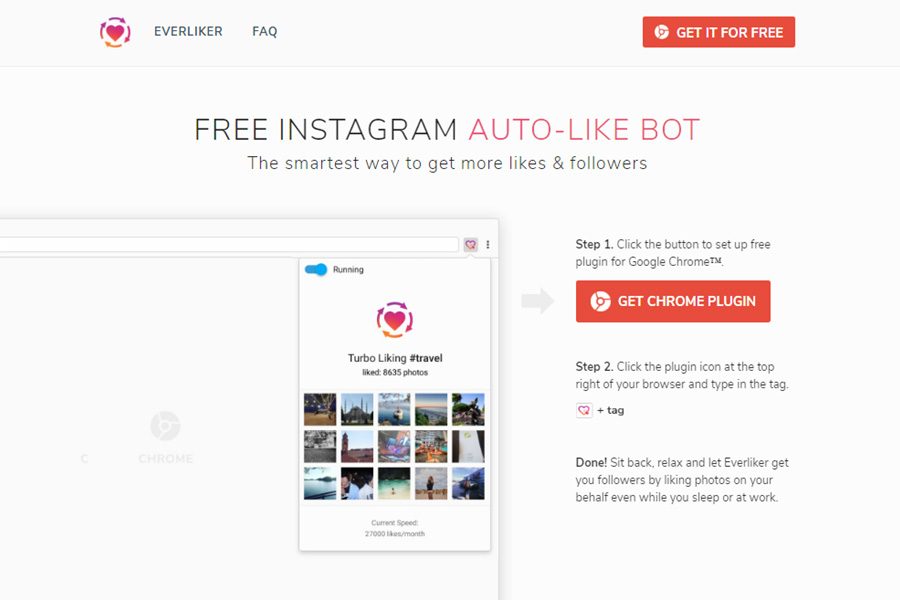 Everliker is a tool which lets you automatically like pictures across whole Instagram by using. All you need to do is show Everliker what hashtags should it look for and then it will do the rest. The free version of this tool lets you like 700 posts, which is a great way to show people in your focus that you exist. Since it's all automated, you can relax a bit and do other things.
Follow the Followers
There are probably millions of Instagram accounts out there. Thus there must be accounts with the same focus as yours. People who follow these specific accounts are likely to follow you as well. So the point of this tip is to start that following spree and follow people who are following those in your focus or niche.
You start by typing your focus hashtag in the search bar on Instagram. From the drop menu, select the one with the most posts and you'll get the top posts for that hashtag. Inspect the photos you like to see who posted it. When you see a person with nice posts and enough followers, open his follower list and then follow them.
Engagement Spree
This tip lets you get on the radar of potential fans, by liking their photos and leaving meaningful comments. Yet again, those people who are in the same niche or focus like you, are likely to follow you. Although this time, you'll be engaging not with the big account's followers, but with the accounts themselves. Big or small, it doesn't matter. As long as they upload similar posts as you, you're ok.
Search people related by the hashtag in your niche/focus. Look for the ones you like and drop a few thoughtful comments on different posts and leave a few likes. This action lets them know that you exist and if they like what you're doing, they'll follow you.
Use Photo Editing Apps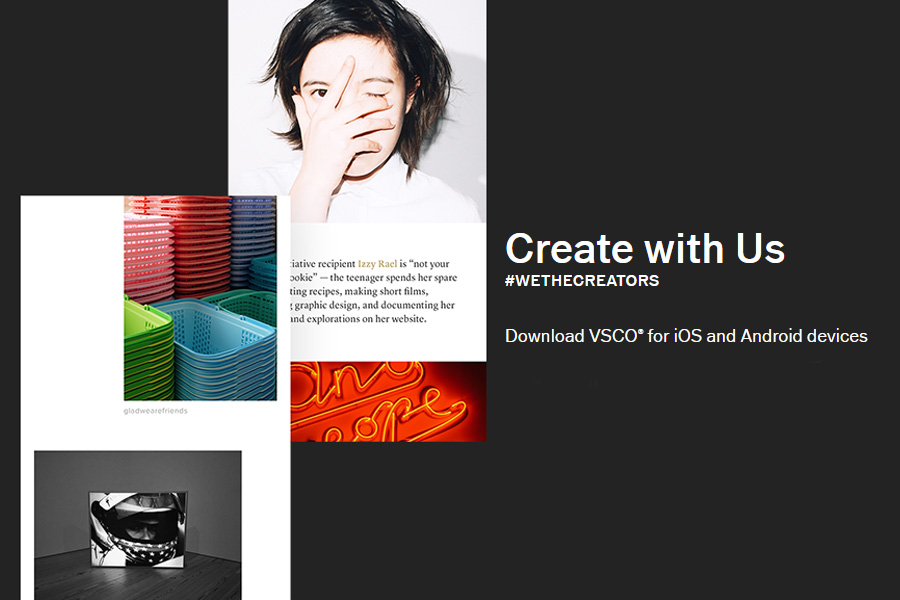 In Instagram's world visual is everything. To make your photos more appealing you need to take good shots. Not only that, but you need to learn how to edit them as well. The photos really jump off the page given the right editing and the right frame. I recommend using VSCO Cam, Snapseed or  Afterlight.
Post Every Single Day
Well, this tip is not something new, but it's very important. Content is very important, if you won't post each day, you might not lose your current followers, but you won't attract new ones. If you want to grow faster, you might even consider posting several times at different times, just to increase your visibility.
INK361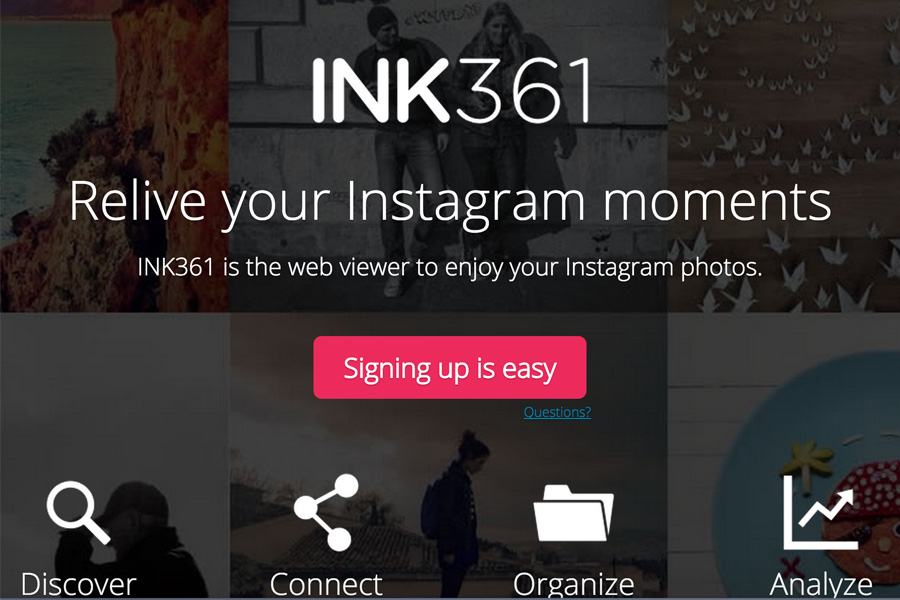 There's this saying "Find what works and do more of it". Well INK361 does that by showing you what posts get you the most engagement. It also analyses similar and competing accounts to find out the response of their audiences. Lastly, it gives overall statistics for the month.
Use Relevant Hashtags
This tip is also not new and can be easily found across the net. Yet sometimes, people are not giving a second thought about the hashtags they use for their every post. Hashtags are like keywords on Google. That how people find what they are looking for. If your hashtags are giving other people hard time finding you, you won't be visible and your growth will be slow.
When you're using hashtags, think about the idea of your Instagram account, its focus, what message do you want to deliver? Another good idea is to explore relevant hashtags in your niche/focus by analyzing big accounts. Take a look what hashtags they are using, explore other possible hashtags and make a list, then use them.
CrowdFire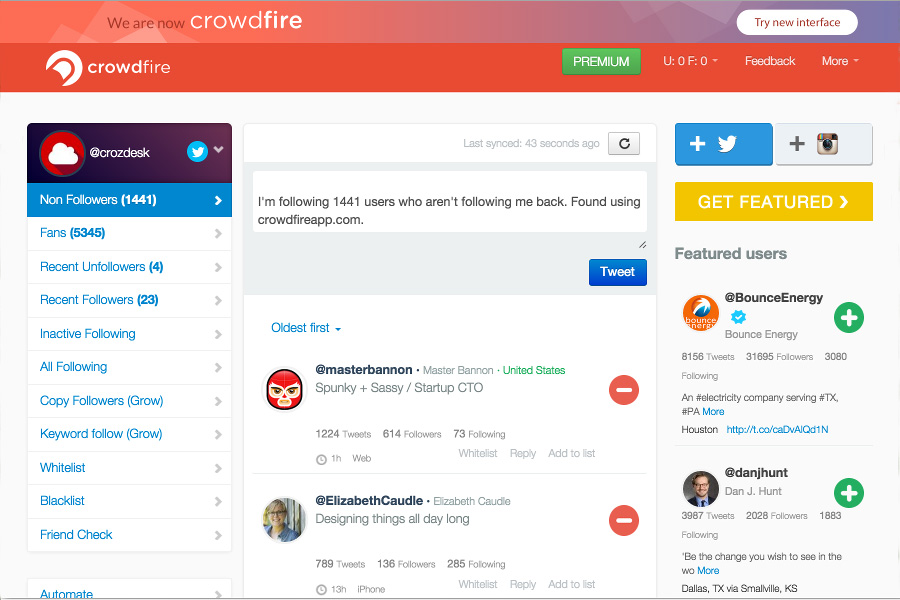 Crowdfire lets you track your followers. It tells you who unfollowed or followed you. You can use it to your advantage to unfollow all the people who have unfollowed you, or follow people for a week or so and then unfollow them. There is a certain limit each day but it really is an incredible tool for building a large and engaged Instagram community.
When Out of Content – Regram
Regrams are when someone reposts content from another account. Of course, it's very important to leave credits of the real owner of the post. The credit part is considered basic Instagram etiquette, so just don't forget it. You can give credit to the person by tagging them in the caption and this way, you will also get more visibility. The post will be shown in owners tag page, where everyone following him, can see. If you're interested to learn how to write Instagram captions, sharemyinsights is the right place for you to learn.
Join Engagement Groups
Another hack you can use is Engagement groups. These are the groups which will comment or like each other's posts at set times in day known as rounds. Groups are mostly formed by different accounts, who want to grow faster. Engagement overall boosts your visibility and then is more likely to be shown to people on the explorer page. The more engagement on your post, the better.
WORDSWAG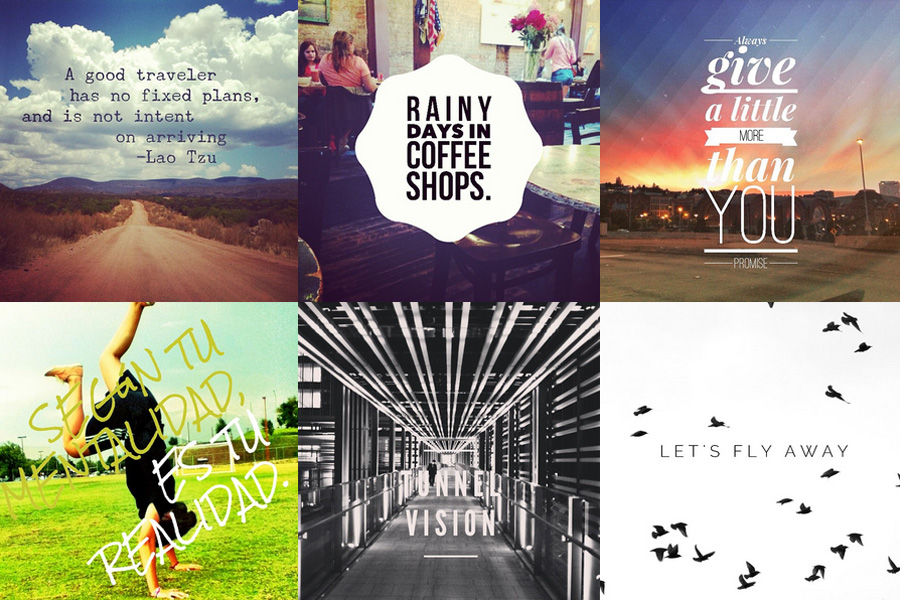 If you want to post some motivation quotes or anything word related Wordswag is here to help. This app has hundreds of high-quality backgrounds and stock photos for you choose from. Once you have a background you can use it put quotes, saying or logos on top.