Enhance your software and web blogs with these attention grabbing social media icons. Social networking has given great avenues to share and interact with people across the globe. Take advantage of the power of social networking on your personal or business web pages. You can set these useful web buttons without any limitations and complexities, just make sure you select an effective style that will suit your web page design. From eye catching candy colors to formal and minimalistic icon designs there's always a media button here for you to perfectly match your web template.
1. Egg-shape Icons
Eggs have always been a favorite design theme in art and will work effectively as well as with web templates. You get 25 icons in this set where you'll find popular social networks such as twitter, google, flickr, yahoo, dig deviantart, dribble, skype, wordpress, linkedin, foursquare and many more. All icons in PNG format and in 4 different sizes (512x512px, 256x256px, 128x128px, 64x64px).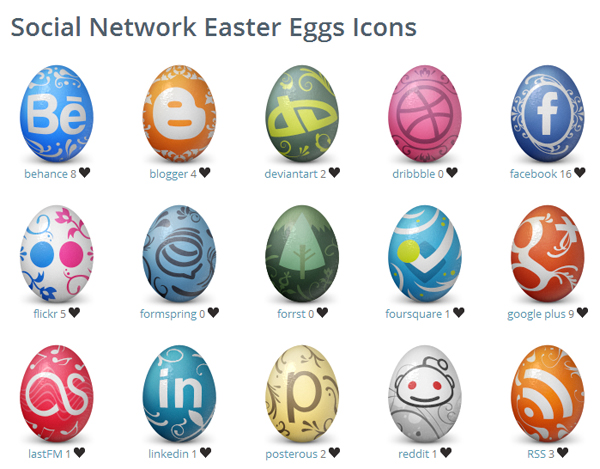 2. Star-shape Icons
If you're tired in staring on squares and rectangles on your screen then this set of star-shape icons will give your web template a zest. The white outline on each star makes it pop out from almost any colored background. For star-shape icons without the white outline a pop out glossy version is available as Starry Site V1 Icon Set . There are 16 glossy star shaped icons which contains PNG and PSD files for more flexibility in use.


3. Burnt Wood Icons
For black or even white background based web templates that wants to maintain a straightforward look, these burnt wood icons are just perfect. You just get the right tinge of warm color to complement the neutral hues while adding richness to the interface with the rustic texture. This free social media icon comes with 12 popular sharing sites.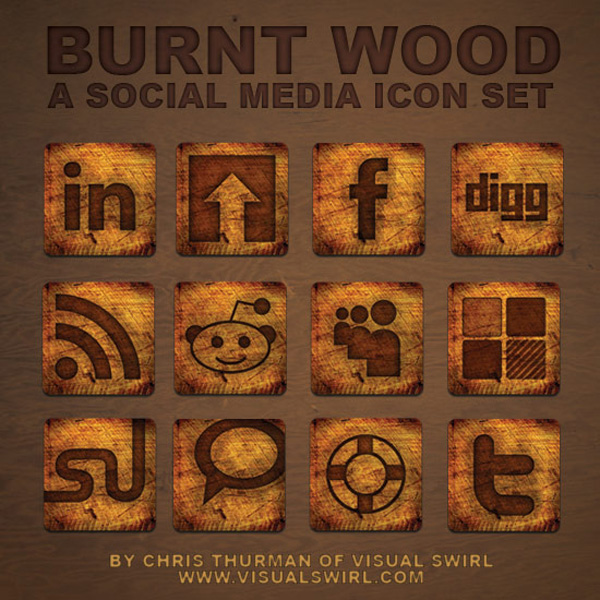 4. Black Icons
Too much color on a web page or template can be an eyesore that's why incorporating black icons is the best way to neutralize the scene while still giving emphasis on the social networking buttons. Bright or neon colored web template backgrounds works well with these black icons while you create a vintage look when combining the said buttons with grayish or white backgrounds. You'll get 100 free black media icons in the set which means you have more social networking sites to include on your web template. Plus you get to choose from the 5 different sizes to match your web template scale.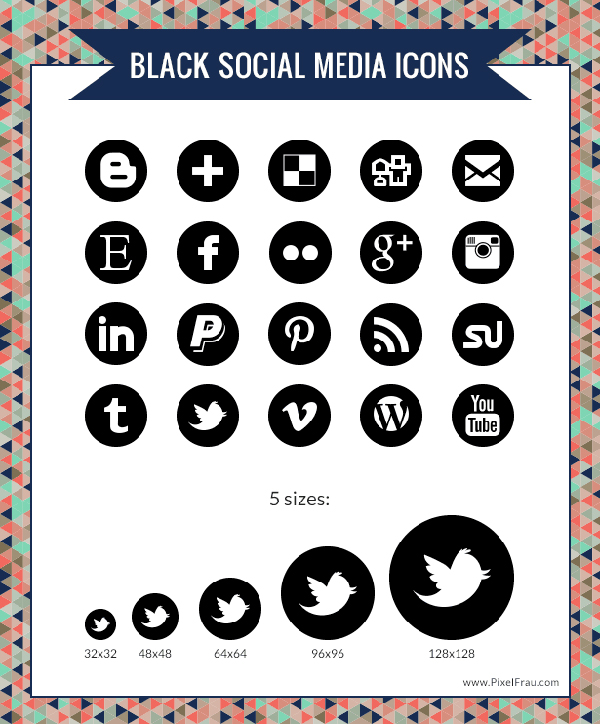 5. Simple Glossy Silver Social Media Icons
If 100 social networking buttons is not enough for you web template then you can use this simple yet sophisticated 154 silver social media icons. You'll get blinklist, deviantart, drual, dzone, facebook, friendster, favorites, flickr, gmail, google, gtalk, izeby, iGoogle, joomla, linked in, mail, MSN, myspace, netvibes, soundcloud, tumblr, twitter, worpress, yahoo, you tube, yahoo buzz, ziki and many more. The modern design matches gray, black and even red backgrounds.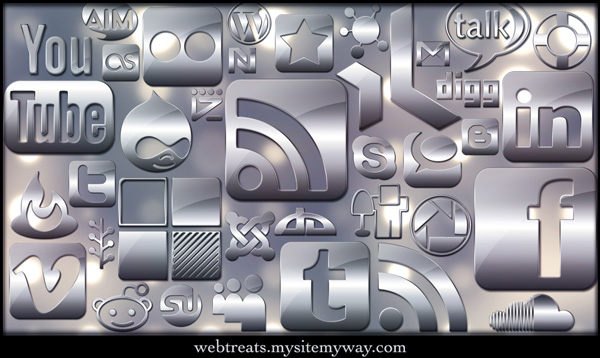 6. "Location" Social Icons
The 10 free social icons entitled "Location" contain stumbleupon, reddit, facebook, twitter, dig, RSS, design float, technorati, delicious and my space. The conventional design is similar to the common bubble design social icon but with this version uses the chamfered square instead of the circular shape. This is a useful set of social icons when you to go with a more identifiable and common icon style on your web template.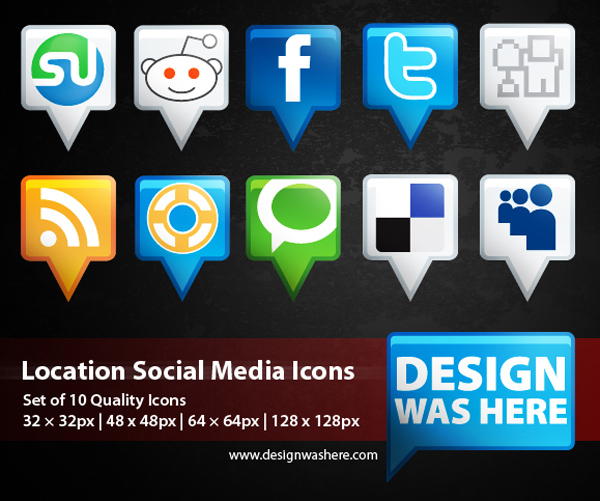 7. Grungy Social Media Icons
If you are looking for a more artsy vibe on your web page then this 28 unique grungy icons is a great choice. The diagonal strokes create rhythm to simple web templates and will match well with darker and solid backgrounds. The creative set can be downloaded free in an illustrator vector file. Other than the popular media icons it includes designbum, designmoo, dig, reddit, skype and stumble.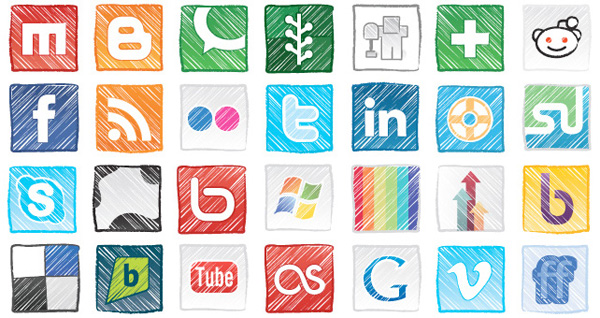 8. Broken Icons
This distinctive design contain 20 useful social media icons that includes aim, netvibes, , blinklist, blogger, delicious, devianart, digg, facebook, flickr, latfm, livejournal, myspace, reddit, RSS, stumbleupon, technorati, tumblr, twitter, wordpress and youtube. You can download it as a PNG compressed zip file with a 64 x 64 px. This is an edgy and interesting social network button set that will surely encourage your users to use promote or share on your web page.