Redecorating and renovating your interior is an exciting project that often comes with many challenges. Although mostly positive and interesting overall, it also carries certain difficulties, the largest of which of course is the final decision on the new paint color. Many factors have to be considered before a person makes up their mind on the paint, from what the room is for and how much time they will spend in it, to who it is for, and what that certain someone likes. Colors of the walls have the ability to completely transform the general atmosphere of a room and make it more open, warmer, and welcoming. However, whether you want it or not, the paint can also be used to cool down the room or give it a certain kind of feeling not everyone enjoys.
When it comes to home offices, you have to take into consideration what makes you relax, and what makes you focus more. A fine blend of the two will give you an office you will never want to leave, meaning you will feel great while you work so no slacking or procrastinating is ever going to happen. If you have some trouble deciding what the right choice for you is exactly, this article will surely help you. Keep on reading to find out more about the most inspiring paint color ideas for the ultimate home office experience. If you want the best home office solutions on the Hawaiian island of Oahu, click here.
Color Philosophy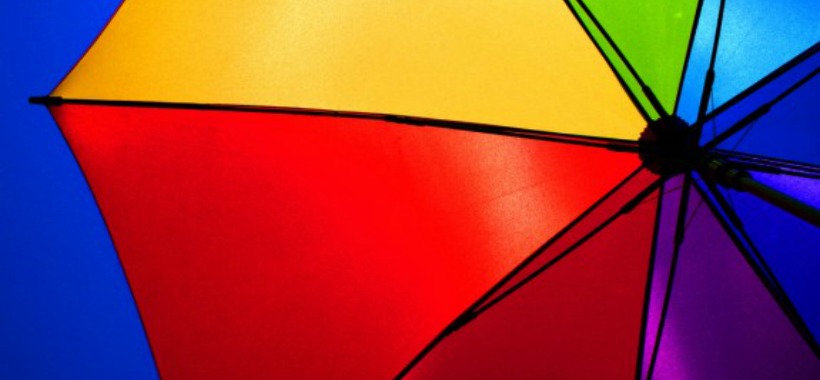 Before we move on to the best office paint colors, there should be some word on the philosophy people now have on colors and their meanings. Different teachings connect various aspects of life to colors. For example, most people believe that bright colors can boost energy levels, or that pastel shades can help with creativity.
Studies have shown that red increases emotions and happiness, and that people perceive as attractive, energetic, and powerful, which is why many famous brands use it to draw in customers. However, if your office walls are red, it can make your work seem urgent and cause unnecessary anxiety and worry throughout the day. This is not at all productive. According to color psychology and general research performed on the relationship between colors and how they make us feel, we now know how all the colors affect us as beings.
The color blue has a strong connection to the mind, and it stimulates it better than other colors leading to increased productivity. Blue hues are perfect for keeping focus during tedious, boring, and repetitive tasks, which is why many accounting and sales offices use it to keep the focus of the staff higher.
Red, on the other hand, as mentioned, stimulates urgency so it is great for more physical jobs like construction or warehouse.
Yellow is the color of emotions. It stimulates a wider specter of human emotion and as such is great for creativity. Happy feelings always brighten the spirits of people, so why not use it to boost an already creative environment or help the employees who could use more creativity.
If balance is what your workplace needs, you should definitely go with green. The color also brings out calmness and reassurance in people, and since money is also green, you also get more motivation!
Color Mixing
Mixing primary colors gives us secondary colors, which further the number of choices we have. The following are the absolute best home office paint ideas that will turn your place of work into a place you will never want to leave.
1. Off-White or Soft White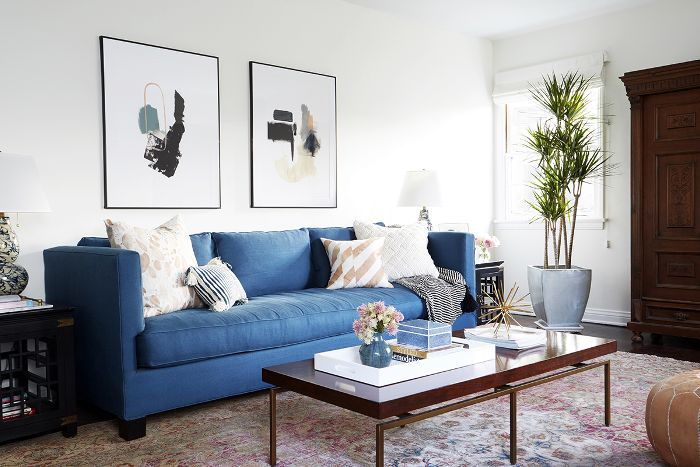 Many people think of regular white as too clinical and reminiscent of asylums or hospitals. However, an off-white or a soft white is a whole other story. An eggshell shade is one of the most popular solutions for various home offices, as seen on many foreclosed properties on lamudi.com.ph, as it is decorative, warm, and clean.
2. Teal
As a blue and green combo, teal turns every workspace into a place of pure productivity. It is however tricky to get the right balance, as too much green or too much blue may ruin the desired hue. Think about having enough brightness and intensity to achieve the best results.
3. Gray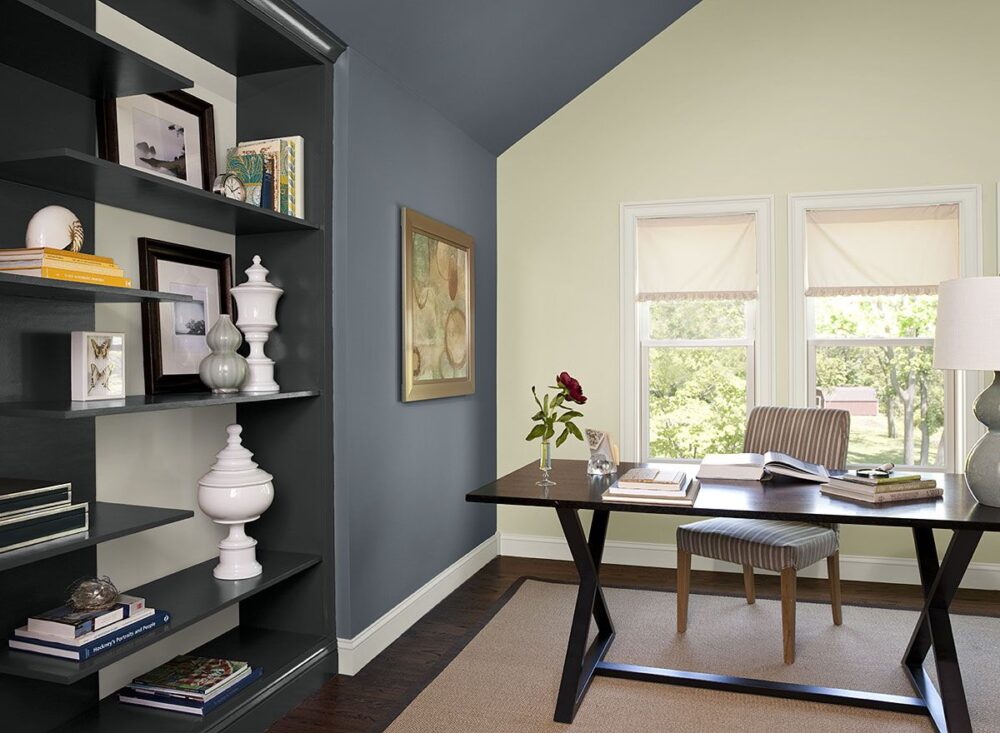 The mix of white and black is among the fan-favorites for any kind of room. Many modern offices utilize its neutral mood that goes well with various psyches of the workers. For an overall balanced atmosphere that will suit all, you cannot go wrong with gray.
4. Light/Sky Blue
A gentle and soft hue of light or sky blue on the walls of your home office is going to calm the surroundings and give a comfortable and peaceful feel to the whole room. If you are a private doctor or a lawyer, who tend to work with nervous people, light blue will help you greatly.
5. Blue and Gray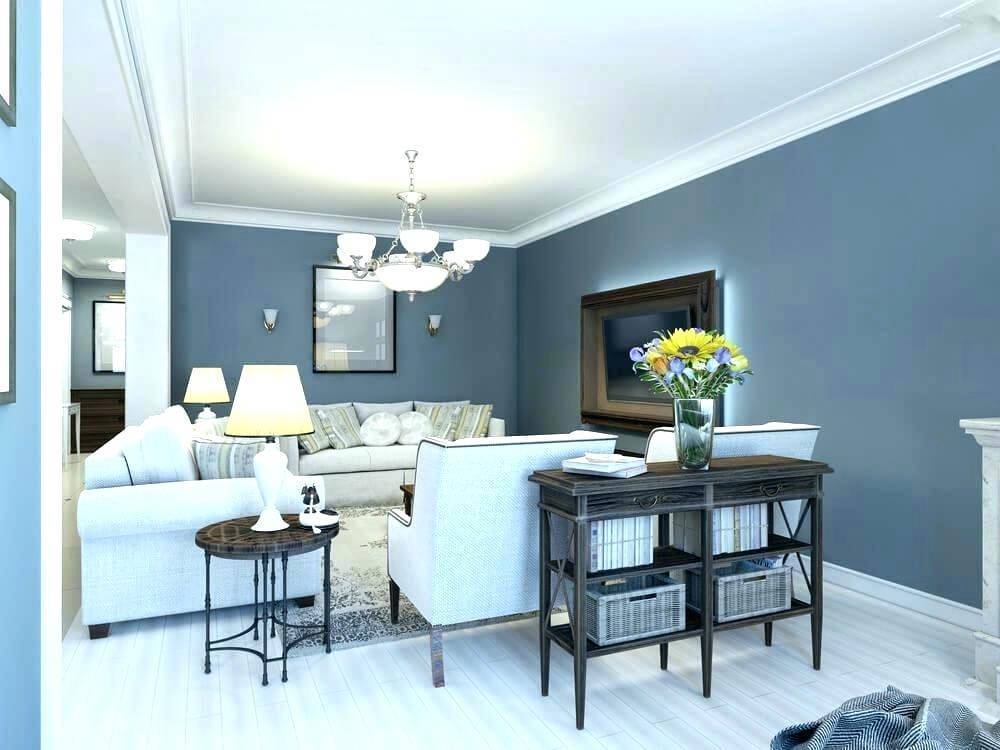 If the corporate world is where you live, a blue-gray office paint combination is arguably the best solution for your office. This set of colors makes an office look clean and professional, as a true place of serious and successful business operations.
6. Brown
The brown color is among the more traditional wall paints, as it invokes the sense of history and class. Most wooden furniture is brown, so everything will look tidy, strong, and durable, reflecting those same ideas onto your business. Brown is also one of the warmest colors you can choose for an office.
7. Pastel Yellow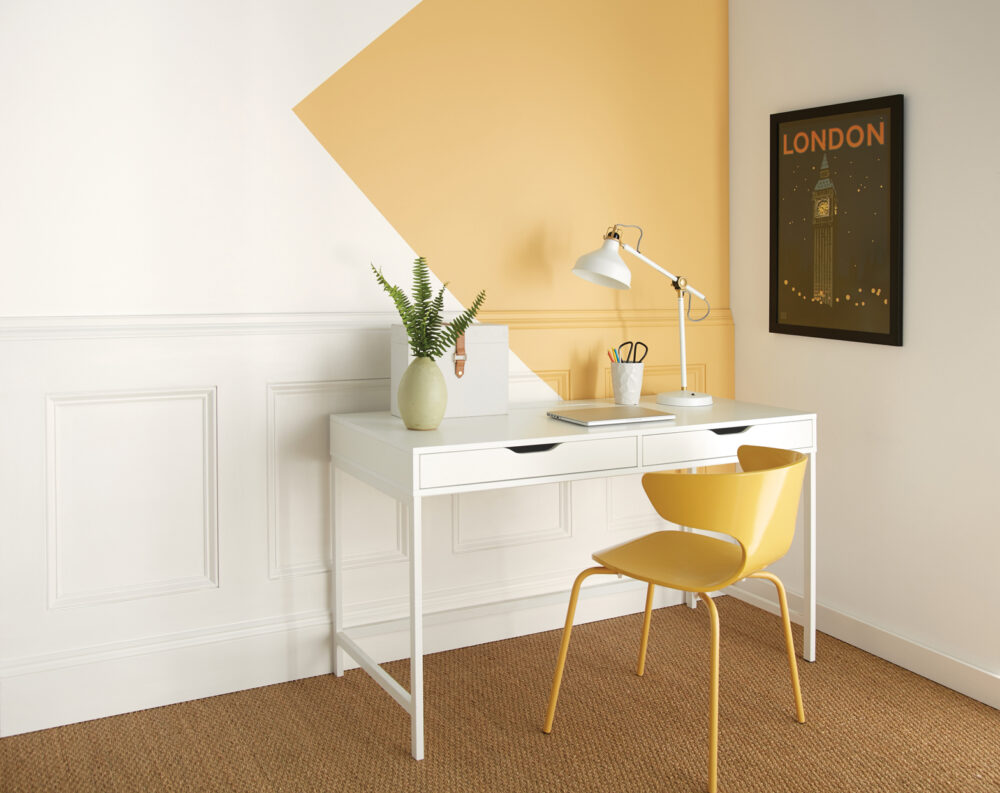 For the creative branches, combining yellow as the color of happiness and emotions and the pastel hue that boosts creativity will give you some amazing results. The creativity will constantly be flowing thanks to the pastel yellow tone of your new office.
8. Purple
Take the energy that red has and the productivity of blue and paint your walls purple, which is also the royal color often thought to have a lot of power. Lighter, feminine shades of purple are another viable option, like lavender for example.
9. Dark Green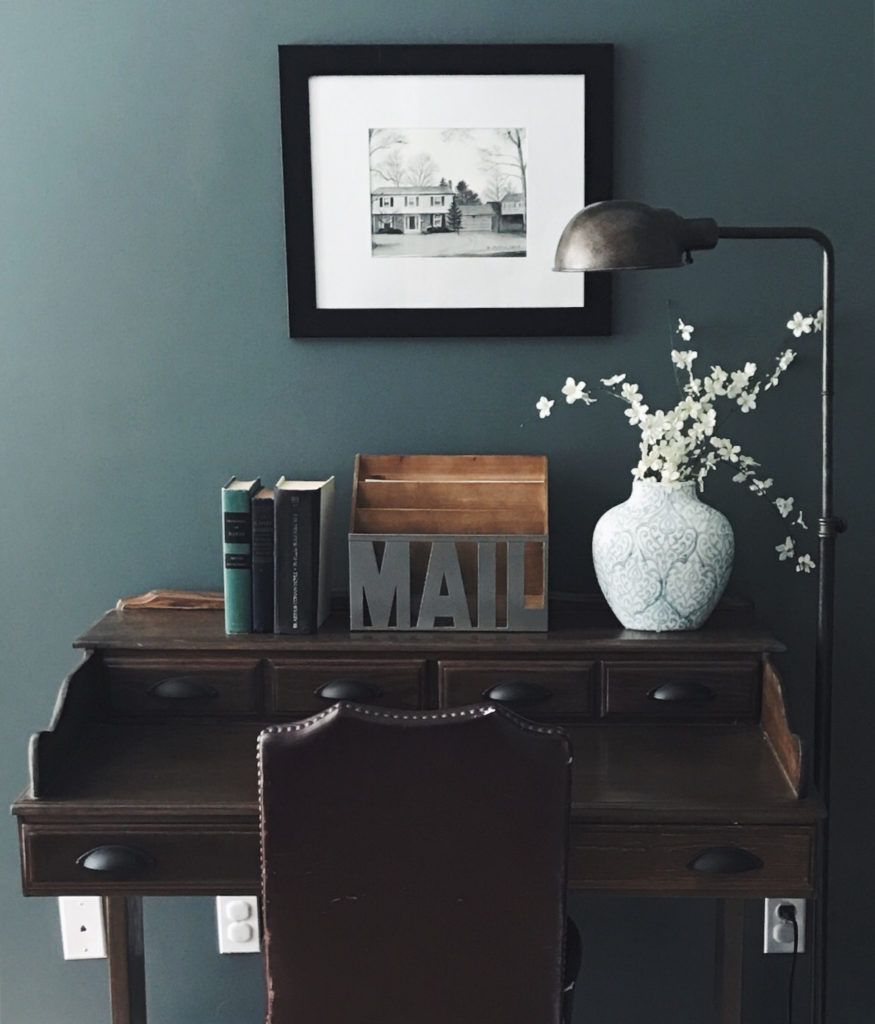 Darker, richer, and more velvety greens are amazing for healthcare and finance home offices. Depending on how dark you want it, there is a whole range of forest and woodland greens that are capable of nearly limitless combinations with wooden furniture. If you have a lot of natural lighting, do not be afraid of a little darker walls.
10. Orange
A fully orange office is too much and too bright, but painting only one will brighten up your mornings and give you a much-needed energy boost in the afternoon. Combine the happiness of yellow and the passion of red, and treat a part of your home office to some orangey warmth.