Everyone loves good design, don't they? It is not only nice to look at but most of the time nice and good design means more effective workspaces for employees. If you are designing office for your company or you searching for simple design inspiration, you came to the right place.
This list contains 25 inspirational offices that are situated around the world and might inspire you to try to get a job at one of those or try to create one of the inspirational offices yourself. If you come up with one, please let us know!
Red Bull Australia, Sydney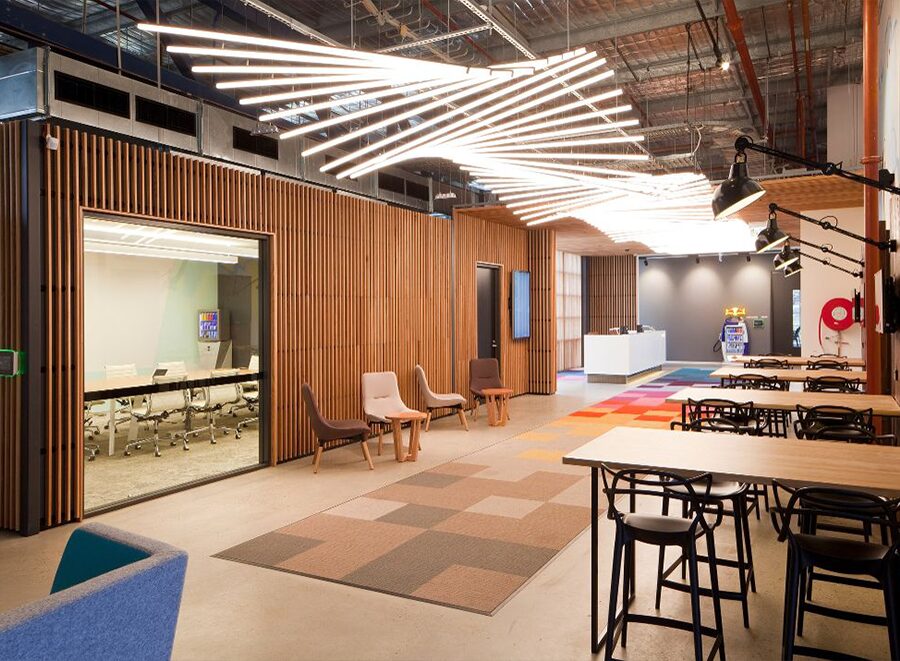 Red Bull has established a number of inspirational office spaces around the world, challenging architects to re-imagine contemporary working environments in each project. Responding to this brief, Sheargold design practice created the concept for the company's Australian headquarters in Alexandria. The complex includes a cricket pitch, rooftop bar, and informal meeting rooms were staff converge and collaborate.
Element AI Office, Montreal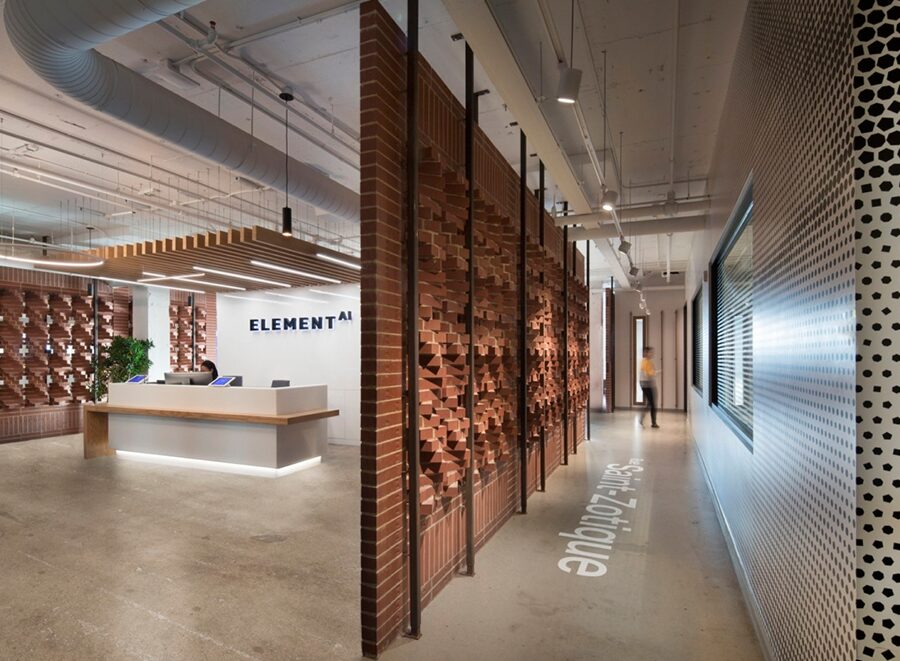 Element AI is a company that works in hardware and software development. This amazing and huge office is 65.000 sq. ft, and was inspired by Montreal (the city it is positioned in), AI and company's culture. The office has amazing brickwork as you can see from the picture.
Pallotta TeamWorks Headquarters, Los Angeles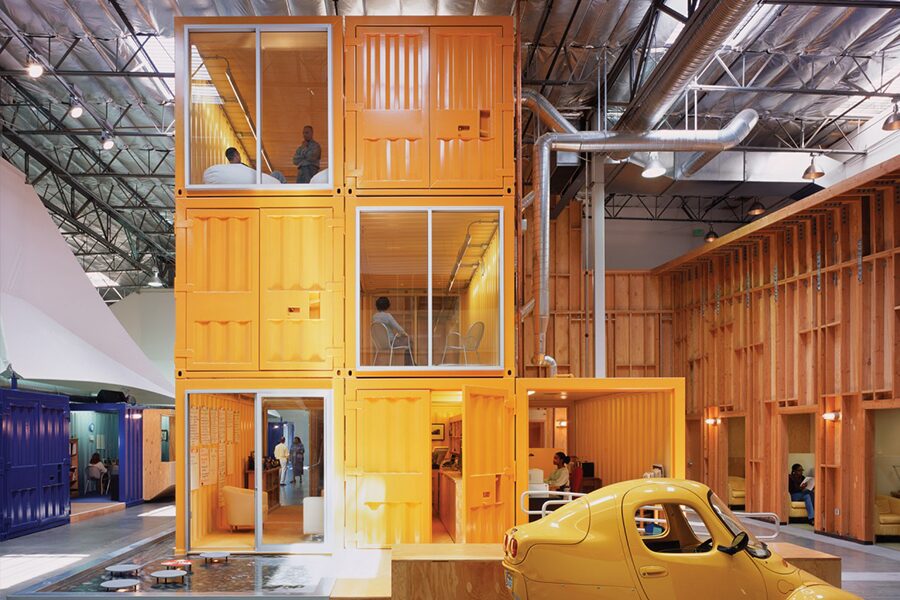 Clive Wilkinson Architects designed Pallotta TeamWorks headquarters in Los Angeles. The designers were working on a restrictive budget to create the offices within a warehouse, making innovative use of the space by creating seven tented-villages and executive offices housed in shipping containers.
TBWA/Chiat/Day Office, New York City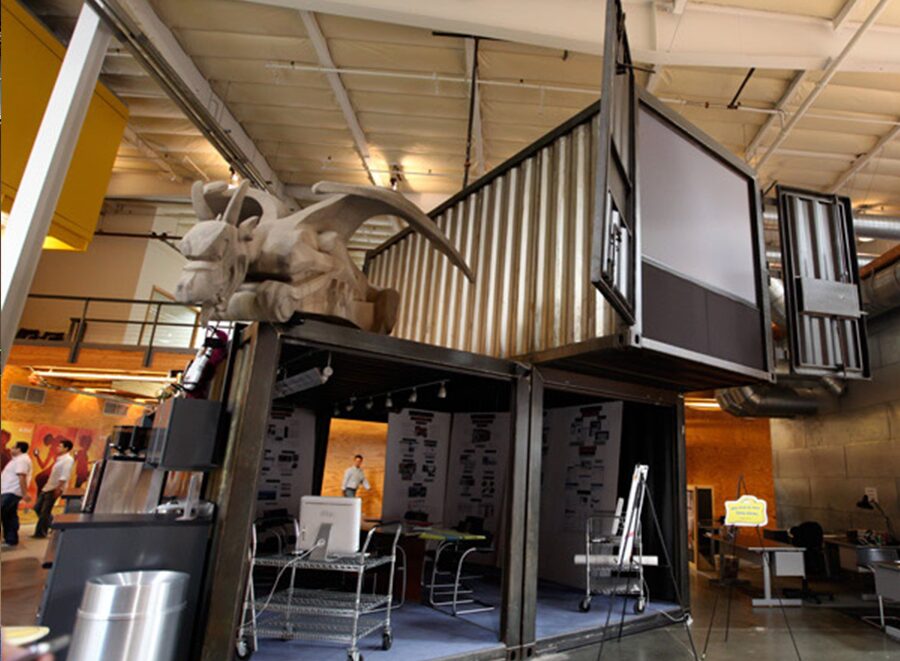 Gaetano Pesce's design for the TBWA/Chiat/Day advertising agency's offices in New York aimed at rejecting the formalities of traditional office layouts and devising an inspiring playpen environment. The agency operates without hierarchy or individual desk spaces; employees work wherever they want each day, and space encourages impromptu encounters and collaboration.
Macquarie Group Limited, Sydney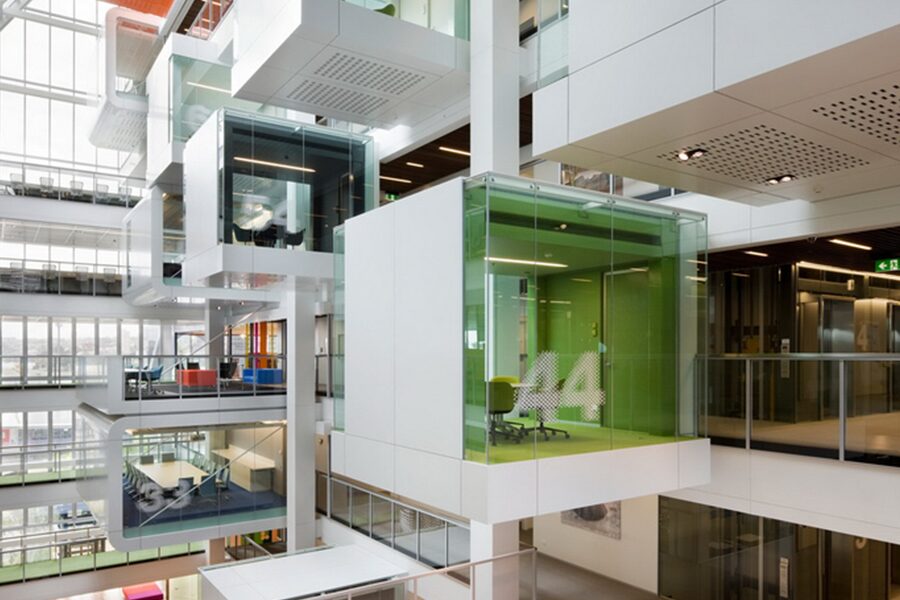 Clive Wilkinson Architects also designed Macquarie Group's Australian offices in Shelley Street, Sydney, creating a large-scale space with transparent workstations, light-filled plazas, and carbon-neutral technologies,
Wayra's Startup Accelerator, London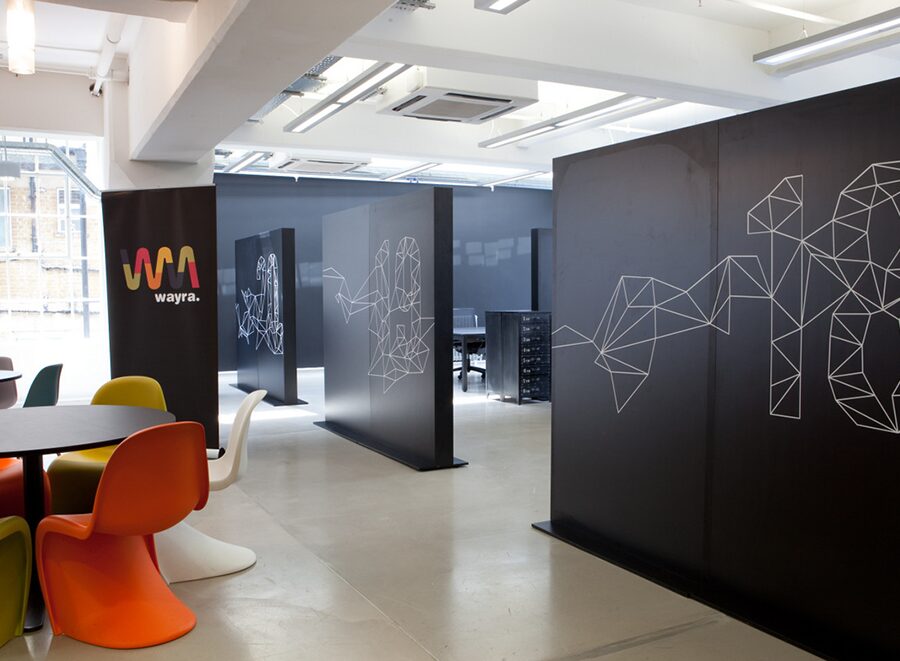 This startup accelerator office was built in the year 2012. It has a size of 1,148 sq. ft. and was designed to perfectly suit the needs of entrepreneurs and young startups. The design of the office is an open office workspace with some modular design features.
Selgas Cano Architecture, Madrid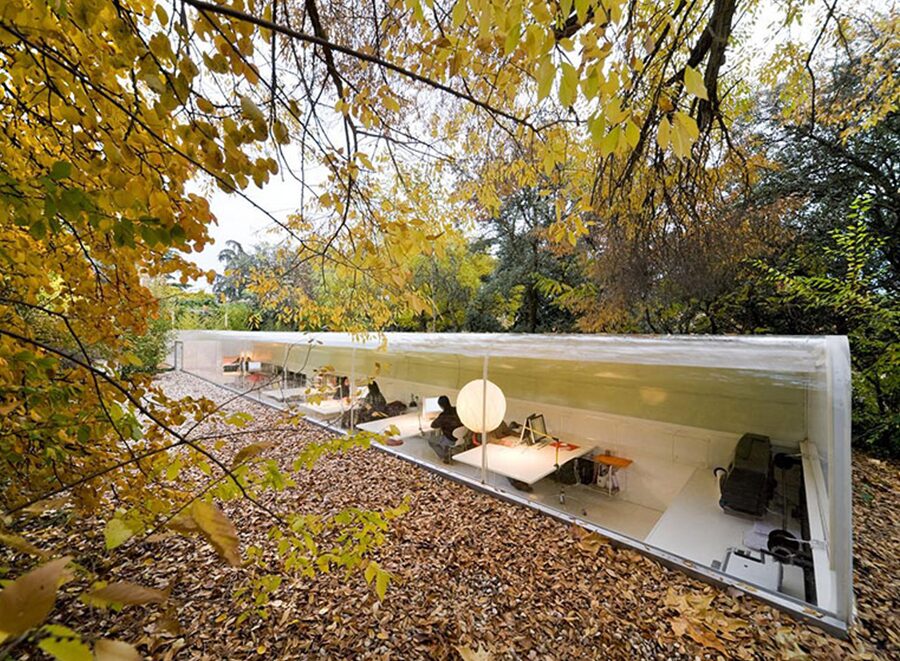 Iwan Baan's design for Selgas Cano architectural practice in Madrid is a wonderful woodland building with the staff's workstations situated below ground level under a glass canopy.
GTB Offices – Shanghai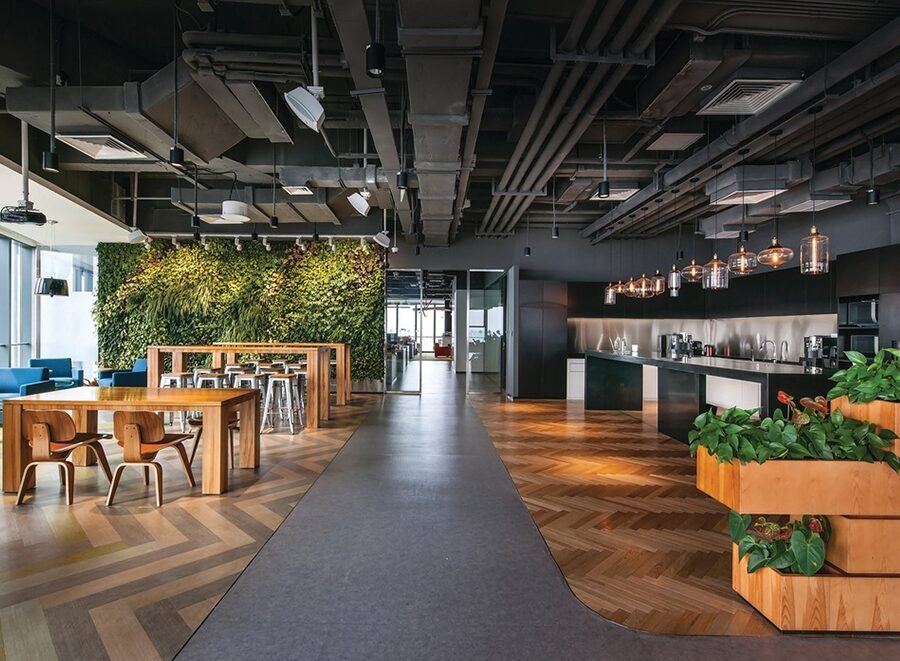 This office was build in 2015 and designed by M Moser Associates. The halls of the office as a touch of the outside world incorporating green plants that inspires one to look at nature for creativity and collaborative spirit.
Innovation Lab, Copenhagen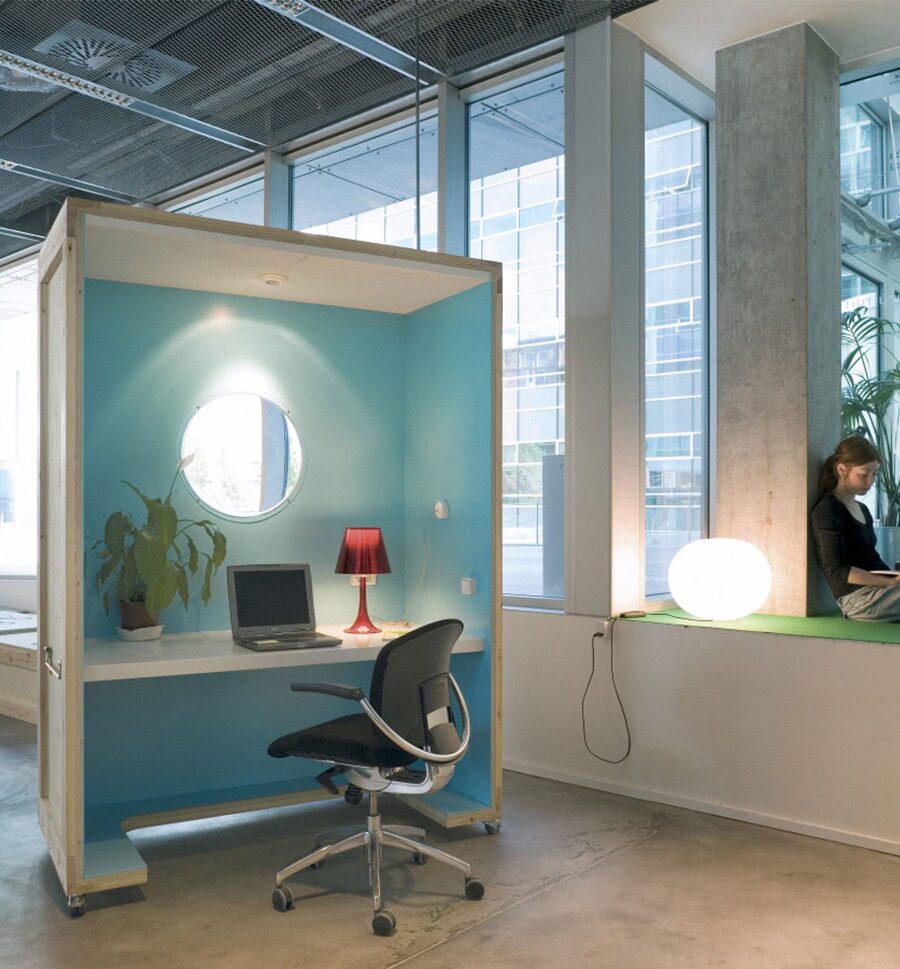 Bosch and Fjord's 'Plug and Play' designs for the Innovation Lab in Copenhagen are inventive concepts for portable, modular workstations constructed from flat-pack units according to a company's requirements.
Diane von Furstenberg Headquarters, New York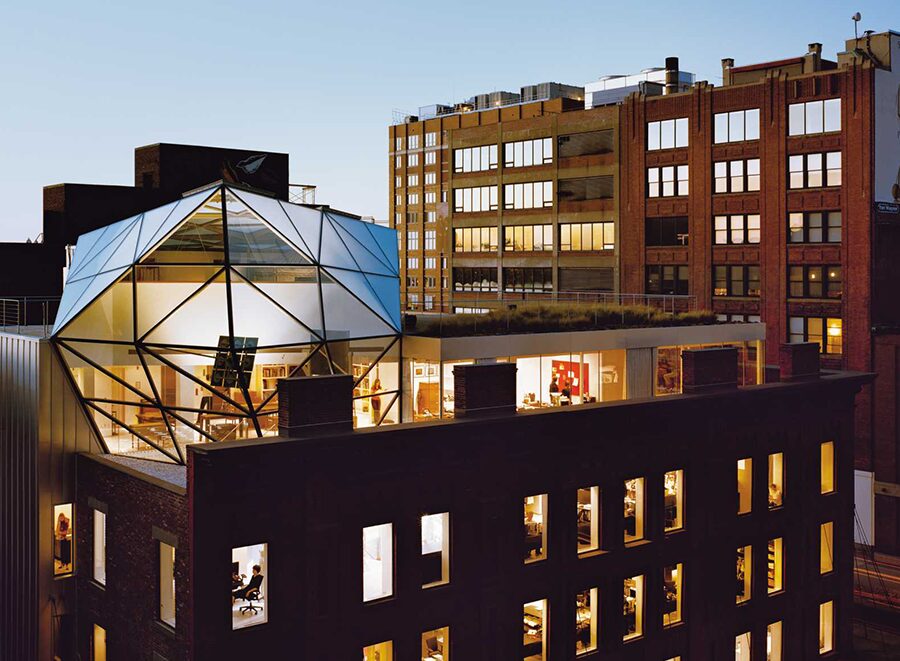 Architects Amale Andraos and Dan Wood created the Manhattan headquarters of apparel designer Diane von Furstenberg. The design is a stunning renewal of a heritage building with a landscaped roof and maximum use of natural light by skylights, hanging crystals and glass stairwells.
Optimedia, Moscow Office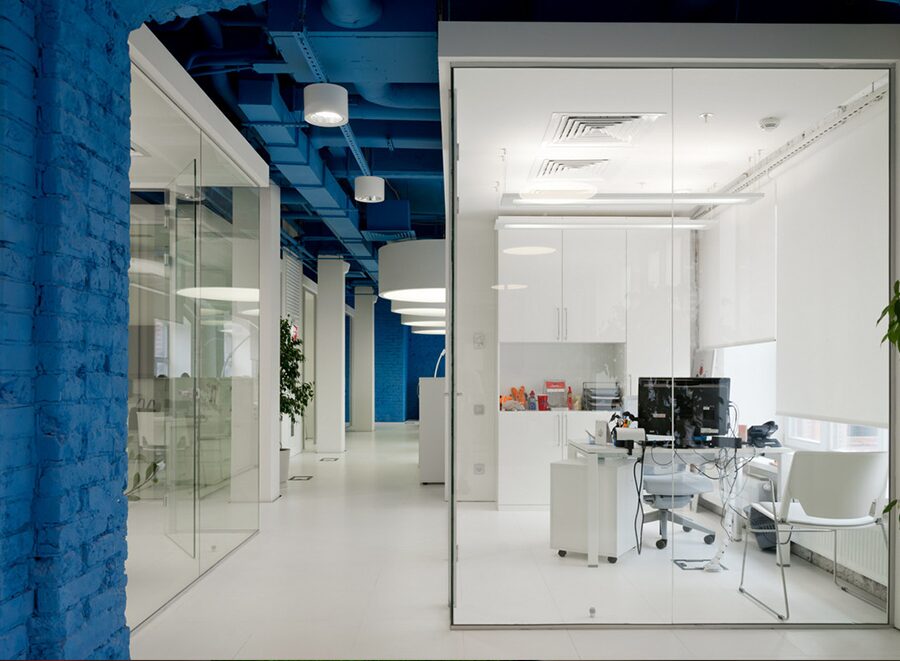 The office design was made by Nefa Architects. They used colors related to the company that you could feel as being an important part of the Optimedia inside the office.
Gubretas – Istanbul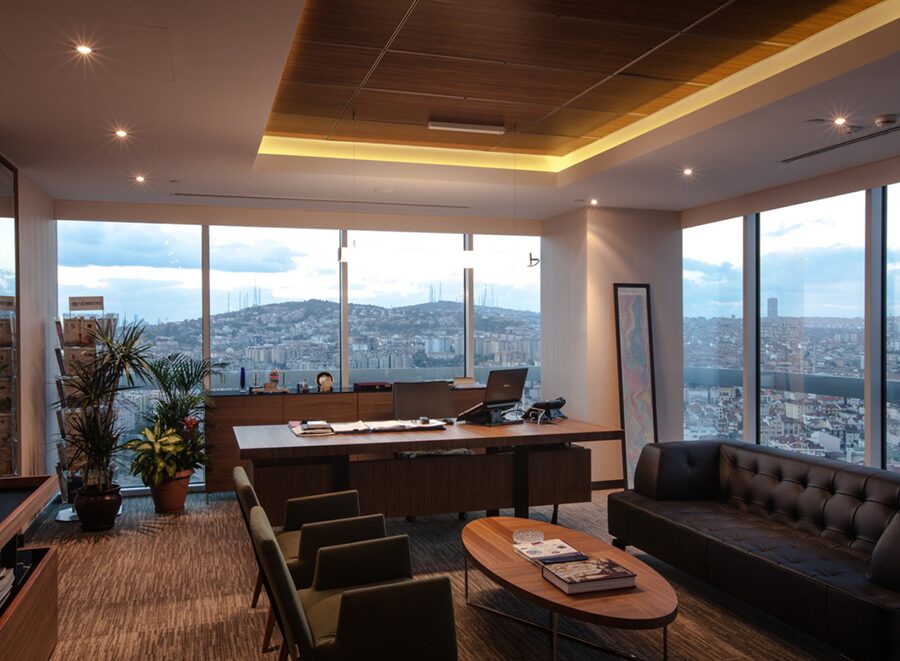 The office has a size of 32.291 sq. ft. It was created by MDarch Architecture and contains an amazing panoramic view of Istanbul city.
Google Engineering Headquarters, Zurich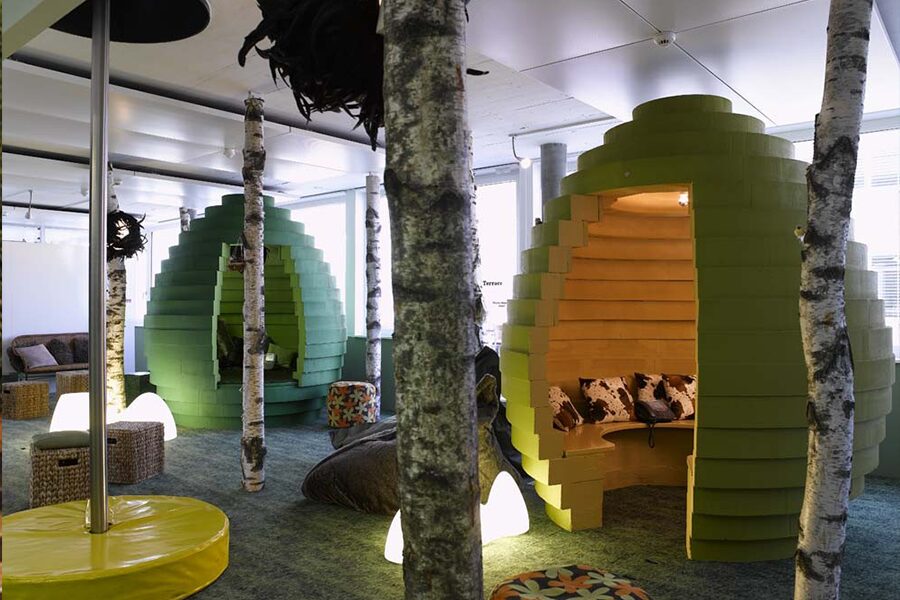 Google's European engineering headquarters in Zurich were designed to embody the company's unconventional business model. The office's feature 'meeting pods' in the shapes of igloos and Swiss chalets, fireman poles to access different floors and a playground-style slide offering entrance to the cafeteria.
Three Rings Design, San Francisco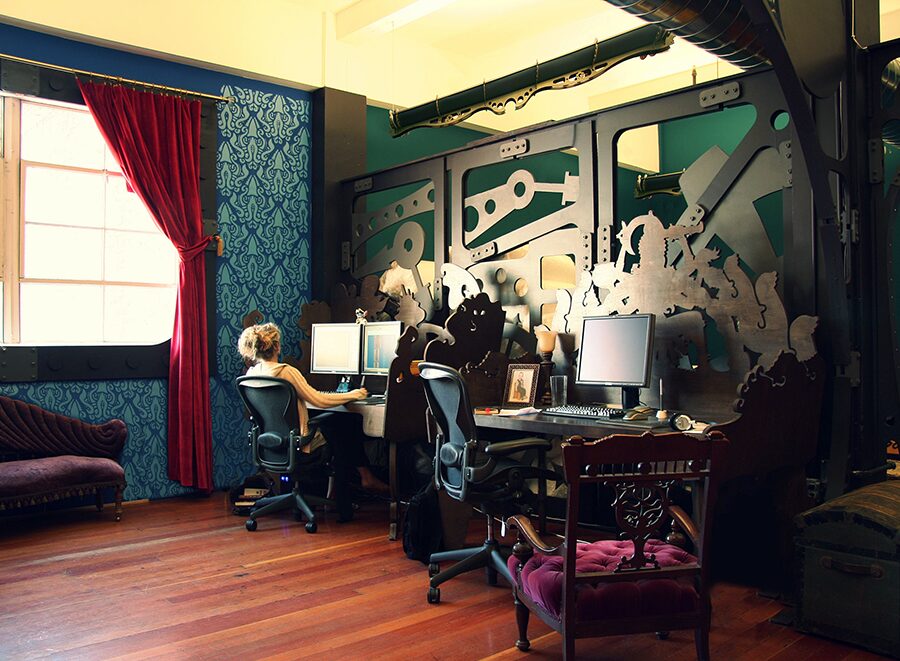 San Francisco game studio Three Rings Design have whimsical offices inspired by the novels of Jules Verne, Victorian parlors and pirate ships, with a hidden room secreted behind a bookshelf and games consoles concealed in a treasure chest.
Lego Development Department, Billund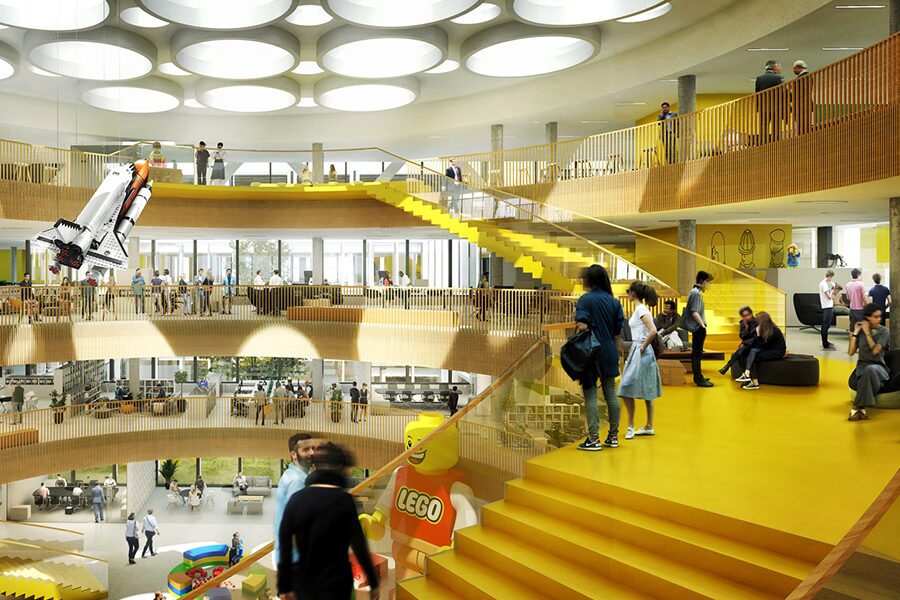 Bosch and Fjord's design for Lego's development department in Billund, Denmark, aims to stimulate creativity with spaces of varying degrees of formality, from elegant conference chambers to playrooms for brainstorming.
MindLab, Copenhagen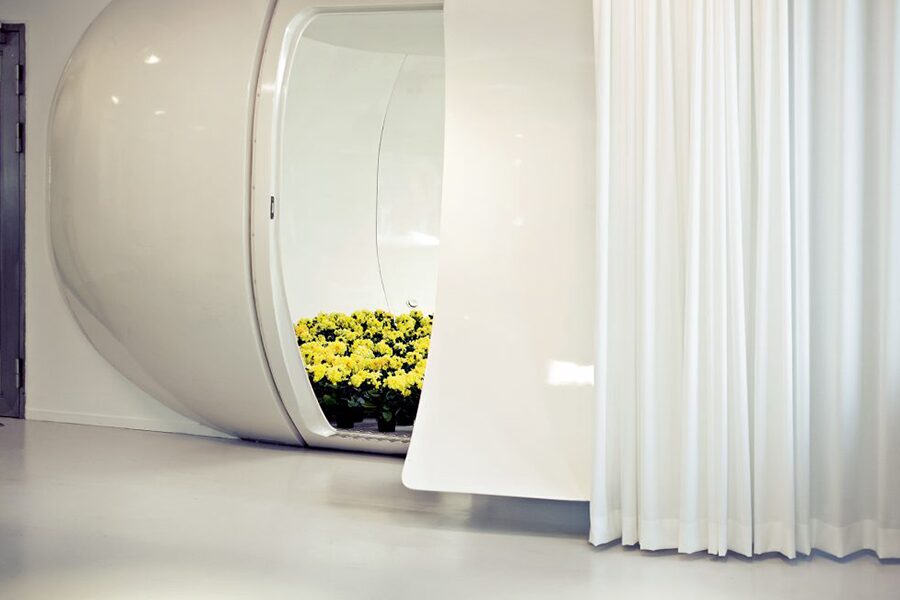 The Danish Ministry of Economic and Business Affairs in Copenhagen is home to the MindLab, an inspiring meeting facility aimed at citizen-centered innovation. At the center of the complex is an egg-shaped meeting room with all-round whiteboard walls for sketching out ideas.
Airbnb Office, San Francisco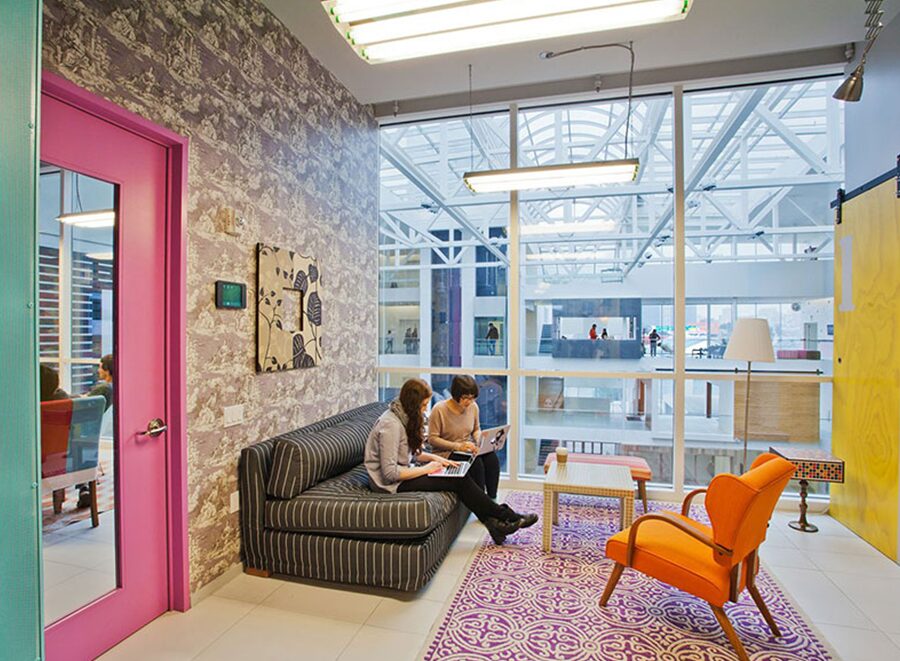 Airbnb has an awesome office in San Francisco. It is pretty minimalistic although has a lot of pastel bright colors and home-like kitchens.
Nokia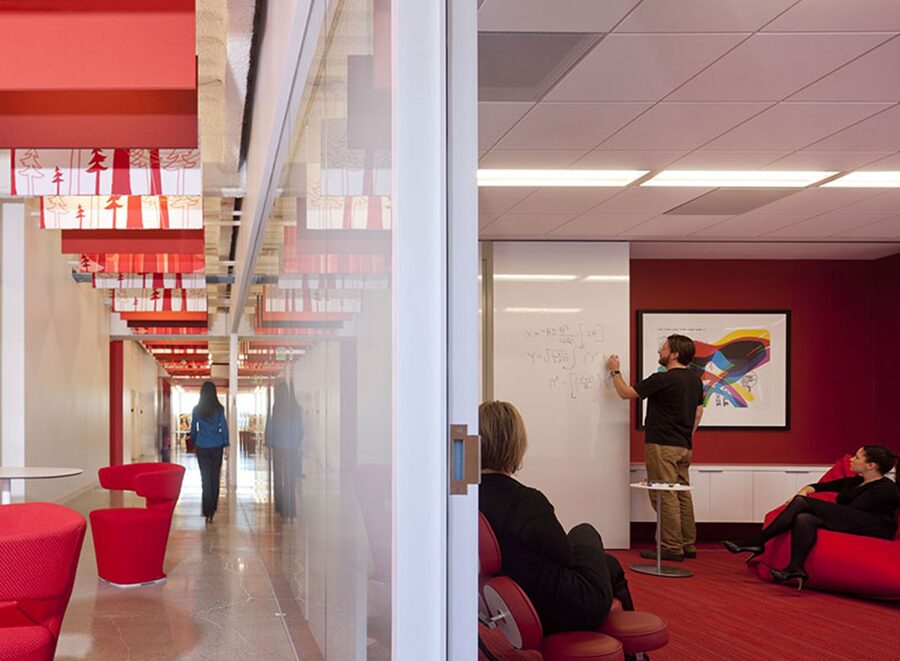 The old technology giant has some impressively looking offices with bright light colors, open workspaces as well as closed ones. Also, like every office building, it contains team meeting rooms that have kind of an informal and relaxing environment.
Vitra Headquarters, Basel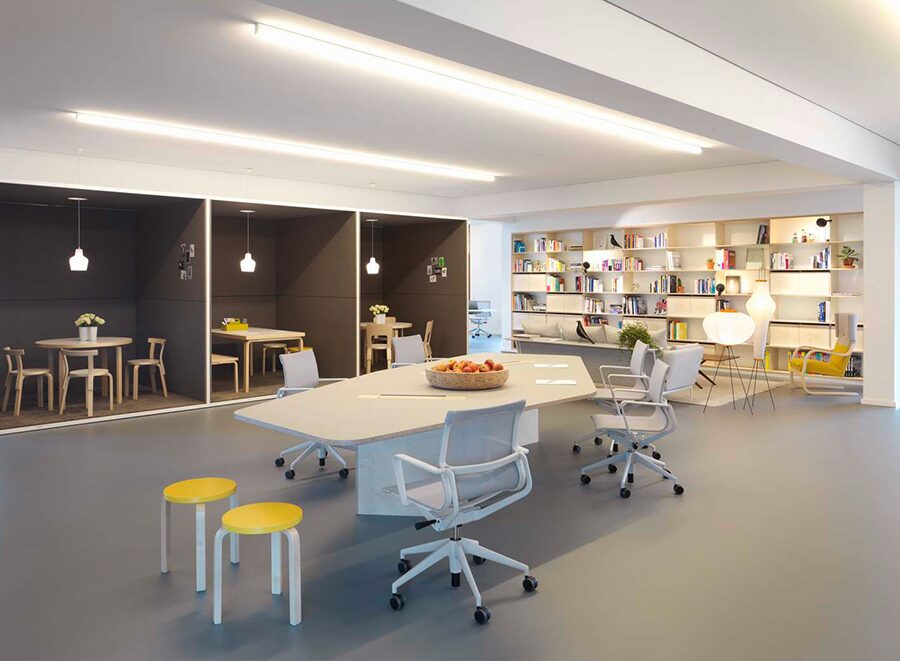 This office space is at the headquarters of designer furniture manufacturer Vitra, in Basel. The workstation features Enzo Mari's Formosa calendar and Ronan and Erwan Bouroullec's 'Algue', a screen of snap assembly plastic seaweed.
Googleplex, Mountain View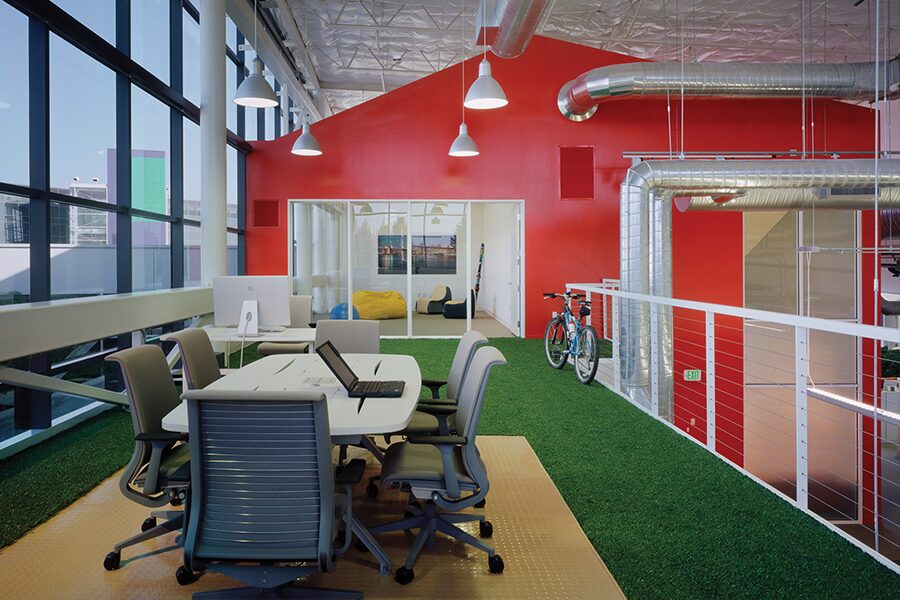 Google's headquarters in Mountain View, Googleplex, is a sprawling complex created to inspire the company's staff. There are bicycles to travel between meetings, dogs are allowed in the offices, and the buildings feature massage chairs, yurts, huddle rooms, pool and ping pong tables, volleyball courts and a climbing wall.
Pixar Studios, Emeryville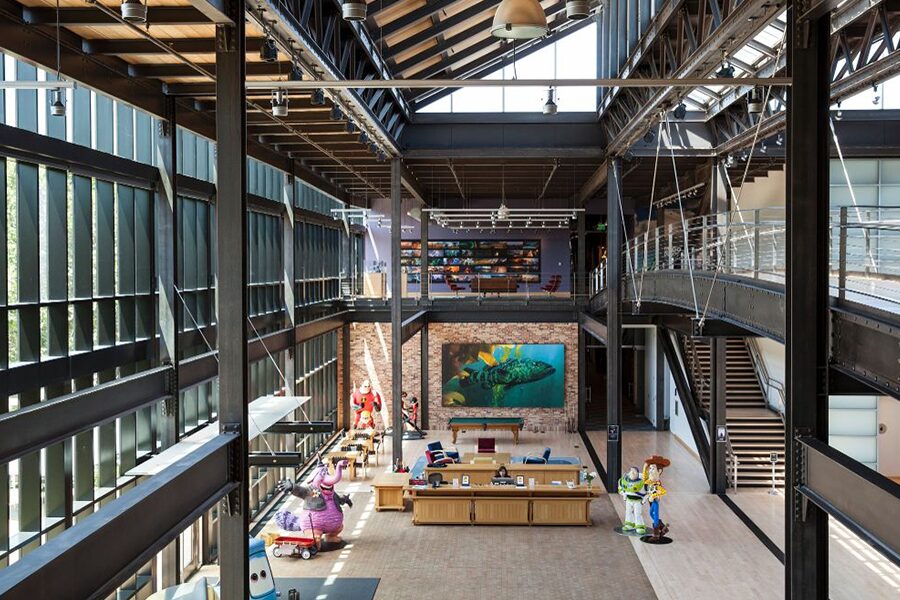 The offices of Pixar Studios in Emeryville are designed to get the most out of their animation artists with inspiring open spaces, relaxation areas, shed-style cubicles and careful use of mood lighting to inspire creativity.
Monitor Group, San Francisco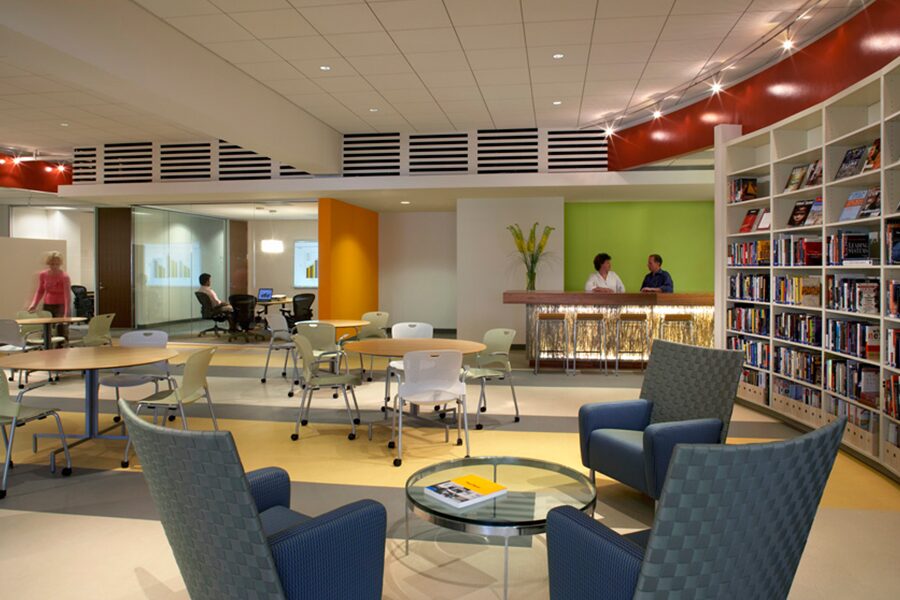 Sasaki Architect's design for Monitor Group's San Francisco offices employs a grid of 'cross streets' and 'intersections', with a cafeteria and library resource hub forming the central meeting point.
Log Cabin Office
This homely wood cabin office space offers a calming environment in which to work.
Zynga, San Francisco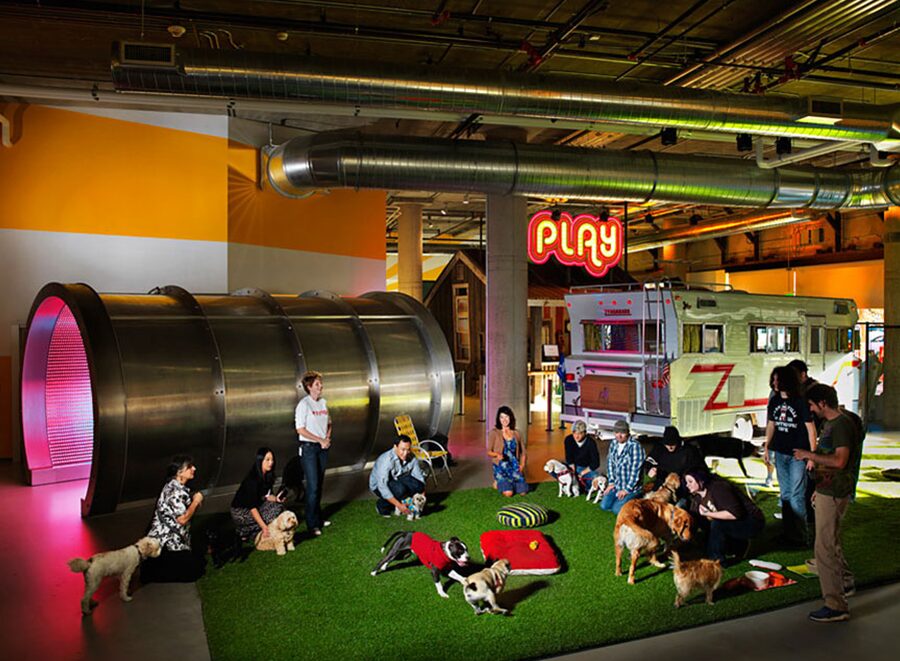 This free mobile and online game development company has an open and creative environment. It contains everything that would inspire the creativity of the company's designers, game developers, and other workers.
Shed Office Space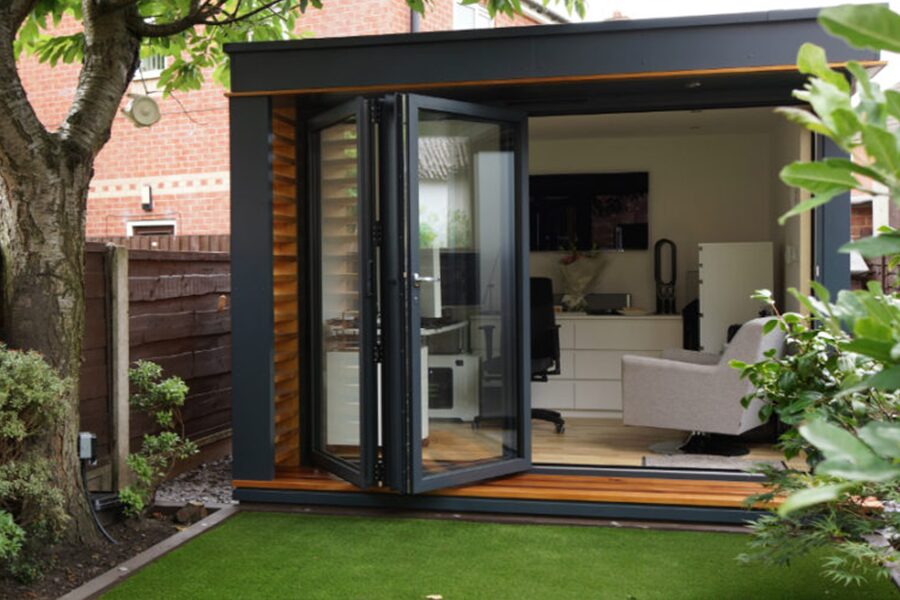 When working independently it's important to create an inspiring, and therefore productive, working environment. This multi-purpose shed features a desk space and relaxation area with musical instruments.
Disney Store Headquarters, Pasadena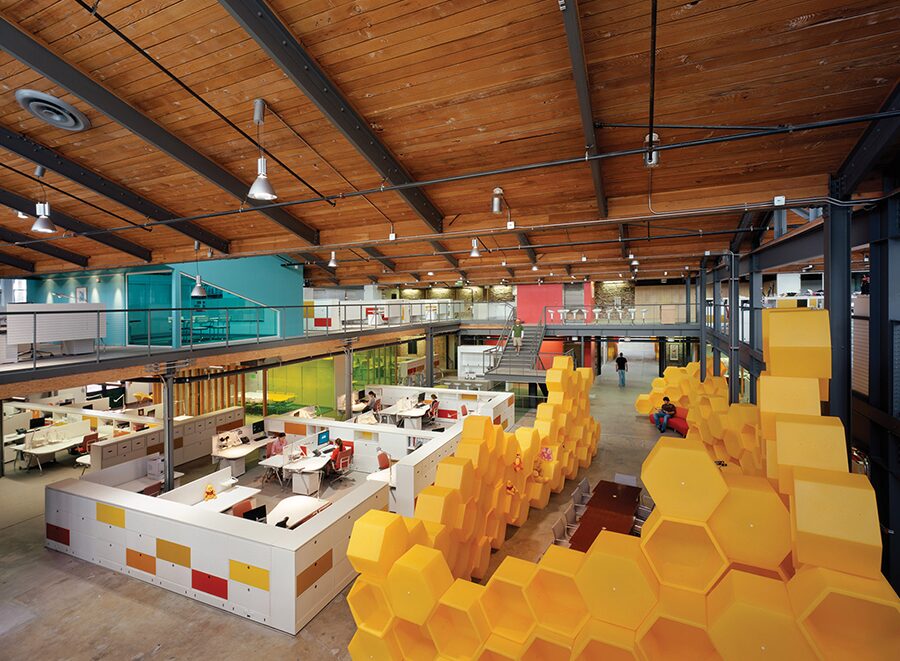 Disney Store's headquarters in Pasadena is an architectural wonderland featuring cartoon colors, honeycomb structures and walls that can be dismantled with the huge 'bricks' acting as seating for visitors.
Tencent, Guangzhou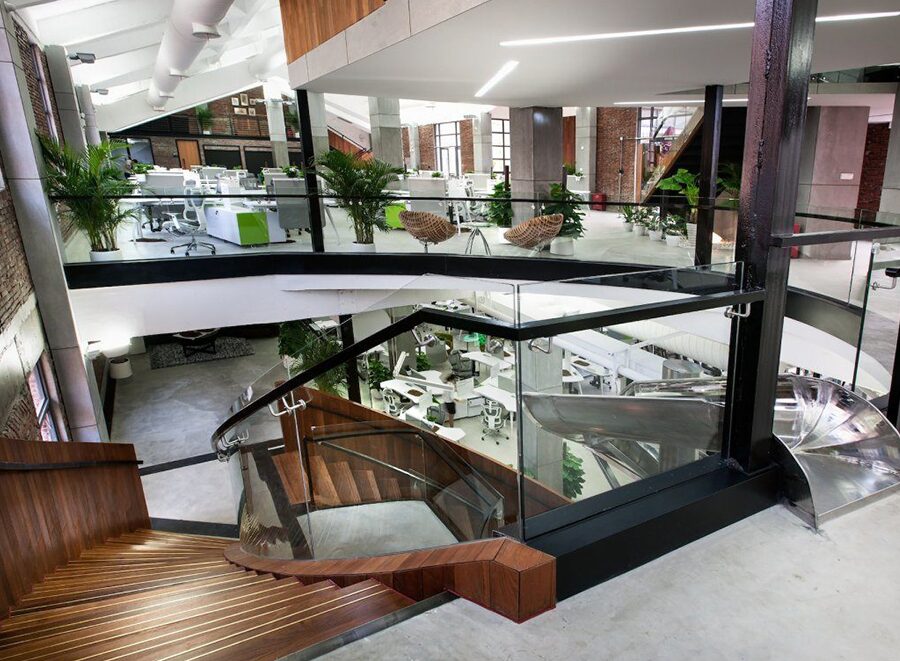 The office of the Chinese tech giant company has an area of 100.000 sq. ft. and accommodates about 800 employees. The design was made by M Moser Associates.
Sam Beckman, Industrial Desk Setup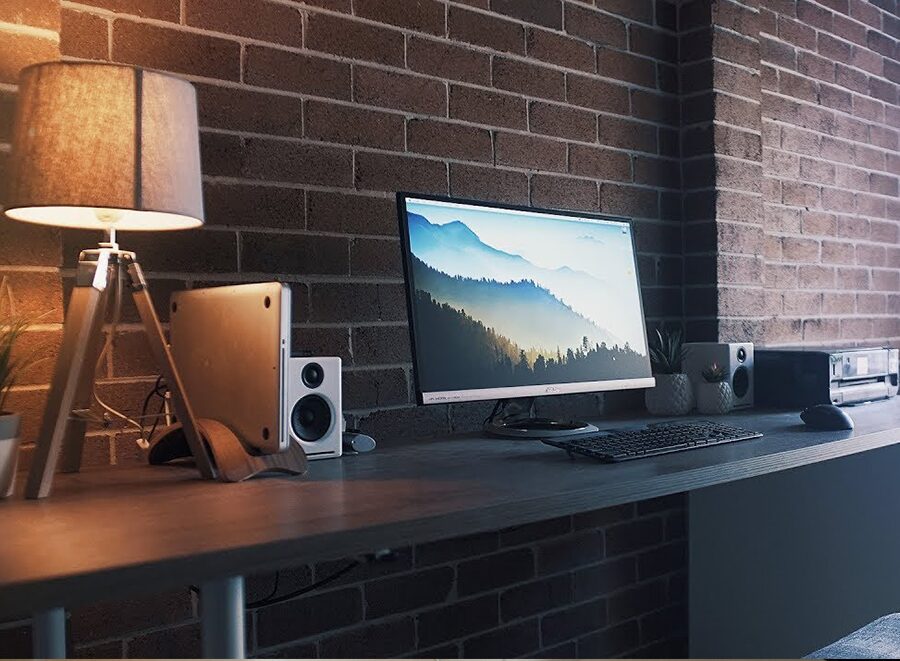 This minimal and modern home office is probably one of my favorites. It has that industrial feel but it also manages to keep it clean and simple which looks amazing.
All of these offices demonstrate how a working environment can be shaped to inspire creativity, whatever the scale or nature of the work that takes place within them, through beautiful and innovative architecture and decoration.