When you bought your house or built it, you may have only had a small family, or you were all alone. However, your family may now have expanded, with more kids or other extended members. Maybe you need a granny flat or may also wish to add more functions or equipment to the kitchen. To accommodate your larger family's needs and a fancy kitchen with more equipment or functions, you could consider building an extension.
Benefits of building a kitchen extension
There are several benefits of building a kitchen extension which include the following:
· Improves the value of your house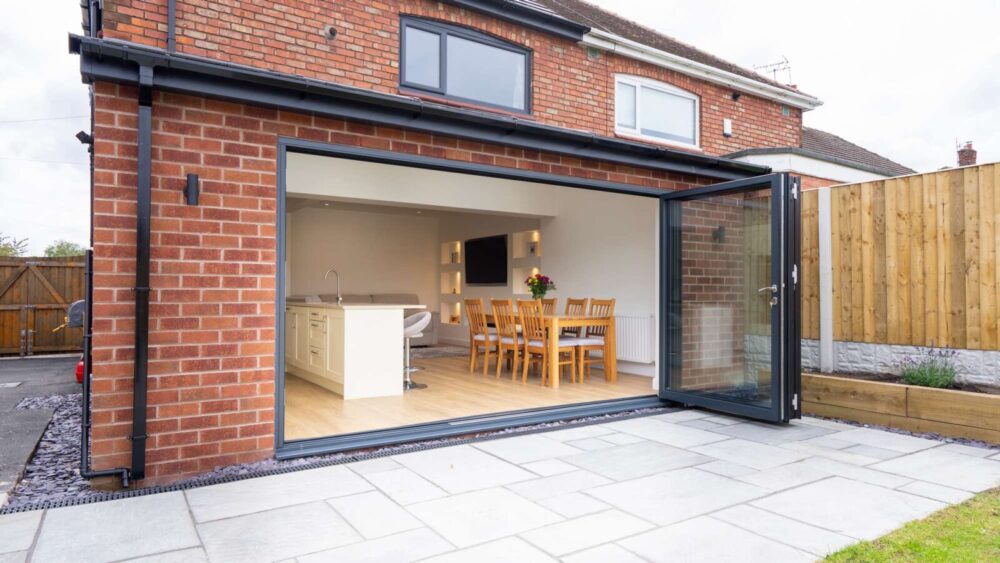 When a home has modern and functional features in a nice new extension, it may be more valuable when put up for sale. Whether you want to make your house more valuable as an asset for the future or you want to sell it soon, building a kitchen extension can be a good idea.
Besides, if you want to relocate to a bigger house because the kitchen is not serving you well, building an extension could suit your needs and make your home more valuable, so you may change your mind. Furthermore, the cost of erecting an extension could be far cheaper than the expense of moving to another house not to mention the upheaval, especially if you are otherwise satisfied with everything else in it except the kitchen.
· Increases the available space
Of course, when you extend your kitchen, you will increase the available space. This is the most significant benefit, and you can put the extra space to so many uses. You could add some extra equipment like more worktops, storage racks or even get a bigger cooker or fridge.
You may also consider creating a more open-plan space and use it as a multi-functional room, maybe a kitchen-diner room. Another idea is to create a relaxation area with comfortable sofas, besides the kitchen. You need to consider how any extra space can best benefit your family and then customize it accordingly.
· It makes your kitchen modern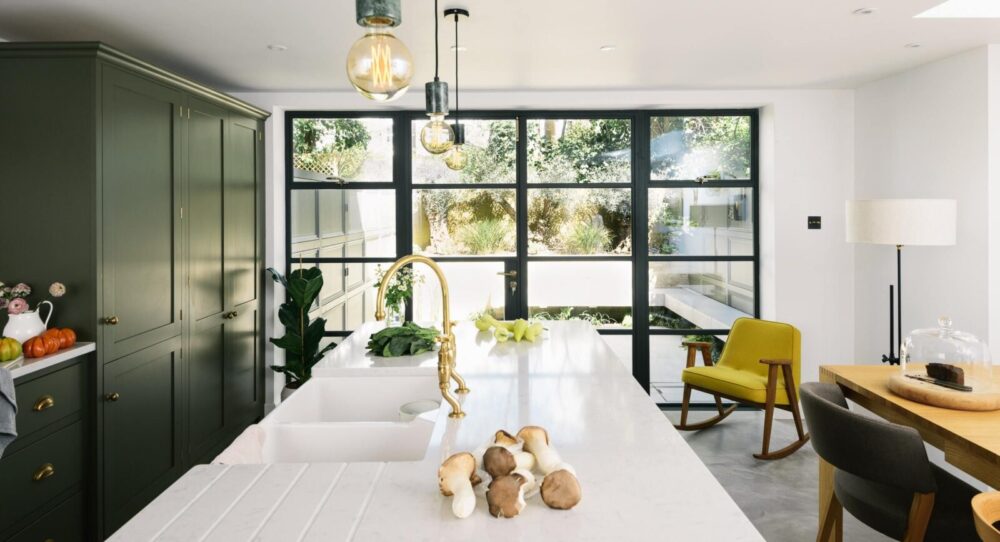 When your house is old-fashioned, and you want to upgrade it, building a kitchen extension can transform it into a modern space with a chic appearance and feel. A bigger space allows you to bring in that contemporary equipment you may have always wanted to add, but would previously have been an impossible challenge.
Also, opening up the room and allowing a lighter space, or customizing it as you wish, modernizes the kitchen. You will be able to take great pride in inviting guests and hosting them when you have a modern food preparation area and perhaps more space for relaxation or use as a dining area.
Things to consider when building a kitchen extension
Irrespective of the reasons why you want to build a kitchen extension, there are some considerations that are necessary:
Consider how you want to use the kitchen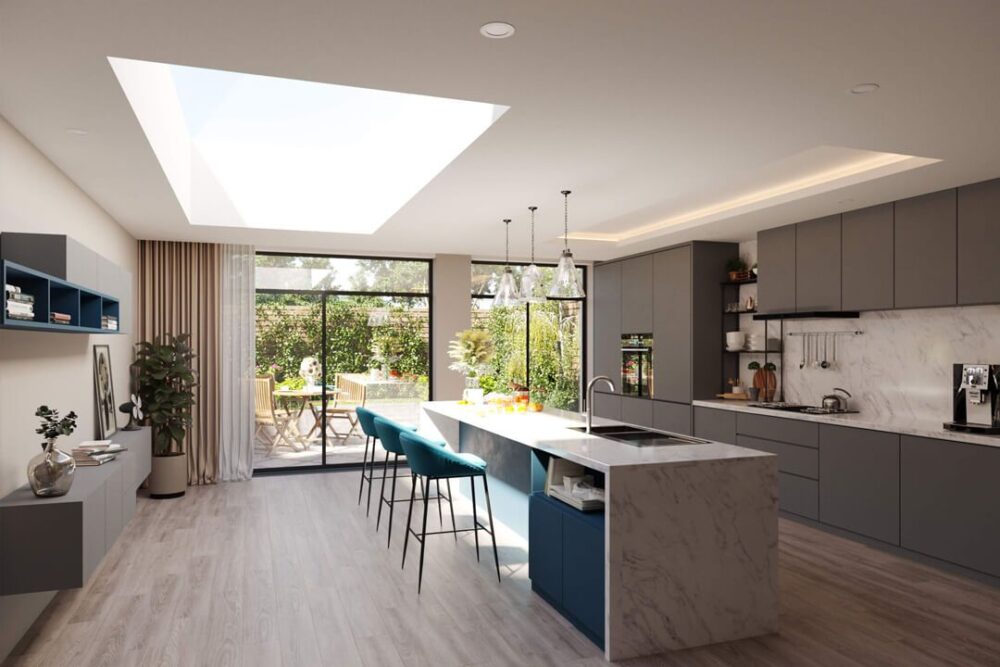 Firstly, you need to look at your wish list for the kitchen as you plan an extension. You need to ask yourself how you and your family will spend time in that room. You need to ask yourself what it is possible to do with the extra space and what the most efficient use you can put the space to is. It would also be best to consider what you want to keep and what you want to get rid of.
Check if you require planning permission
Although issues to do with planning permission may be boring, they are quite crucial. The reality is that extensions to your house, including a kitchen extension, can in some cases be deemed a permitted development; thus you may not need to apply for planning permission for the kitchen extension.
However, it is advisable to get advice or consult an extension specialist or a reliable architectural firm like Humphreysandsons, the leading residential building architectural company in London and Essex. For an idea of how likely it is for your permission to be approved, you can look around your neighbourhood. If you see some people with extensions, then you are also likely to get yours approved.
The beauty of hiring specialized architects such as Humphrey and Sons is that they offer a thorough service. They do far more than the minimum needed work to get planning permission or obtain approval of building regulations. They also look at issues such as party walls to allow you legally execute your project. Failure to obtain permission may lead to stopping your project or severe legal matters and financial losses.
Budget and set timelines for the project
Like any other project, a kitchen extension needs to be properly budgeted, and you also need to set reasonable timelines for the execution of the work. It is essential to ask yourself, "what will be the cost of expanding my kitchen?"
You need to appreciate that there is no definite answer to that question because no two kitchen extension projects are the same. The cost can vary depending on the size of the room, the materials used, the size and scale of the work, the location of the project, and many other factors. Also, as you set your budget, make allowance for contingencies and finishes, you will tend to take note of some little things, for example, taps, and give them enough allocation in the budget.
Additionally, you need to set a realistic time for the implementation of the project. You have to factor in the time needed for the design and permission approvals, other planning steps, and the time needed to build and finish the kitchen extension. The more complex the project, the longer the time it will take. It is vital to be realistic about timescales as you are with your budget and plan a timeframe that will avoid rushing the contractor — resulting in shoddy work.
Get Several Quotes for the project
Because you need to get the best services at the most reasonable rates, it would help to get at least three quotes from different contractors. You need to approach them with your technical drawings so they all quote on the same thing. You may be surprised to find that prices vary significantly from one builder to another depending on how busy they are, any other projects they may be working on within your locality, and other factors. Of course, you need to consider much more than the cost; for example, check if you and the builder have a rapport, their experience, and reviews from past clients.
Conclusion
Building a kitchen extension is a worthwhile project because it can increase the value of your property, modernize it and improve the space. You need to plan well and work with professionals to get a great final product within the timeframe you want and at a reasonable cost.