UI (User Interface) kits help programmers and designers to get faster and satisfying results when it comes to creating interface elements. The tool kit is useful when covering multiple projects or getting your personal page ready before a deadline while still having a professional and accurate design. We have listed the best looking free CSS (Cascading Styling Sheet) UI kits available in the web below. These selected CSS UI kits can be used for personal or commercial use such as in your poster designs, theme designs, logo designs and other creative projects.
1. Metro UI CSS
If you aim to create a professional no fuss web page you should check Metro UI CSS. This UI kit allows you to create web sites similar to that of Windows 8 where it's pretty straightforward and functional yet you still have enough colored if you choose to enhance the simple page.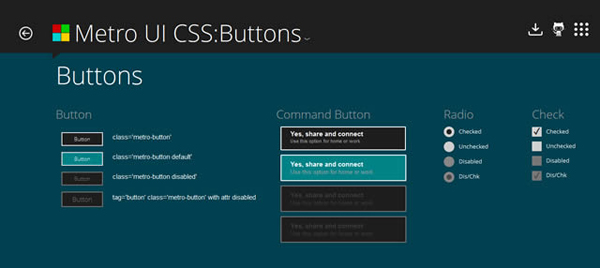 2. Designer CSS UI Kit
This CSS UI kit is simple and modern and will work well with any type of web page. It has been hand-coded and created from scratch using HTML5 where it utilized new modern CSS3 techniques. Common user interface elements such as buttons, elements and tabs comes as circular or with chamfered square shaped icons giving a soft and user friendly impression on your web page.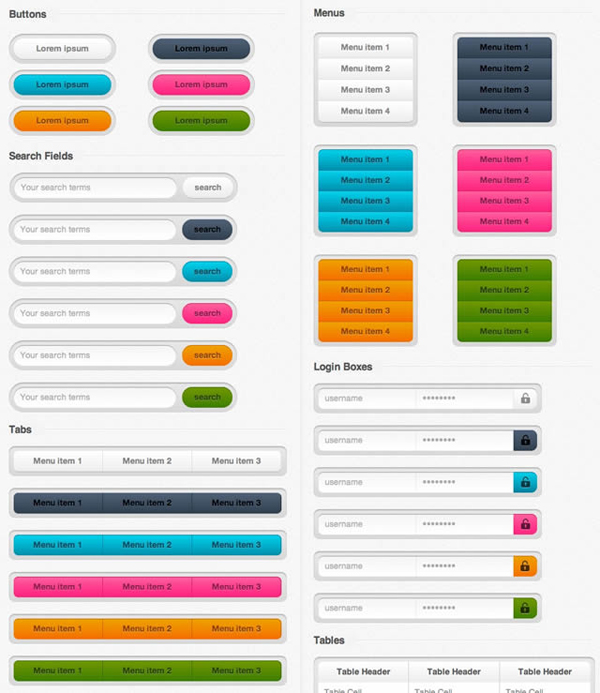 3. Icon Deposit CSS3 UI Kit
This freebie includes a variety of GUI switches, buttons, radio buttons and checkboxes. You can scale the images with the Photoshop PSD file but if you need to view it in another browser you will need to edit the CSS file.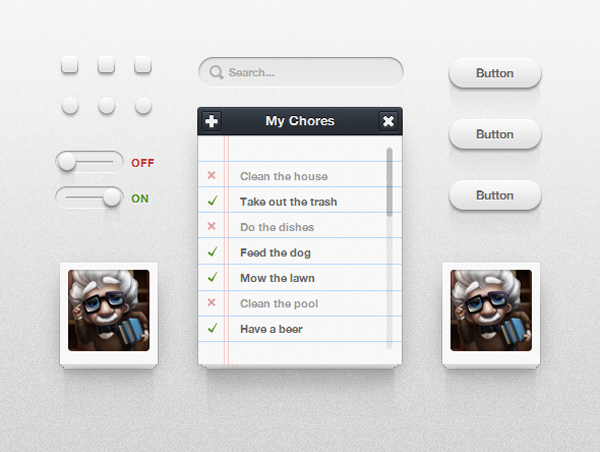 4. CSS Imageless UI Kit
If you're looking at an array of options to choose from then this free CSS UI kit is the perfect choice. You'll get 11 elements with over 170 element variations where CSS UI kit is calculated in percents and ems. The set includes buttons, social icons, price tags, sliding tooltips, search form, contact form, calendar icons, pagination, ribbons, image borders and more, plus you get 2 bonus CSS backgrounds both for body and content.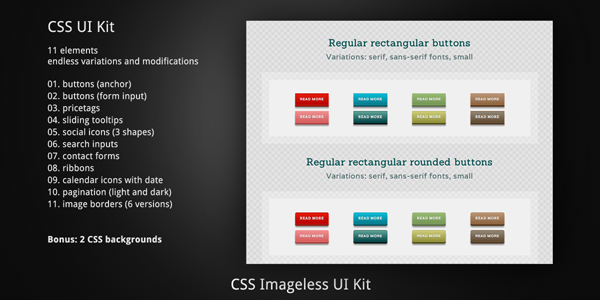 5. Futurico UI HTML
This well designed interface kit is written using the SASS preprocessor but you can use CSS version as well. Style sheets are structured for easy editing and components are placed in the library for easy reference. Other different layouts available are homepage, admin and application.