Today's world has drastically changed from what it was a decade ago. We've advanced in many areas of life, like medicine, technology, travel, computer science and so on. This scientific breakthrough created our beloved smartphones, laptops, modern house technology, plasma TV's, electric cars, anime and many others. Today, we are more capable, more innovative, and more creative than ever before in human history. Even though we advanced so much, we have degraded in other areas such as climate change, food and water shortage in some areas, terrorism, and discrimination.
In our previous article about inventions that give hope for the planet in 2018, we have talked about inventions that clean our planet. Today we will dive into sustainability. That being said, sustainability has become a goal for many countries and startups, who are trying their best to increase efficiency, while reducing cost and pollution and elevating the standards of living. These inventions listed in the article, if successful, will greatly benefit our future, so let's hope they will. Without further ado, let's dive into today's article of inventions for a sustainable planet.
WAYA Project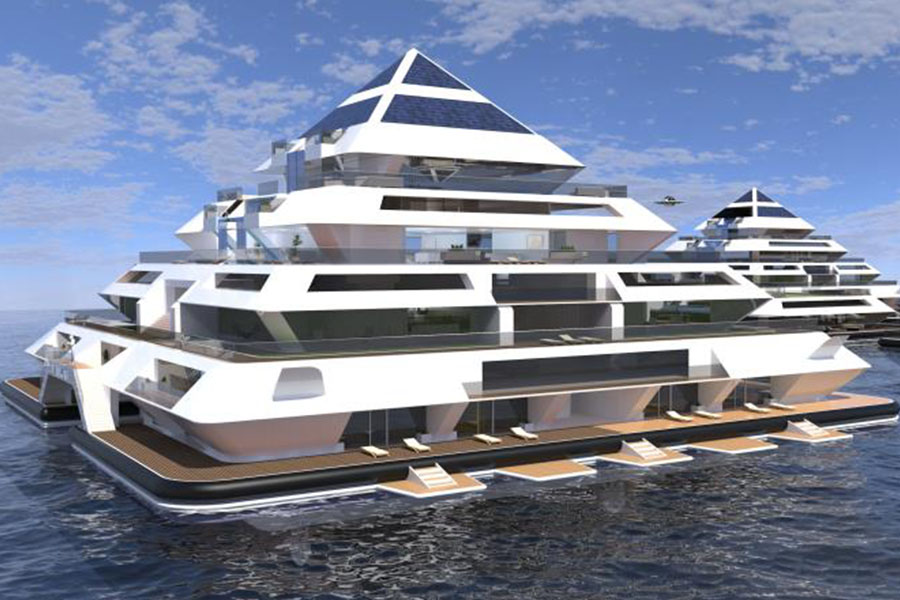 Modern cities are not very sustainable or ecological. The most problematic part of this is that it's too expensive to fix it. It's being said that a better solution for this problem would be to build a new city from scratch instead. There are many futuristic projects where designers, architects, innovators or futurists are creating their visual presentation of how they imagine the world in a distant future. While probably the most known futuristic city project is the Venus project, we will soon talk more and more about the Waya project.
The project is designed by architect Pierpaolo Lazzarini, who envisions a floating city on the water that is made of modular pyramids. Each of the pyramids offers a different living and entertainment facilities, like shops, bars, hotels, gyms, and cinemas. The Waya's goal is to provide a new offshore living possibility with a self-sustainable community. The design of Wayland is of course sustainable. The project uses solar panels and water turbines for energy supply.
Mayan architecture, Egyptian pyramids combined with a Japanese temple was the inspiration for this project. The Waya pyramid is made out from different modules that overlap on a floating 54x54m basement. That gives a total surface of around 3000 m2! The basement acts as a dock for boats and reception. The submerged underwater module parts store engines, equipment generators etc. Lastly, modules above the basement are designed for living and entertaining. The maximum height of this pyramid will be 30m from the waterline. That makes a total surface of 6500 m2.
Lazzarini has launched a crowdfunding campaign to initialize the project. The creator said that 350,000 euros would be enough to build the first Waya two-floor module 10x10m suite. What is more, Pierpaolo plans to open the Waya suite in 2023 for 1000 euros per night. Moreover, every investor to the project will also become a citizen of Wayland and will receive the Waya passport, which is an invitation for 2023 inauguration.
You can contribute to the project here:
€ 1: your name is on the contributor's web list.
€ 10: all above + Waya keyholder.
€ 100: all above + Waya passport (invitation to Wayland).
€ 1000: all above + one night in the Waya Suite (availability 2023) 2 person.
Europe's First Hyperloop in France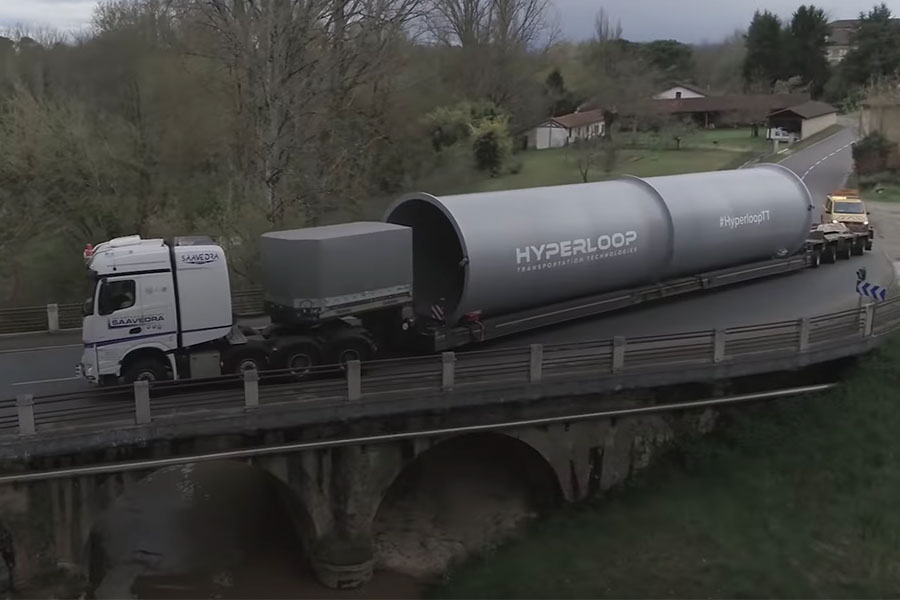 Next thing we'll be talking about is not something new, but the progress of the invention is something that gives hope for the planet. In short, current transportation is rather expensive and current methods are slow. While there are many different projects and ideas on how to fix it, one that stands out is the Hyperloop.
The Hyperloop is a transportation idea for passengers and/or freight. It's a sealed system of tubes through which a pod may travel free of air resistance or friction transporting people or objects at high speed while being very efficient. In 2012 Elon Musk introduced his version of the concept where he incorporated reduced pressure tube in which pressured capsules ride on air bearings driven by linear induction motors and air compressors. Which is a fancy way of telling that it works really effectively.
The Hyperloop Transport Technologies announced that they are beginning to construct a kilometer-long test track in France which will be completed in 2019. If successful, this will be the world's third hyperloop test track to date and the first in Europe. The other two are in the US. First one is the Virgin Hyperloop One located in the desert north of Las Vegas. The second one is Elon Musk's track sited outside SpaceX's headquarters in Hawthorne, California.
What we are seeing now is the evidence that the company is actually pursuing its goal to build a full-scale, passenger-ready hyperloop. It will be capable of sending capsules of people or cargo flying through a nearly airless tube at a hypothetical speed of 760 mph. While this might look something straight from the sci-fi movie, but the project is slowly but surely gaining momentum and eventually will revolutionize the transportation industry.
Ethiopia is Turning Trash to Electricity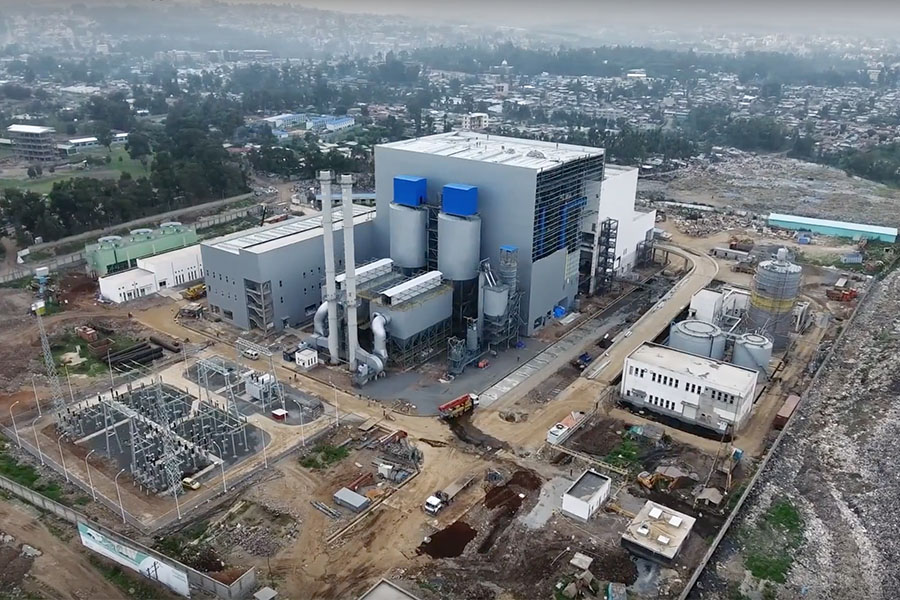 Waste management is one of the biggest problems in the world. While we've already talked about this in our previous article, this invention at the same time solves the sustainability problem. More than in any other country or continent, Africa has the most troublesome challenges with waste control. Moreover, sustainability is another complex thing for the continent. While Africa is getting more and more projects in regards to these problems, there are always place for more.
Koshe, the largest rubbish dump in Ethiopia received rubbish from all around the capital Addis Ababa for almost 50 years. Now it's all about to change. Ethiopia is planning to build a waste-to-energy plant via the Reppie Waste-to-Energy project which is the first of its kind in Africa. The plant will incinerate 1,400 tons of waste a day and will launch its operation in January. That's about 80 percent of all the rubbish generated by the city. Furthermore, the plant will supply the 30 percent of household electricity needs.
The Reppie plant functions within the emission standards of the European Union and contributes towards reducing air pollution. These kinds of projects are already popular in Europe where nearly 25 percent of city waste is being incinerated. For example, France, who is one of the leaders in clean energy and sustainability. It has about 126 these plants whereas Germany has 121 and Italy – 40. Maybe one day Ethiopia will be a leader in Africa.
 Lastly, the Reppie project will also help reducing poverty conditions through increasing access to electricity, creating and jobs and improving the environment to the benefit of human health. The plant will also be a model for other similar projects across Africa. Currently, there are 7 similar plants on this continent. Altogether, these plants will leave a lasting positive impact on the environment and sustainability in Africa.
Baidu's Autonomous Buses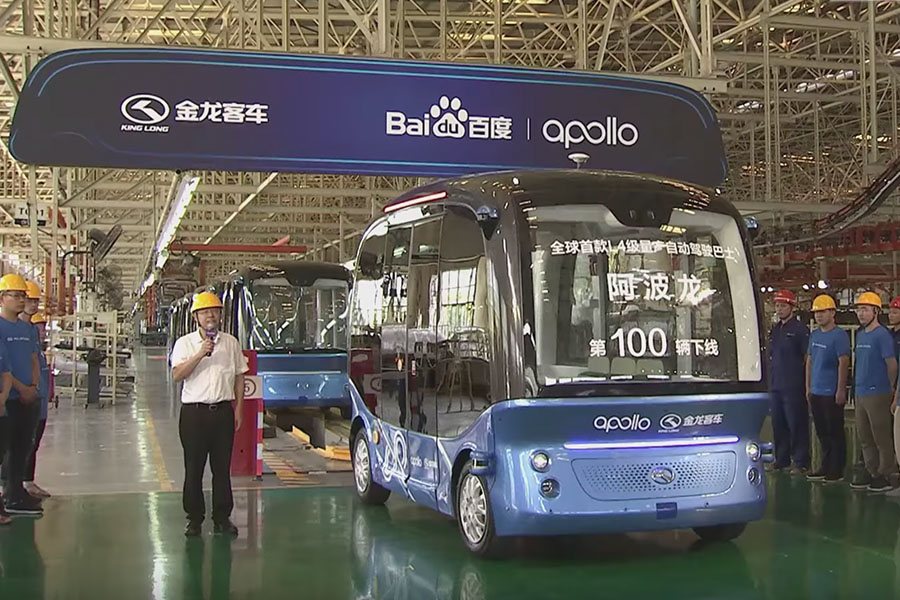 In general, public transportation is the best option for transportation in regards to the environment. Not only it helps cities to cope with the problems of transporting every-growing population, but also in the long run, autonomous vehicles will be far safer than their human-driving counterparts.  Here's where Baidu comes in. Their Apolong bus is capable of holding 14 passengers and is qualified for level 4 autonomy, which means that they are fully autonomous.
The creators of Apolong are the Google of China – Baidu and the Chinese bus manufacturer King Long. Baidu created a level 4 autonomous driving platform Apollo while King Long manufactured the vehicle itself. Already 100 buses will soon roam the streets of China in the cities like Beijing, Shenzhen, Xiongan, Wuhan, and Pingtan of Fujian province. Furthermore, just recently, Baidu announced a partnership with King Long, SB Drive, and Japanese conglomerate Soft Bank. With the announcement, Baidu agreed to produce 10 of its self-driving Apolong buses that will be arriving in Japan, Tokyo in early 2019.
Baidu's true objective not to become a manufacturer of autonomous busses, but to become the largest supplier of self-driving technology to the automotive sector. With their self-driving platform Apollo, they are close to reaching that goal. The only thing that is left for Baidu is to partner up with manufacturers and create successful projects.
Apollo project at the moment has brought together 116 partners on the open platform. With its current capacity, Baidu laid out plants to achieve products of level 3 autonomous vehicles by 2023. China's leading electric car manufacturer BYG will be the key partners to make it a reality. There are also new strategic partnerships with Jaguar, Land Rover, Valeo, Byton, Leopard Imaging and Suning Logistics. If Baidu's Apollo will successfully implement their voice-activated AI, facial recognition entry, driver fatigue monitoring, AR navigation, intelligent security, vehicle-to-home connection and personalized services they will revolutionize the car industry.