Cooking sometimes can be frustrating. Not to mention that it is time-consuming. On top of that cooking, ingredients tend to go bad if they are not used soon after the purchase. That's why a lot of people simply eat outside in the pubs and restaurants rather than making a dish themselves. This way people save their precious time which is 21st century's new currency. Either way, nothing brings more joy to the food than cooking it yourself. It's an amazing achievement feeling that makes you feel like the world's top chef. Especially when your dish is approved by your friends or colleges. All that you need at that moment is a spare $500k to open that restaurant you always wanted.
While the kitchen is the heart of every home, not everyone likes to spend there more time that they need to. Like I mentioned before, cooking can sometimes be a frustrating thing. Luckily, the 21st century not only offers new challenges but also many opportunities. Enter the vast range of modern kitchen accessories and utensils to help you prepare, cook and present your culinary masterpieces.
These tools not only can save you time, but also make cooking a little bit more enjoyable and more fun. There are lots of different kitchen gadgets out there, but for today, we will focus on these 10 amazing kitchen gadgets that we think you should get!
Pineapple Slicer
This stainless steel Pineapple slicer can make your day by quickly and easily slicing pineapple.  To get the magic going, simply slice off the top of the fruit and twist the sliced inside to create perfect pineapple rings.  With the comfortable and non-slip turning knob, you'll easily be able to grasp it firmly. With sharp medium-sized, stainless steel blades, you won't need much strength as well.  This tool is compact and doesn't need much space, so you can put it anywhere.
This gadget not only lets you cut pineapple without effort but also leaves you with a pineapple shell, which can be used in different ways. For example, you can use the shell as a decorative dessert pot, be creative and make a wonderful looking fruit smoothie inside or even use it to serve some fried rice dishes inside.
Silicone Strainer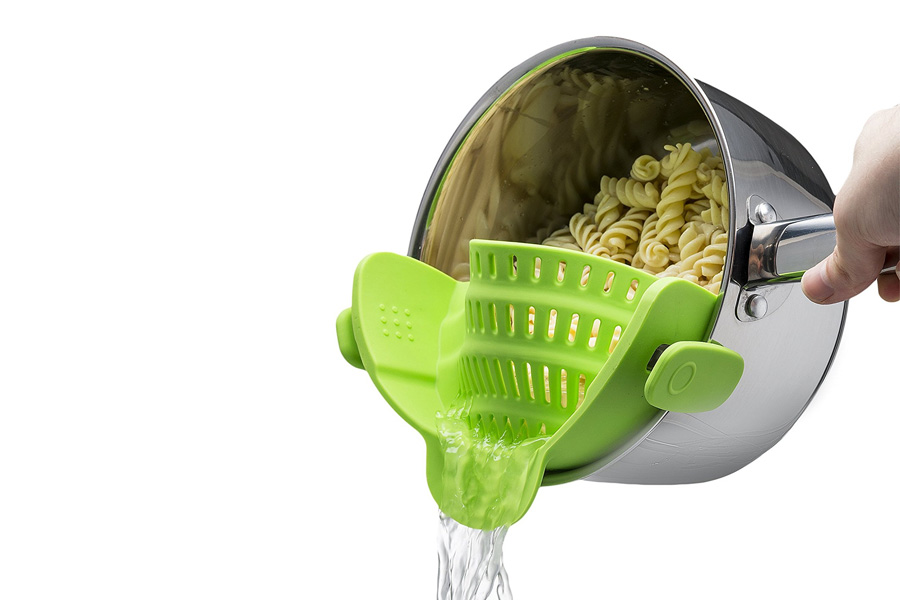 It's easy to predict what this tool does by simply looking at the picture above. Have you ever had that moment of falling pasta in your sink when you're straining the pot? With this silicone strainer, you won't.
With high quality and heat-resistant, this silicone colander is the most practical way to get your food strained. The design and material are flexible enough to be used universally throughout different sizes of pots, bowls, and pans. It snaps on neatly with two clips. When attached, it firmly holds its place and can also be left in the pot while cooking.
Cherry Pitter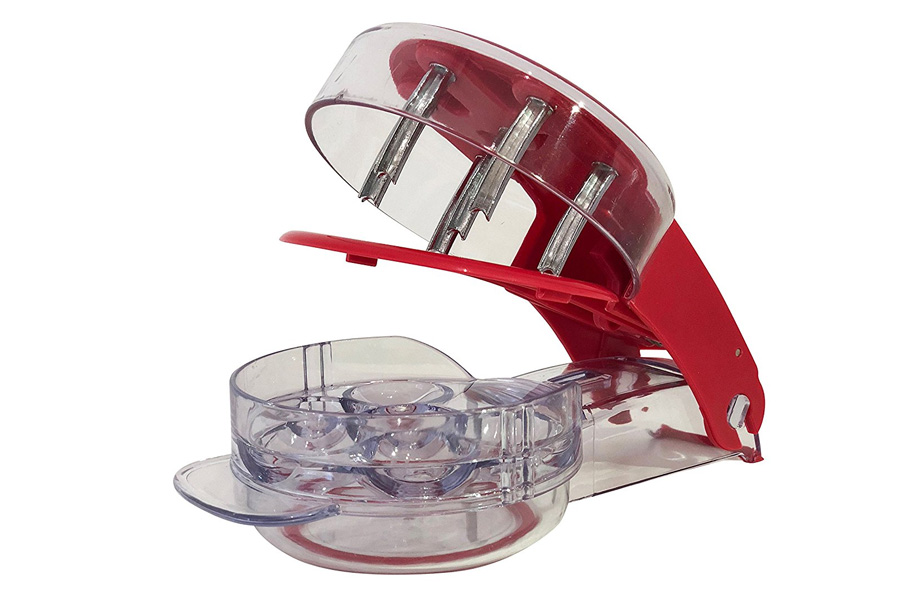 Like other kitchen gadgets listed here, this one is also really easy and fun to use. Nobody likes pitting cherries. Well, it's ok for one or two times, but if you have a full bag of them, it can take quite a while to pit them all. Not to mention that the whole process is a bit messy.
This tool lets you perfectly pit 6 cherries or olives at a time. Can you already image making that cherry cake you always wanted? That will be a piece of cake with this cherry pitter (pun intended). It works in a simple manner: you place your cherries or olives in the small little holes provided lining up the middle of the cherry to the hole, close and press down.  What makes this tool so useful, is that you can repeat the process until seed container is full.
Avocado Slicer/Peeler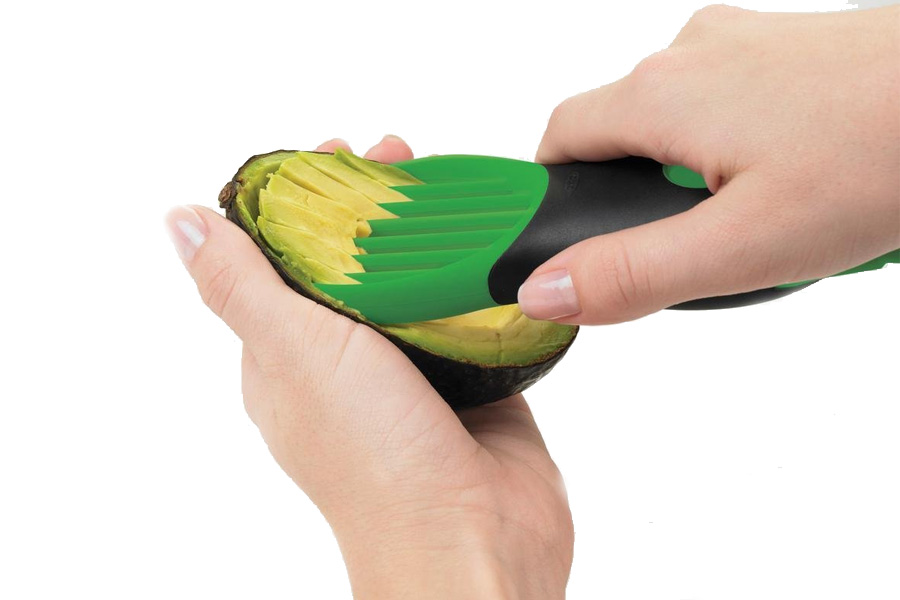 Through the year, avocados have become a super fruit, which can be used in different dishes. But the process of preparing avocado is a bit frustrating.
With this avocado peeler, you can do 3 things. You can use it to slice the avocado in half, then pit the seed away without damaging the fruit and then scoop all that delicious goodness out. With a comfortable non-slip grip, the tool firmly holds in the hand, making it easy and simple to use.
Watermelon Slicer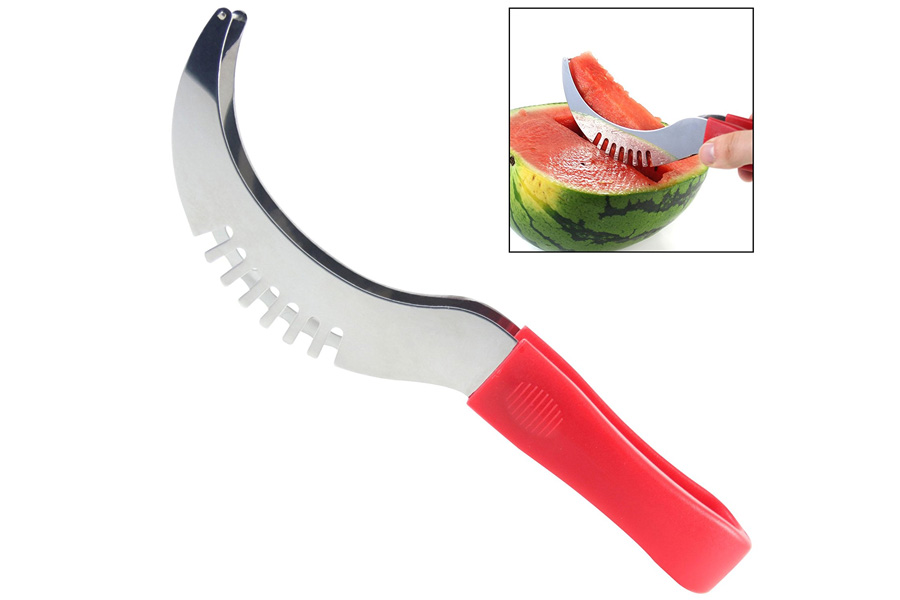 This 3-in-1 watermelon slicer will be your favorite kitchen gadget if you like watermelons. It has sharp stainless steel blades which will cut through melon like a knife through butter. Without wasting fruit or juice, you'll be able to easily core the melon and then serve it. The handle is made to make sure you get a good grip even with your finger being wet. By the way, this tool doubles as a cake slicer!
Kiwi peeler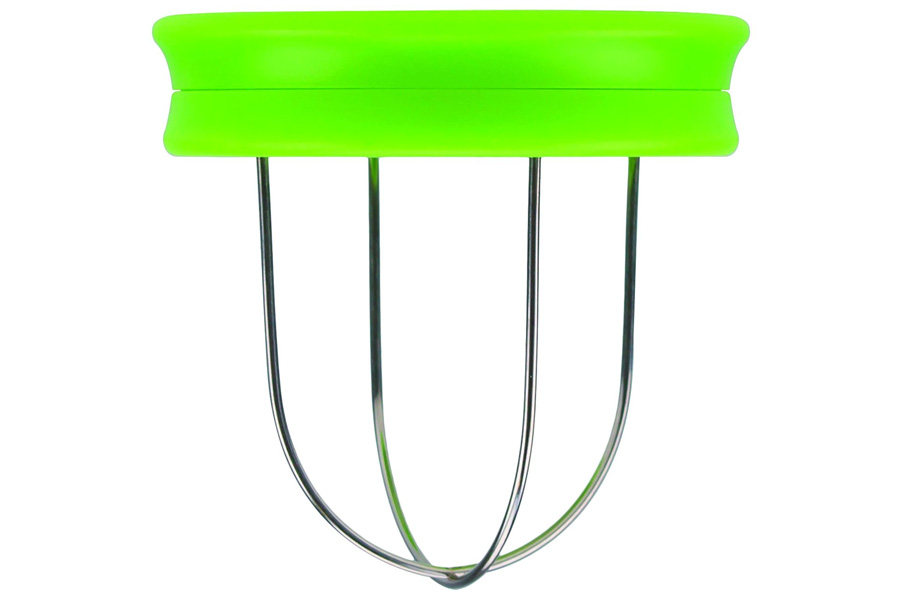 Out of all existing fruits on the planet, kiwi is the one that I personally dislike. Not because of the way it looks or tastes, but the way you peel it. I can never do it right! It always gets messy and the juice of the fruit constantly makes my hand sticky and slippery.
If you're like me, you'll love this kiwi peeler. With one twisting motion, you get already quartered, perfectly peeled fruit already ready to be eaten or put in the salad.
Apple cutter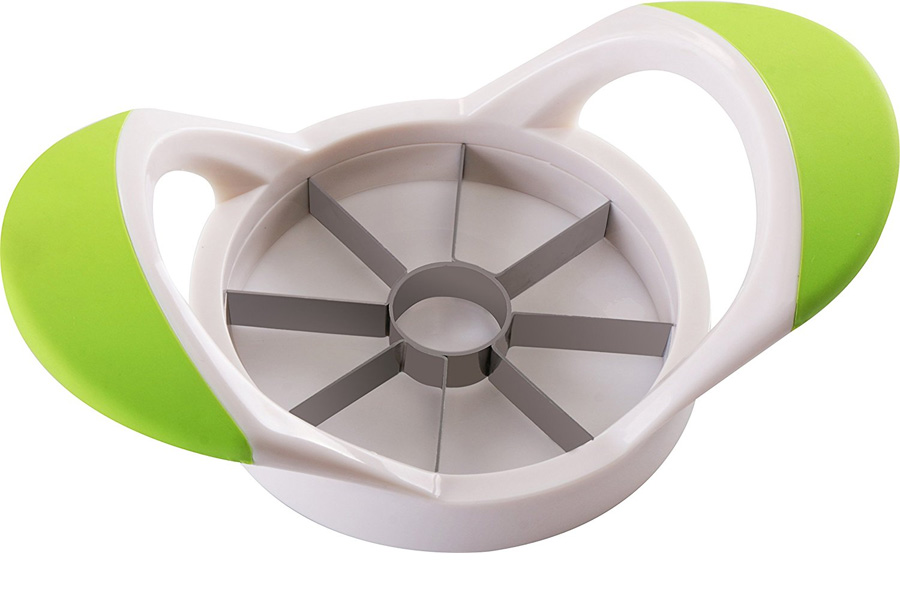 Apples are probably the most commonly eaten fruits. While it's already easy to peel, core and slice them, there are still some kitchen gadgets which could be useful and helpful.
This apple cutter is an easy and fun way to slice and core your apple with one motion. Silicone handles will guarantee you a firm grip while doing it, while the stainless steel blade will promise an easy chop. A couple of seconds after, you're left with 8 cored apple slices already prepared to be eaten.
USB Chargeable Juicer Cup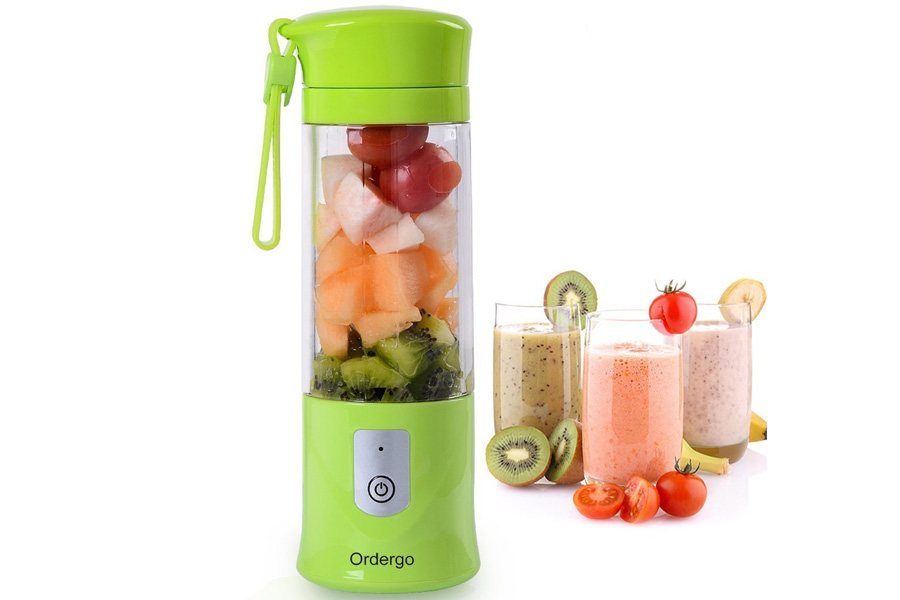 Alright, by now you have probably noticed where we are going with these tools. All of these gadgets are fruit related. So it would make sense to include a gadget for all those prepared fruits. Here it is – a portable, USB chargeable blender.
This gadget is the dream for all the vegetables or fruit junkies. On a full charge, it can be used for 20 times. Stainless steel blades will make sure you'll get that perfect smoothie. It is lightweight, has anti-leak design and has a built-in security to not work when being cleaned. Take all those pineapples, watermelons, cherries, kiwis and avocados put them in, blend and you'll get a nutrition bomb.
Slow Manual Juicer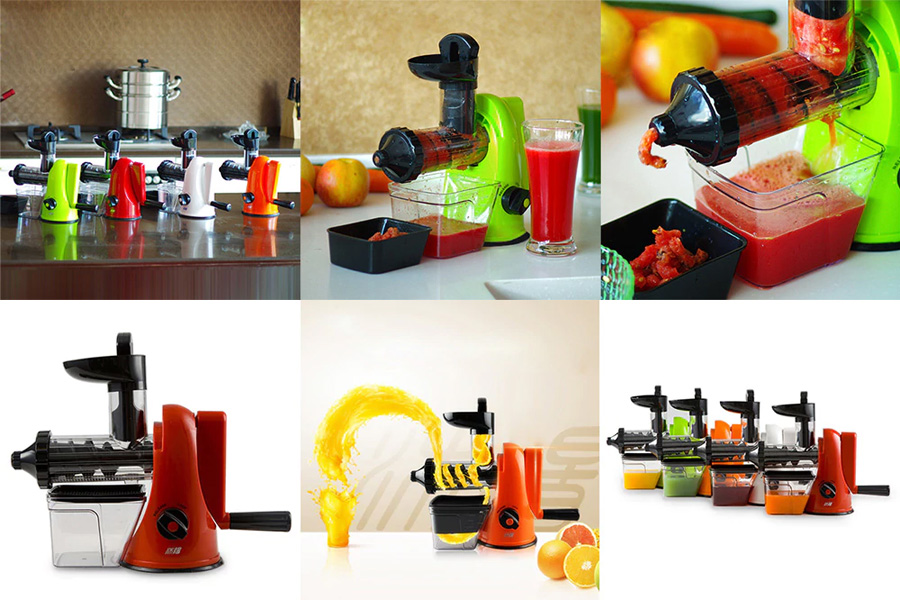 There are many ways to prepare fruit, veggies or greens. One way is to blend them and another way is to juice them. This gadget is designed to juice everything from fruits like apples and oranges to leafy greens like kale and spinach. Commonly, this tool is used for wheatgrass, to get that doze of nutrition, which is said to be really good for your health.
Nevertheless, you can use it with any greens or fruits, so feel free to experiment. The manual juicer is easy to set up, a lot cheaper than fully electric one, portable and most importantly easy to clean.
Electric Wine Bottle Opener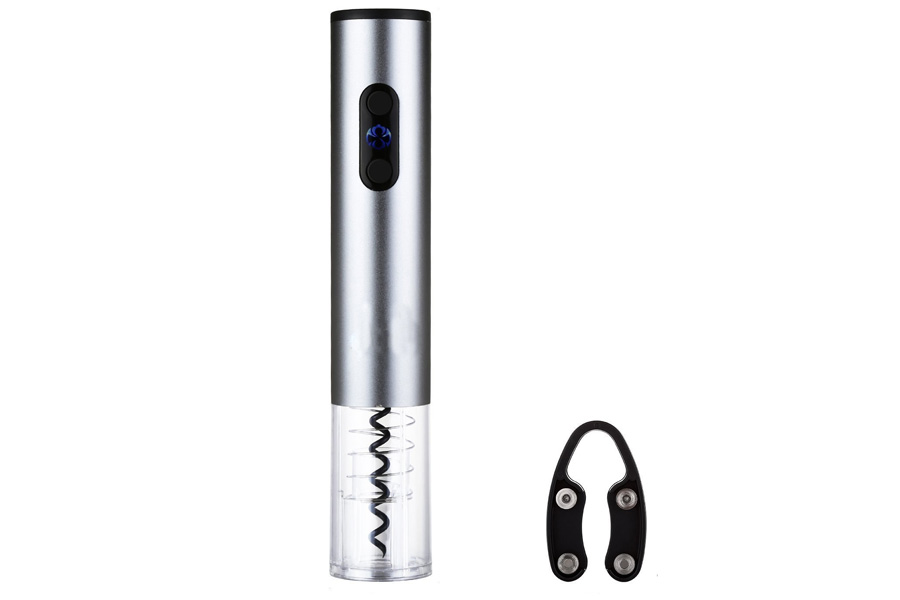 Okay, let's imagine this – you have used your master chef skills and some neat kitchen gadgets to create a delicious cherry cake, some Chinese chicken in the shell of pineapple and avocado guacamole. On top of that, you made some kiwi and kale smoothies. It was a King's feast. Your guests were speechless seeing those masterpieces of yours.
It couldn't get any better than this, but then you decide to bring some fine wine. By now, your guest will wonder, whether you'll use a crazy wine opening technique done by the master chefs or not. But then you pull out an electric wine opener, which effortlessly opens it. After such a successful evening, you'll probably get more guests from time to time, so use this tactic at your own risk!