Flat Design got the VIP treatment this 2013 in  UI and UX designs. It enabled websites and apps to load faster across various multimedia platforms. It emerged as the next design path from what is called skeuomorphic design. This coincided with the resurging minimalist response to visual excess. As if design breathed a sigh of relief to be unburdened of  3D images and gradient-heavy effects. Flat design graphics thus tend more toward icon representations than hyper-real images.
But what's all the fuss about flat design? Isn't this where all web design came from? Flat design may be a recurrent design response, but with its own unique features, such as updated typography, simplified visual elements, a recommended palette of solid colors. No gradients.
As with any trend, designers are always innovating, before everything starts to look the same. Variations have popped up, most prominently, in flat design with long shadow effect. 3D appearance is suggested by polygons of solid color instead of progressive gradient blends.
The tutorials below take you through the process of implementing flat design. The trend may look new, but are based on classic design principles and goals of balance, clarity and harmony. You'll find constant challenge in how to keep flat design fresh, attractive and interesting.
FLAT DESIGN Tutorials:
How to Create a Website in Flat Design Style, by designmodo
Create Super Trendy Flat UI Web Design In Less Than 1 Hour, by 1stwebdesigner
Flat Design Tutorial, by Zach Swinehart
Flat Web Design with Photoshop CS6, Speed Art by PixelArtsy
FLAT DESIGN as seen in User Interfaces (UI), User Experience (UX), Illustrations, Print Collateral, etc.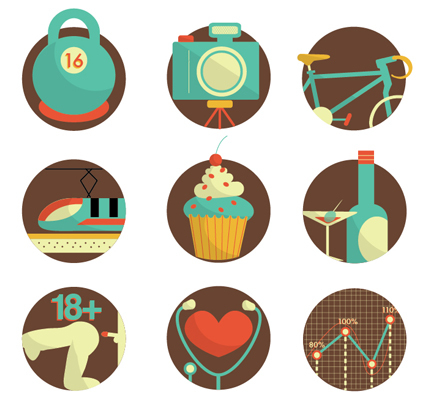 FLAT DESIGN Resources:
FLAT DESIGN with LONG SHADOW – Tutorials: