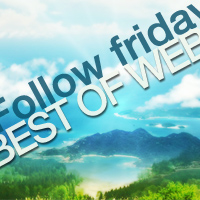 Continueing a fresh weekly portion of the best graphic resources, inspiration and tutorials from around the web. Every friday delivering the most inspiring graphic works, new professional tutorials and useful freebies of that week.
If you have any suggestions, please leave a comment. Enjoy!
Advertisment



1. 45+ Greatest Example of Digital Art by Rado Javor





2. Inspiration in Orange





3. 15 Amazing Food Craft Inspirations for Cute Cookies





4. 35 Beautiful Anime Manga Style Art and Illustrations





5. Inspirational Artwork: Superheroes and Villains





6. Collection of 46 Excellent Landscape Digital Paintings





7. Graphic Design Inspiration with Killer Lighting Effects





8. Got Milk? Sexy inspiration.




9. 45 Animal Inspired Logo Designs





10. 25 Inspiring Examples of Music Photography





11. 33 Creative Advertisements by Alexandre Salgado





12. Stunning Art Of Digital Artist Kerem Beyit





13. Mix Collection of 99 Stunning Photographs to Refresh Your Mind





14. Amazing Work of Vladimir Tomin





1. Logo Design: 40+ Must Have Tutorials





2. Design a Realistic 3D Baseball Cap in Photoshop





3. 40+ Striking Adobe Fireworks Tutorials





4. 24 Useful Tutorials on Creating Photoshop Brushes





5. How to Create an Ice Text Effect with Photoshop





6. 45 Horrifying Photoshop Tutorials for Halloween Season




7. 1st Photoshop Web Design Professional Layout Tutorial





8. Create an Apple inspired Website Layout in Photoshop





9. Design A Killer Fashion Model Poster





10. 25 Highly Detailed Web Layout Tutorials





11. Web Layout Designs: 60 Must Have Tutorials





12. Create a Cool Wet Ink Typography Effect in Photoshop





1. Collection of Best Icons for Halloween





2. 12 Useful, Simple And Best Of All Free Icon Sets For Your Website





3. 45 Beautiful Dual-Screen Wallpapers





4. Nightmarish Photoshop Brushes for Creepy Designs





5. A to Z : 89 Incredible Fonts For Your Next Design





6. Zodiac icons





6. 50+ Be-Bewitched Halloween Wallpapers





7. Windows 7 Wallpapers





8. 130+ Amazing Abstract Photoshop Brushes





9. 45 Halloween Icon Sets And Vector Resources







Quote of the week: "Be less curious about people and more curious about ideas."