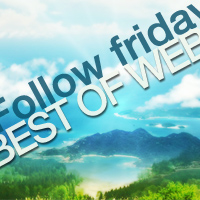 Continueing a new weekly portion of the best graphic resources, inspiration and tutorials from around the web. Every friday delivering the most inspiring graphic works, fresh professional tutorials and useful freebies of that week.
If you have any suggestions, please leave a comment. Enjoy!
Advertisment



1. 40+ Really Cool Panorama Photos





2. Wonderful Illustrations by Tamas Gaspar





3. 50+ Brilliantly Rendered Designs of Concept Cars





4. 40 Brilliant HDR Photos in the City





5. Inspiration: Collection of Some Amazing 3D Robots





6. 45 Absolutely Astonishing Helvetica Typographic Posters





7. 35 Stunning Conceptual Digital Artworks and Photo Manipulations





8. 35 Creative and Inspiring Examples of Latte Art





9. 110+ Artworks From The Top 20 Digital Artists in Europe





10. 42 Unbelievably Beautiful Photographs by Saul Santos Diaz





1. 30 Must See Character Illustration Tutorials





2. Swirl Girl in Photoshop





3. 70 Dazzling Light Effect Photoshop Tutorials





4. Make yourself an Amazing Typographic Portrait





5. 80 Best-Of Adobe Illustrator Tutorials, Brushes, .EPSs and Resources





6. 40+ Best Photoshop Tutorials for Creating Buttons and Badges





7. 27 Excellent Digital Photography Tutorials





8. Adding a Realistic Tattoo the Easy Way with Photoshop





1. 200+ High Quality Free Paper Textures





2. 460 Free High Quality Icons For Web Designers





3. 117 Social Network Icon Sets To Spice Your Web




4. Free Keep Fit Vectors – Give Your Designs a Workout!





5. 15 Totally Free Hi-Res Watercolor Stain Textures





6. 650+ Ultimate Twitter Icons Collection For Web designers





7. 30 Fresh and Useful Photoshop Actions





8. Vector Floral Wallpapers





9. 99 High-Quality Free (X)HTML/CSS Templates





10. 18 New Design Freebies







Quote of the week: "Success is the sum of small efforts, repeated day in and day out."